Sony Ericsson Mix Walkman Review
6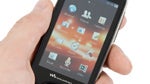 Introduction:
The Walkman brand has a special place in the heart of every old school music lover, but its fame and glory have long started to fade away. Still, there is a bunch of music-oriented phones made by Sony Ericsson that keep the embers alive, and the
Sony Ericsson Mix Walkman
is exactly one of them. It is a feature phone aimed at youngsters, who are passionate for music, but cannot afford something flashier. However, going over its list of features shows that it offers a fair amount of bang for the buck. But how does it perform in real life? Let's check it out and see.
Design:
The Sony Ericsson Mix Walkman feels just like a toy in the hand – cheap and plasticky. Its physical keys do not leave a positive impression either as they are poorly exposed and provide little to no tactile feedback whatsoever. Accidental presses of the lock button are common as well. At least the home key located below the phone's display is big and easy to find with your thumb.

You can compare the Sony Ericsson Mix Walkman with many other phones using our
Size Visualization Tool
.


With a waistline of 0.56 inches (14.3 millimeters), this isn't the slimmest phone out there. However, it is tiny enough to fit in almost every pocket. On top of that, the Sony Ericsson Mix Walkman is pretty lightweight as it tips the scale at 3.1 ounces (88 grams). However, its
dimensions
make it difficult for people with large hands to use it comfortably.
Looking at the phone's
3-inch, scratch-resistant touchscreen display
is a pleasure as it delivers precise and saturated colors. The screen boasts a resolution of 240 by 400 pixels, which makes even small text look sharp and easily legible. Besides that, the display shines bright enough to be used comfortably in broad daylight, and its viewing angles are quite impressive.
Disappointment strikes, however, once you start navigating around. Even though it is of the capacitive type, the display lacks sensitivity and needs to have your finger firmly against it in order to function properly. That makes even the most basic of tasks such as typing text or scrolling about rather tricky to perform.
All in all, The Sony Ericsson Mix Walkman is a cheap, tiny slab of plastic with a beautiful, yet misbehaving display. Let's move along and see what the handset has to offer in terms of functionality.
Sony Ericsson Mix Walkman 360-degrees View: