Sony Ericsson Mix Walkman Preview
1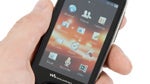 Introduction:
The
Sony Ericsson Mix Walkman
: a reincarnation of a legendary brand or just an attempt to catch the eye with the familiar logo? The word Walkman walks us into the sweet times of portable cassette and CD players, bringing nostalgia for the good ol' past. A risky business, playing on those feelings is, but the Sony Ericsson Mix Walkman takes the risk of rising the Walkman brand from the ashes in a budget feature phone. It doesn't hold much ground in today's smartphone world with a humble 3-inch capacitive touchscreen, but it does offer a couple of cool new functions.
The Sony Ericsson Mix Walkman is all about music lovers on the go, of course. The funky Zappin key magically plays only a preview of the chorus of a song and with a karaoke function, you can sing along to your favorite tunes and your neighbor's horror.
Design:
The Sony Ericsson Mix Walkman looks tiny. It's super flyweight tipping the scales at the meager 3.1 oz (88g), but it's also not too thick with 0.56" (14.3mm) of body fat. Overall, it's a real toy in your hands – with all the perks of a plastic feel and nostalgic branding.

The 3-inch scratch-resistant capacitive touch
screen
sports a resolution of only 240 x 400 pixels. On the front, the half-circle home button stands out, a signature feature of Sony Ericsson's latest phones (both smartphones and feature phones). It's practical with its big size, but it also helps brand recognition as no other company has it.
In addition to the standard lock key and volume rocker, there is a dedicated camera shutter key, snapping pictures quickly or taking you into the camera menu if you weren't there yet. The 3.2-megapixel fixed-focus shooter is located on the back and has no flash, but is rather just a plain basic camera.
Sony Ericsson Mix Walkman 360-degrees View: