Samsung Ultra B S7220 Review

Introduction:
Samsung has put out two midrange phones on the market this year, both aiming at customers looking for a stylish appearance at an affordable price. These are the Ultra B and the
Ultra S
, and we are about to review the first one. Being a direct successor of the
Soulb
, the
Samsung Ultra B S7220
comes in a classic candy-bar form factor. At the same time, it has the DNA blueprint of its bigger brother, the
UltraTOUCH
. Its less hefty price seems to have led to certain concessions of the manufacturer in terms of features it brings out. Still, the Ultra B managed to impress us with its design and functionality.
Design:
Speaking of design, we need to mention the first thing that hit us was that the manufacturer has done a great job preserving the spirit of the UltraTOUCH, while subtly transforming the phone into a more masculine-looking candy-bar device. The upper red framing that perfectly goes with the overall design is still here, but this time it fences in a significantly smaller (and touch-insensitive, lol)
2.2-inch display
that, no matter, is still an
AMOLED
, QVGA resolution beauty. As you may have guessed, it delivers awesome image quality with its characteristic deep contrast and saturated colors. Moreover, all the lettering that appears on the screen is large enough and easy to read.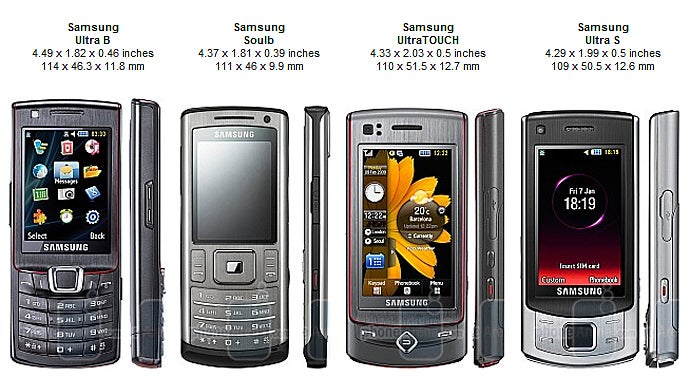 You can compare the Samsung Ultra B S7220 with many other phones using our
Size Visualization Tool
.
Do you remember what helped the UltraTOUCH to gain such an enormous popularity? All these not that important things about it, like the rhomb-shaped back button for example (or its overwhelming ad budget maybe). Well, the Samsung Ultra B S7220 lacks the first, but a
D-Pad
has appeared in its stead that is again encircled by a metal framing. As a whole, it seems the manufacturer has failed to cope with the task perfectly, meaning you might encounter certain difficulties navigating through the menus at first. The same goes for the functional buttons and the pair of earphones coming in the box. You may find the latter somewhat uncomfortable to use in the beginning, but will eventually get used to it in a while. How would the phone have looked like if it had a red keyboard we wonder – one of the distinguishing features of the UltraTOUCH. Apparently, the lead designer has decided to target and appeal to users with more conventional taste.
Since the 3G support is here, you´ll find the video call camera right above the screen. The
volume rocker is on the left hand side
, while both the microUSB port and the camera shutter are on the opposite. The Samsung Ultra B S7220 sports a 5-megapixel autofocus camera with a dual LED flash.
Samsung Ultra B S7220 360 Degrees View: Recommended Stories