Samsung Sway Review
2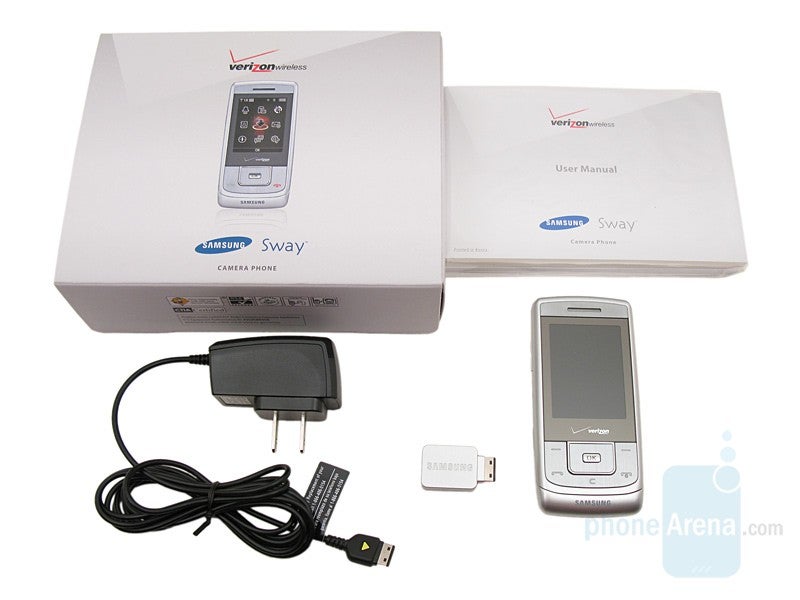 Introduction:
Unlike most Samsung devices manufactured for Verizon that are flip-phones, the Sway is thin slider and is targeted to the consumer that is looking for a mid-level device with some extra style. Its main competition comes from the
Samsung Gleam
and
LG Venus
, as both are in the same price range and offer similar features. However, the Sway is lacking one key feature that the other two devices have, an EVDO radio for faster downloads (more on that later).
The retail package includes the Samsung Sway phone, 800mAh battery with cover, wall charger, 2.5mm headset adapter, and user manual.
Design:
The overall appearance of the Sway is pleasing to the eye, with monochromatic silver used throughout. Even though it is constructed out of plastic, it feels fairly durable and should hold up to normal every day use. The spring-loaded slider is easy to operate and moves smoothly, but you can hear a clicking sound when closing it. Due to its slim size, it fits well in the hand and will not be too noticeable when placed in your pant's pocket.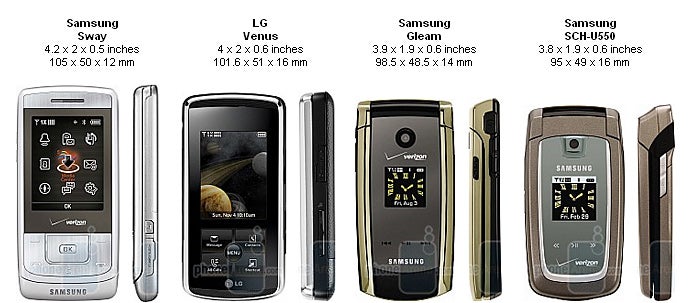 You can compare Samsung Sway with many other phones using our
Size Vizualization Tool
.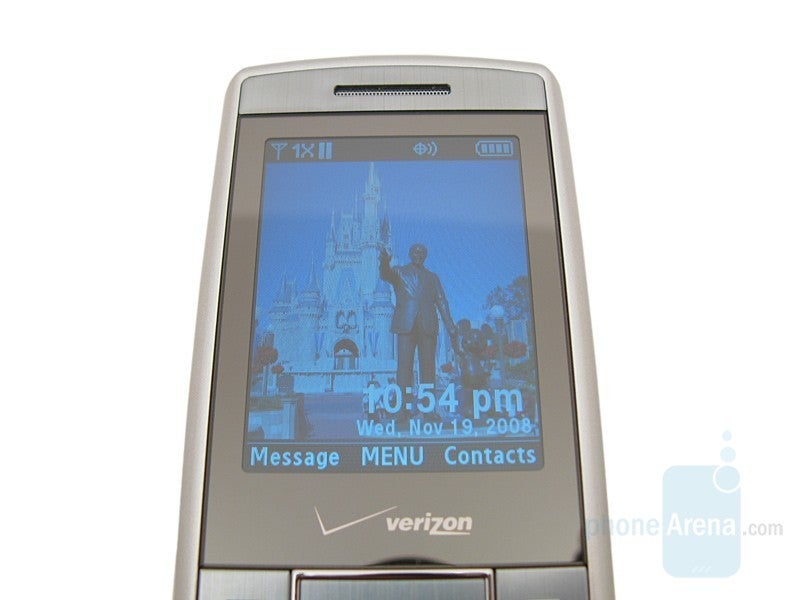 As with most sliders, the front real estate is occupied by the external display. The one used here is
2.2" diagonal QVGA
and supports up to
262K colors
. When compared next to the
Motorola Rapture
the display on the Sway produces better looking images and is not as difficult to view while in direct sunlight. On the
left side
of the phone is the volume rocker and proprietary charging port, which requires the use of the included wall charger since it is not microUSB, and on the
right side
is the camera button and microSDHC memory card slot (8GB support). The
2MP camera
is located on the
back
, but requires the phone to be slid open for use.
Directly below the display is the
d-pad
, which is rectangle in shape and slightly smaller than we would like. Surrounding it are the left and right soft-keys, and the send, end, and clear keys. The hidden numeric keypad is revealed when the phone is slid open and it features the same faux metal finish as the d-pad. The buttons have a bright white backlight, which make them easy to view in low light conditions, but their size is a little too small for avid text massagers.