Samsung SCH-U550 Review

This is a CDMA phone offered from Verizon.
Introduction:
The Retail Package includes:
Samsung U550 phone
800mAh battery with cover
Wall charger
User manual
Design:
The U550 is a standard flip phone, but has more updated styling than its predecessor, with the external being almost that of a pewter-gold color. The hinge design is similar to that used in the Gleam, with a fluid movement when opening and closing. The overall build quality of the U550 is quite good, and is more impressive than the flimsy design of the VX8350. Located on the front is an inlayed two-tone plastic facing, where the 1.3MP camera, external display, and touch-sensitive music control buttons are enclosed.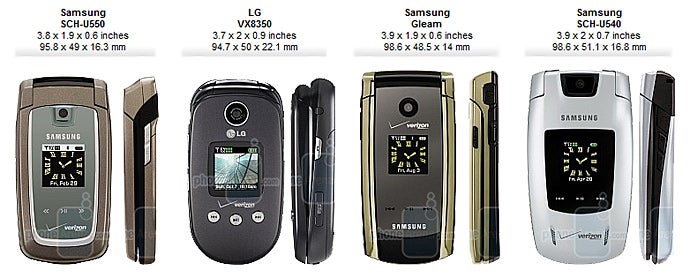 On the
left side
is the volume rocker and lock key, and on the
right side
is the speakerphone key, camera button, and 2.5mm headset jack. The charging/data port is located on the
bottom
, the mono speaker is on the back, and the microSDHC memory card slot is under the battery door.
External display
used on the U550 is identical to the one used on the Gleam; a small 1" diagonal 96x96
pixel
resolution TFT, capable of showing up to 65K colors. Due to its size, you can only use it for checking the current date & time, indicator icons, and for showing the current track when playing an MP3. The
internal display
is still the same 176x220 pixel 262K color TFT that was used on the U540, whereas the Gleam uses a higher resolution 240x320 internal display. Because of this, images and text do not look as good on the U550 as they do on the Gleam, with jagged edges and faded colors being to two most noticeable differences. Even though there are six levels of brightness, it can still prove difficult to view the screen while in direct sunlight.
keypad
, which is easy to view against the black color of the keys. We like this color combination better than the shiny mirror coating that is used on the Gleam's keypad, which makes it quite difficult when used outside during the day. The
d-pad
is located at the top, which is now square shaped and is easier to use than the circular shaped d-pad found on the U540. The only caveat here is that it lacks backlit arrows for up, down, left, and right navigation. The numeric keys are easy to use for dialing and for text messages, due to their large size and easy to view numbers and letters. However, there is very little tactile feel to the keypad, since it has a smooth service. This is the only area where we liked the Gleam's keypad better, with its ribbed grooves that help for better thumb placement.