Samsung OmniaPRO B7610 Preview
11

This is a global GSM phone. It can be used with AT&T and T-Mobile USA but without 3G.

Introduction:
A number of interesting things happened last month. The
Palm Pre
and
iPhone 3GS
rolled out and both managed to pique huge interest. Samsung also had their 15 minutes of fame, announcing four new Omnia handsets. In this preview we are taking a closer look at the
Samsung OmniaPRO B7610
, also known from the rumors as the Louvre. It is a side slider that comes equipped with a full QWERTY keyboard, 3.5" high resolution AMOLED display, 5-megapixel camera, features DivX & Xvid support and the set of functions characteristic of high-end cell phones, like GPS, Wi-Fi and 3G connectivity etc. What we find more interesting is the operating system,
Windows Mobile 6.1 Professional,
has been heavily personalized. The TouchWiz 2.0 interface not only changes the phone home screen, main menu and several minor elements, but it also penetrates the software in depth, so even applications look differently. We can keep beating about the bush, but we better get to brass tacks right away.
Design:
Similarly to the
Samsung Jet
, the back cover of the Samsung OmniaPRO B7610 is showy with its beautiful, red light-reflecting design elements. Actually, it looks so nice that we are willing to turn a blind eye to the rather bulky size and less dainty face side of the phone.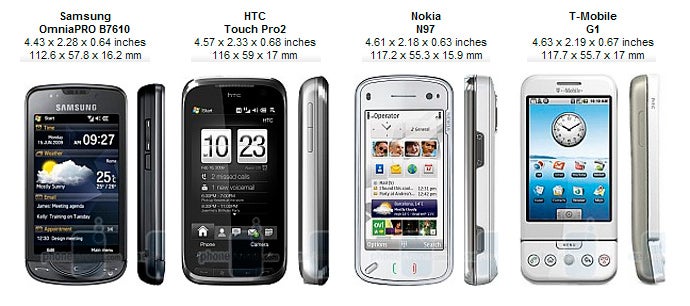 You can compare the Samsung OmniaPRO B7610 with many other phones using our Size Visualization Tool.
Similarly to all
AMOLED
screens we have seen to date, the phone display delivers lively and truly saturated colors. It measures 3.5 inches, comes with a high resolution of 480x800 pixels and utilizes resistive technology, meaning you can use any object to press against it. More on the different touch sensitive screen technologies is available
here
.
The Samsung OmniaPRO B7610 is a side slider and the
QWERTY keyboard
appears (surprise!) when you open it. The buttons are large and arranged in four rows – one less than on the
HTC Touch Pro2
. There are two non-standard buttons on the left of the Space key. The first, with a symbol that resembles Menu Key found on PC keyboards, acts as a shortcut to the menu that also shows up on sliding the phone open – it features links to your messages, calendar, notes and the phone search function. The second button, the one with a white arrow on it, is used to fast switch between applications running in the background without the necessity to enter the Task Manager. Unlike the Touch Pro2 and
N97
, the OmniaPRO B7610 display cannot be tilted at an angle.
On its either side
you will find the volume rocker, screen lock/unlock key, camera shutter and one other button that we find most interesting. It´s located on the left hand side of the phone and used to switch between your Work and Life profiles. This is quite nice a function we will tell you about in a short while.
Samsung OmniaPRO B7610 360 Degrees View: Recommended Stories