Samsung OmniaLITE B7300 Preview
1

This is a global GSM phone. It can be used with AT&T and T-Mobile USA but without 3G.

Introduction:
The
Samsung OmniaLITE B7300
falls into the category that new-generation of affordable smartphones are, because it runs the new Microsoft operating system – Windows Mobile 6.5. As its name suggests, the handset is a budget-oriented model of the Omnia lineup. Don´t jump to conclusions on the lightweight Omnia capabilities though. While its hardware appears slightly pruned off, this holds true for the phone's software and functionality. Let´s first take a closer look at its design.
Design:
Being a budget-oriented device, the Samsung OmniaLITE B7300 doesn't sport a huge display. Still, the screen measures healthy 3 inches, which is quite good for a low-end smartphone. Its resolution of 240x400 pixels is lower than what top handsets deliver as well, and seems to have an adverse effect on the legibility of cramped texts. Don't get this the wrong way, things still remain readable and discernible, it´s just we are prone to fiddling criticism at times.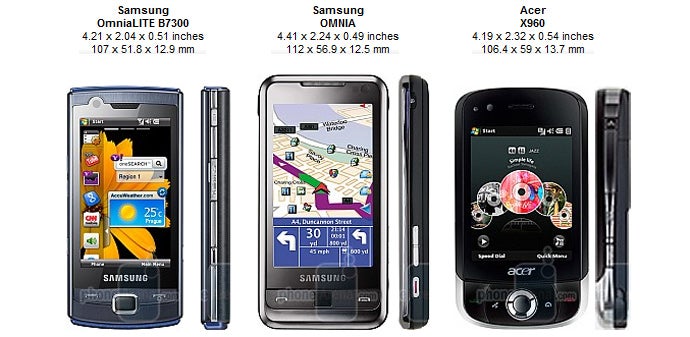 You can compare the Samsung OmniaLITE B7300 with many other phones using our Size Visualization Tool.
The overall design is conservative, but you won´t fail to notice the nice pattern on the back that gives the phone a slightly dainty and stylish look. Actually, the stencil is quite reminiscent of the very same honey-comb template that seems to have inspired the designers of the initial version of the new operating system's start menu.
It´s worth mentioning that the Samsung OmniaLITE B7300 is equipped with a microUSB port, microSD slot and a special Main Menu button on its
left hand side
.
The
3.2-megapixel camera
on the back lacks a flash, but at least comes with autofocus.
Samsung OmniaLite B7300 360 Degrees View: