Samsung Gear 360 vs LG 360 Cam: comparison
8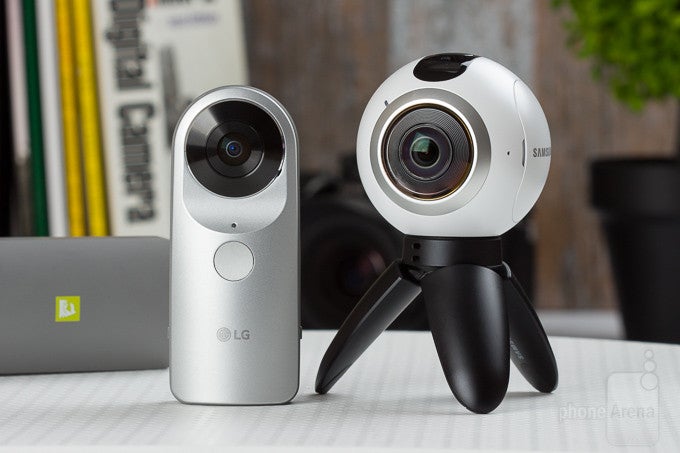 Introduction
One might be complaining all day long that mobile technology is not advancing at the same break-neck speed it did just a few years back.
And that could be true, but it does not mean there is no excitement in tech. Quite the opposite: there has been one new category that has exploded recently, and yes, it's virtual reality. With the arrival of affordable and relatively good VR headsets like the Samsung Gear VR and Google Cardboard, it's now easy to get immersed in content.
Up until recently, though, there was no way to actually create content yourself for those virtual reality experiences.
Two cameras have appeared at almost the same time, aiming to change all that: the LG 360 Cam and Samsung's Gear 360. Both capture 360-degree videos and photos via a dual-lens camera system, with both lenses capturing more than 180° field of view. Are these first consumer-centric 360° cameras good enough right now, and which of the two is the better purchase? We dive in deeper to find out.
Design
There's two aspects to design: good looks and practicality.
The looks department is important, but it's arguably not the fundamental criteria by which one should judge a camera. Still, the Gear 360 is our favorite in terms of looks: the white sphere with its spread-out tripod legs looks like a cute alien, and it's definitely more eye-catchy and noticeable than the greyish, under-the-radar LG 360 Cam. Both are built well and put together solidly, but the Gear 360 has a more substantial weight and heft, both of which we consider an advantage for a camera that is expected not to fall down at a gust of wind's notice. The Gear 360 is also splash-proof, which is a definite plus for those who would get closer to water with their videos and images. However, its IP53 rating (the same as on the HTC 10 phone, for instance) will not fully protect it from water, so you should definitely not submerge the spherical camera in water or take it with you in the shower.
Then, there is practicality: the single button on the LG 360 Cam is an example in that regard. Positioned right where your thumb resides, it's extremely convenient and quick to press. The LG 360 Cam itself is fast to start and has just two modes: short press the button to take a picture, and long-press it to start video. A sound notification / acoustic prompt lets you know whether you've taken a picture or started recording video. Convenient and absolutely great for impromptu shooting.
The Samsung Gear 360, on the other hand, is far less practical. Its spherical form looks cool, but also makes it much more likely that you will touch one or both lenses with your fingers and stain it. Its shutter button is way up top, and you have to stretch your fingers and shuffle the cam in your hand just to reach it. Plain inconvenient! The camera also has four shooting modes and that might be a bit of an excess complexity for some who want to quickly start a video or take a picture. In contrast to the LG camera, there is no shortcut for video or image recording on the Gear 360, and it takes a few clicks to find the right mode:you have to be looking at the camera's tiny screen, while on the LG rival you can just shoot without ever looking or thinking.
Both cameras come with a standard tripod mount screw on the bottom (you have to remove the built-in mini tripod on the Gear 360 to see it), and that's great. This way, you can attach the camera to a tripod, a bike helmet, or other mounts.