Samsung Galaxy Tab 3 Lite Preview
10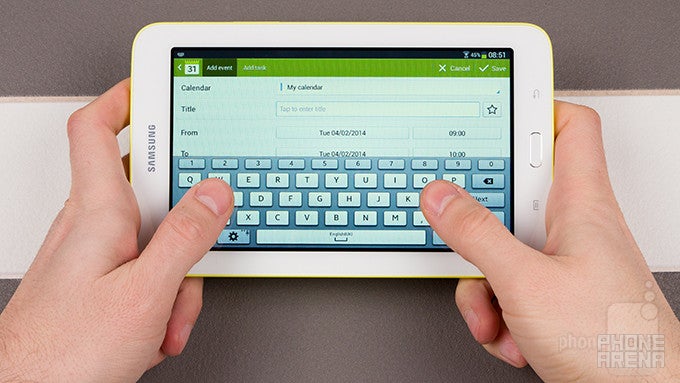 Introduction
The
Samsung Galaxy Tab 3 Lite
is one of the most affordable brand name tablets out there but does affordable mean good value for the money?
On the positive side, the small, 7-inch Android tablet offers the reassuring Samsung logo (it's not made by an unknown white-box company), and the neat, well optimized for tablets TouchWiz user interface. However, even though the Galaxy Tab 3 Lite does not have any tragic flaws, it simply cannot flex much performance muscle. It's got a basic dual-core processor, a low-resolution display and a barebones 2-megapixel camera.
How does that all work out in real life, and can it compare to some extremely affordable, yet superior technologically Android tablets? We have tested a pre-production unit of the Galaxy Tab 3 Lite that gives us a good idea of what we can expect - take a look.
Design
The Tab 3 Lite features narrow screen bezels that make it compact and easier to hold; it's chubby, but also lightweight.
An apple does not fall far from the tree - this saying should summarize well the typical Samsung look and the design of the Galaxy Tab 3 Lite. This tablet is the spiritual successor to the Galaxy Tab 3 7.0, and has not only very similar hardware, but nearly identical visuals with it. Yes, that means it is all plastic.
Our pre-production test unit comes with a lemon yellow textured plastic back, similar to the faux-leather one of the
Galaxy Note 3
, but it seems like what we have is a more limited edition of the tablet, and the generic one could feature only black or white colors, and come with a glossy finish.
In terms of size, it is compact overall, with fairly thin bezel , but a bit chubby measuring a considerable 0.38 inches (9.7mm). Luckily, it is also fairly lightweight at just 0.68 pounds (310 g), so you can easily hold it for longer periods of time.
We don't want to draw any final conclusions, but the physical buttons on our test device come with a nice travel and clickiness, and are easy to press. On the right side there are a lock key and volume rocker, and on the left is microSD card slot.
Display
170ppi just fails to meet modern day expectations for sharpness.
The Galaxy Tab 3 Lite features a very modest 1024 x 600-pixel 7-inch display that just fails to meet modern day expectations for tablet sharpness. Pixel density comes in at around 170ppi, so you'll definitely have trouble reading tiny fonts without zooming in.
One feature that is annoyingly missing on the Tab 3 Lite is an ambient light sensor, so you'll have to manually adjust screen brightness every time your light conditions change.
Recommended Stories