Samsung Galaxy Tab 3 10.1 Review
37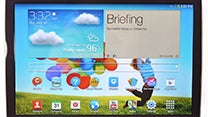 Introduction:
Once regarded as Sammy's prized tablet series, the Galaxy Tab has now been reverted to being nothing more than an entry model option – especially now that the Note series has seemingly replaced the Tab series as the company's premium tablet solution. With the latest entrant to the series, the
Samsung Galaxy Tab 3 10.1-inch
is most notable for being the company's first Android tablet to receive the
Intel inside
treatment, as it sports a 1.6GHz Atom with the Clover Trail architecture. No doubt, it's a departure from the usual ARM-based stuff we're normally exposed to, so let's hope that this new hardware is going to give this tablet some much needed staying power.
The package contains:
microUSB cable
Wall Charger
Quick User Guide
Important Safety and Handling Information
Design:
Just like its predecessors, the Galaxy Tab 3 10.1-inch continues the same design language we've been exposed to already with the series. Sporting a dark glossy plastic body that's accentuated by its silver colored trim, its design is pretty much expected and straightforward – though, its glossy nature makes it a magnet for smudges and fingerprints, which are notorious to remove. Still, it's lightweight and features a skinny profile (0.31-inches) to make it comfortable to hold over a long period of time. Interestingly, Sammy reduced the size of the bezel on the tablet's left and right edges, thus, making it a smidgen smaller than its predecessors at 9.57-inches wide.
Looking at the thing, it's safe to say that the tablet copied many of the
Galaxy S4
's design cues – like how its oval looking home button is surrounded by capacitive menu and back keys. So yeah, it can be argued that this is essentially the S4, but in tablet form.
Around the trim
, we find all the usual set of buttons and ports in familiar locations – such as the power button, volume control, 3.5mm headset jack, microphone, microUSB port, and microSD card slot. Indeed, it's sporting two speakers that provide stereo support, but seeing that they're placed on its sides, it doesn't particularly do a better job at dispersing audio towards us as we're holding it. Now a staple with Samsung's tablets, this is packing along a very useful IR blaster too, allowing it to double as a universal remote.
Yes, it's a tablet, and lucky for this one, it's outfitted with two cameras. Specifically, it's flaunting a 3.2-megapixel rear
camera
and a front-facing 1.3-megapixel rear one – which respectively shoot video at 720p and VGA resolution.
Display:
Call us bored, but the
10.1-inch 1280 x 800 (WXGA) LCD panel
of the Galaxy Tab 3 isn't going to wow people all that much, especially with its 149 ppi pixel density. Sure, it's lacking the pixel crunching resolution we crave, but nevertheless, it's still effective enough for visualizing most things on screen without much squinting. Moreover, its color production is on the natural side, seeing that it's LCD technology and all, but some distortion is evident at wider viewing angles. Outdoor visibility is good, but it's still something that would benefit from being shielded. Overall, it might be bland compared to other things, but it's still effective enough for the task at hand.
Recommended Stories