Samsung Galaxy S4 mini vs HTC One mini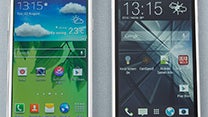 Introduction
In Android-land, a good smartphone is more often than not a large smartphone. Screens of 5 inches and above dominate the high-end segment, meaning that anyone who wants the very best must learn to live with a handset of not-so-pocket-friendly proportions. However, there is a handful of smartphones that pack lots and lots of bang in a small, compact package – a combo sought after by a considerable fraction of users. And right now, the
Samsung Galaxy S4 mini
and the
HTC One mini
are among the best specimens fitting the description.
On one hand, the Samsung Galaxy S4 mini and the HTC One mini seem to have a lot in common. They are both compact, easy to handle, equipped with 4.3-inch screens, and rich in terms of features. That makes ranking one of them above the other rather tricky. But the more we play with these two minis, the more differences between them we can list. In fact, we can pretty much give you a clear picture as to which smartphone you'd be more satisfied with, depending on your needs and preferences. Read on to learn more.
Design
We can't deny it: the HTC One mini is the better-looking handset among the two. It isn't leading by miles, but we'd still give it our beauty award any day as we're quite fond of its seamless unibody construction and premium metallic design. As for the plastic-made Samsung Galaxy S4 mini, it definitely catches the eye, but it simply lacks the One mini's character.
Both smartphones are narrow enough to be used very comfortably with a single hand. However, the Galaxy S4 mini is a little bit easier to handle – it isn't as tall as the HTC One mini and its screen is positioned closer to the bottom
edge
. In other words, the furthest side of the S4 mini's screen is closer to the user's thumb, which makes it easier to reach.
Display
That the HTC One mini has the better screen is as clear as day. While both displays have the same area and share a diagonal size of 4.3 inches, the HTC One mini's panel delivers much higher resolution and
pixel
density – 720 by 1280 pixels vs 540 by 960 pixels for the Samsung Galaxy S4 mini. And the difference is easy to notice when the two smartphones are put side by side. Anything from text in web pages to the pictures in the image gallery is sharper, more detailed, and easier to make out on the HTC One mini due to the higher pixel count.
Color fidelity is also better on the HTC One mini. Its Super-LCD3 screen displays very accurate hues across the entire spectrum, while the Samsung Galaxy S4 mini, packing a Super AMOLED screen, tends to boost color saturation, albeit not by much. We're also very pleased with the One mini's outdoor visibility. Its screen is brighter and reflects only a fraction of the light that hits it. The display on the Galaxy S4 mini has a low reflectance rating as well, but it isn't as bright, which makes it not as easy to see under broad daylight.