Samsung Galaxy S III vs HTC Rezound
41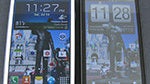 This is a short comparison review between the Samsung Galaxy S III and the HTC Rezound, both of which are available from Verizon Wireless. You can read our full in-depth review of the Samsung Galaxy S III here, and of the HTC Rezound here.
Introduction:
Even though the HTC Rezound had been on the scene since last November, it has until recently been one of Verizon's top-tier smartphones alongside the Motorola DROID RAZR. This time around, we're going to see how the HTC Rezound faces-off next to the new Samsung Galaxy S III, as both come with plenty of features and have the same $199 on-contract price tag for the 16GB version.
Design:
When looking at the Samsung Galaxy S III next to the HTC Rezound, their differences in style are quite evident. The Galaxy S III is more fashionable with its sleek and thin body, while the Rezound looks like it from 2 years ago – all black with just a few red accent point. Even though the Rezound isn't as tall and wide as the Galaxy S III, it is quite thick at 0.54", compared to only 0.30" thick on the Galaxy S III, and the Rezound is also 1.3 oz heavier. Some may like this extra thickness and weight, but to us, the Rezound feels more like holding a brick, while the Galaxy S III is lighter and more comfortable to carry around.
The HTC Rezound comes with the standard 4 touch-sensitive

buttons

on the front of the phone, but they are illuminated in red. The Samsung Galaxy S III instead uses a physical Home button in the center, with two touch-sensitive buttons on either side. We like having this physical Home button since it can also wake up the phone, instead of having to use the power/lock button on the side.
In order to access the

microSD

memory card slot, you must first remove the rear cover of both phones, but the Rezound takes it one step further and requires the removal of the battery as well, which means the phone has to be turned off.
Display:
This is where things start to get interesting. Both the HTC Rezound and Samsung Galaxy S III have an HD display with a resolution of 720x1280, but they are completely different. The S-LCD display on the Rezound is 4.3", which yields a pixel density of 341 ppi, while the Galaxy S III has a larger 4.8" Super AMOLED display, but it has a lower pixel density of 306 ppi.
Because of this, fine text does look slightly sharper on the Rezound, but the Galaxy S III isn't far behind. Still, the larger Super AMOLED screen on the Galaxy S III does have its benefits, such as producing highly saturated colors, better

viewing angles

, and is easier to view while in sunlight.




Samsung Galaxy S III 360-Degrees View:
HTC Rezound 360-Degrees View:
Recommended Stories