Samsung Galaxy S III vs HTC EVO 4G LTE
77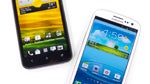 Introduction:
It can be argued that the original
HTC EVO
is phone that defined Android during its emergence as the world's top mobile OS, but Samsung's Galaxy S line of phones have been insanely popular over the past few years. Sprint customers have been fortunate enough to have their choice from these two family of phones, and this year HTC and Samsung are back with the latest version of their flagship models available on the pin-dropping network. Both the
HTC EVO 4G LTE
and the
Samsung Galaxy S III
run on Qualcomm's Snapdragon S4 SOC, feature large HD displays, an 8 megapixel camera and more memory than most people would need. It's a good time for Sprint users to need a new phone, but which of these two powerhouses is the right phone for you?
Design:
While these two hero devices may share a similar spec sheet, they couldn't be more different to look at and interact with. The EVO 4G LTE, which launched last month, is a triumph of industrial design and features an anodized aluminum unibody and a 4.7" display protected by Gorilla Glass 2. The premium materials feel great in the hand while making for excellent build quality. A striking red band adorns the back, giving the phone some personality while stealthily housing the EVO's sturdy kickstand. The edges are milled down to bare aluminum, providing a smart contrast to the phone's otherwise black hue. The glossy plastic cover allows for removable memory, something the EVO's
One X
sister phone lacks, though many would prefer a matte finish. HTC has made design a top priority for this year's lineup and this is very apparent in the EVO 4G LTE.
Samsung doesn't use cheap plastic on the Galaxy S III, but it is still plastic nonetheless. It doesn't help that they don't give it any texture, making the phone hard and slippery in the hand. Of particular note is the silver trim ring, which is also plastic, that is made to look like brushed metal. To us this shows that Samsung is more worried about look than actually using premium materials on their phone. The build quality seems quite good, but it just does not translate into the feel of the phone in your hands.
The two devices are nearly identical in size, but to a man everyone who picked up both devices noted that the Galaxy S III felt wider (which it is, though only by 2mm.) We asked several happy
Galaxy S II
owners which device they preferred, and not a single one chose the Galaxy S III. The biggest complaints we received was that the Galaxy was too big, too slippery or that they did not like the new rounded look. We'd have to agree with them, while we appreciate the smooth back of the S III we prefer the overall design of the Galaxy S II more.
One thing we feel needs pointed out is that Samsung has broken with Android 4.0 design language and included a menu button instead of a task switcher like you'll find on other ICS devices. Google has tried hard to make ICS a more cohesive and unified experience, and other manufacturers seem to be on board with this. Samsung has also rearranged the buttons, bringing Back to the far right. This isn't a criticism one way or the other, but it is a curious decision from the manufacturer of the last two Nexus devices.
Display: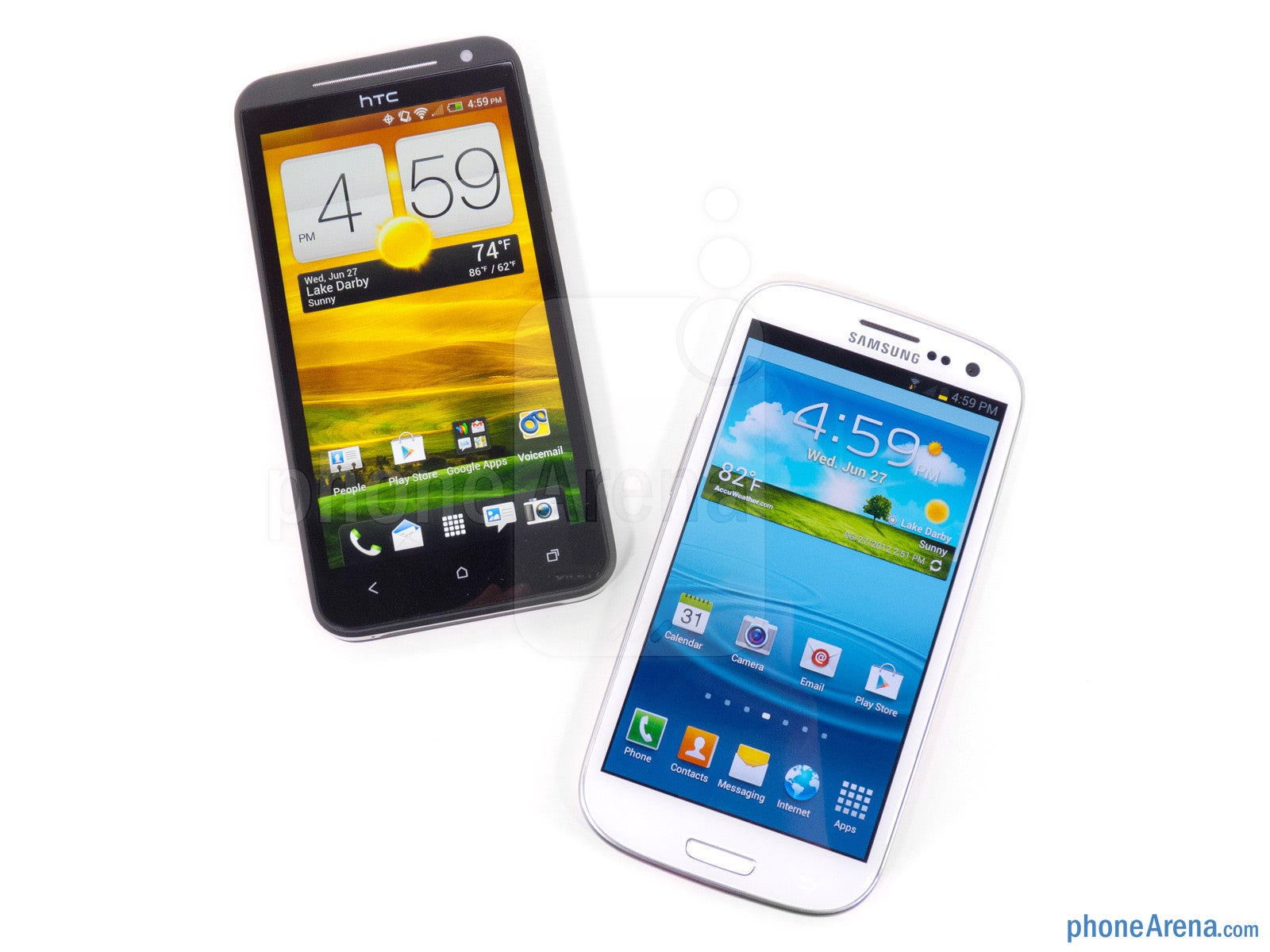 Both of these phones aim to make a mark with their brilliant displays, and both of them do.
Samsung has stick with their own HD Super AMOLED technology on a 4.8" screen
, while
HTC uses Super LCD2 for their 4.7" display
. In general both of these displays are large, bright, crisp and gorgeous and if you never put the two side by side it'd be hard to pick a winner. But pick a winner we must, and when they are placed side by side, the IPS S-LCD2 screen is the winner. While both technologies suffer from color oversaturation, the AMOLED panel is much more pronounced and still retains the bluish hue they are known for. Thanks to the IPS technology the viewing angle on the HTC EVO 4G LTE is astounding, something the Galaxy S III can't match.
Objectively, media just looks better on the S-LCD2 display.
Samsung Galaxy S III 360-Degrees View:
HTC EVO 4G LTE 360-Degrees View:
Recommended Stories