Samsung Galaxy Note II vs Galaxy S III
44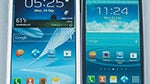 Introduction:
The
Galaxy Note
single-member phone family just expanded with its second member, the
Note II
, bringing many improvements over its predecessor. These include a larger and brighter screen in a more compact body, much more ergonomic S Pen stylus, which has learned new tricks, and a beefy quad-core processor plus 2GB of RAM.
Is the Note II a strong enough package, however, to warrant your attention, if you are eyeing a regular high-end smartphone with "just" 4.8" screen, like the
Galaxy S III
? Read on our comparison to try and answer this question...
Design:
There is some truth to the notion that the Note II is simply an oversized Galaxy S III in terms of its design heritage. It uses the same polycarbonate plastic, and especially the white versions seem very much alike, save for the size. There are subtle differences, though, with the Note II being much less rounded at the corners, and its bezel underneath the display being much thinner than what we see in the Galaxy S III, making way for the huge 5.5" screen.
We'd take the slim and rounded
S III
chassis before the more rectangular faux-metal rim body of the Note II, though, and still it is much better than the dorky body we have with the original Note.
The
Note II
weighs about two ounces more, naturally, but nothing deal-breaking in that respect, since the Galaxy S III is already pretty light for a 4.8-incher. Both handsets follow the new Samsung mantra for narrower and taller bodies, easing one-handed operation, but the Galaxy S III is much more comfortable to handle in your palm, of course.
Display:
The
5.5" 16:9 HD Super AMOLED screen
on the
Galaxy Note II
is better than the
4.8-incher on the S III
in every category imaginable but pixel density. Considering we have three subpixels per pixel now with the Note II, 30% more than we have with PenTile on the Galaxy S III, even that paper advantage is dubious when you look at the screens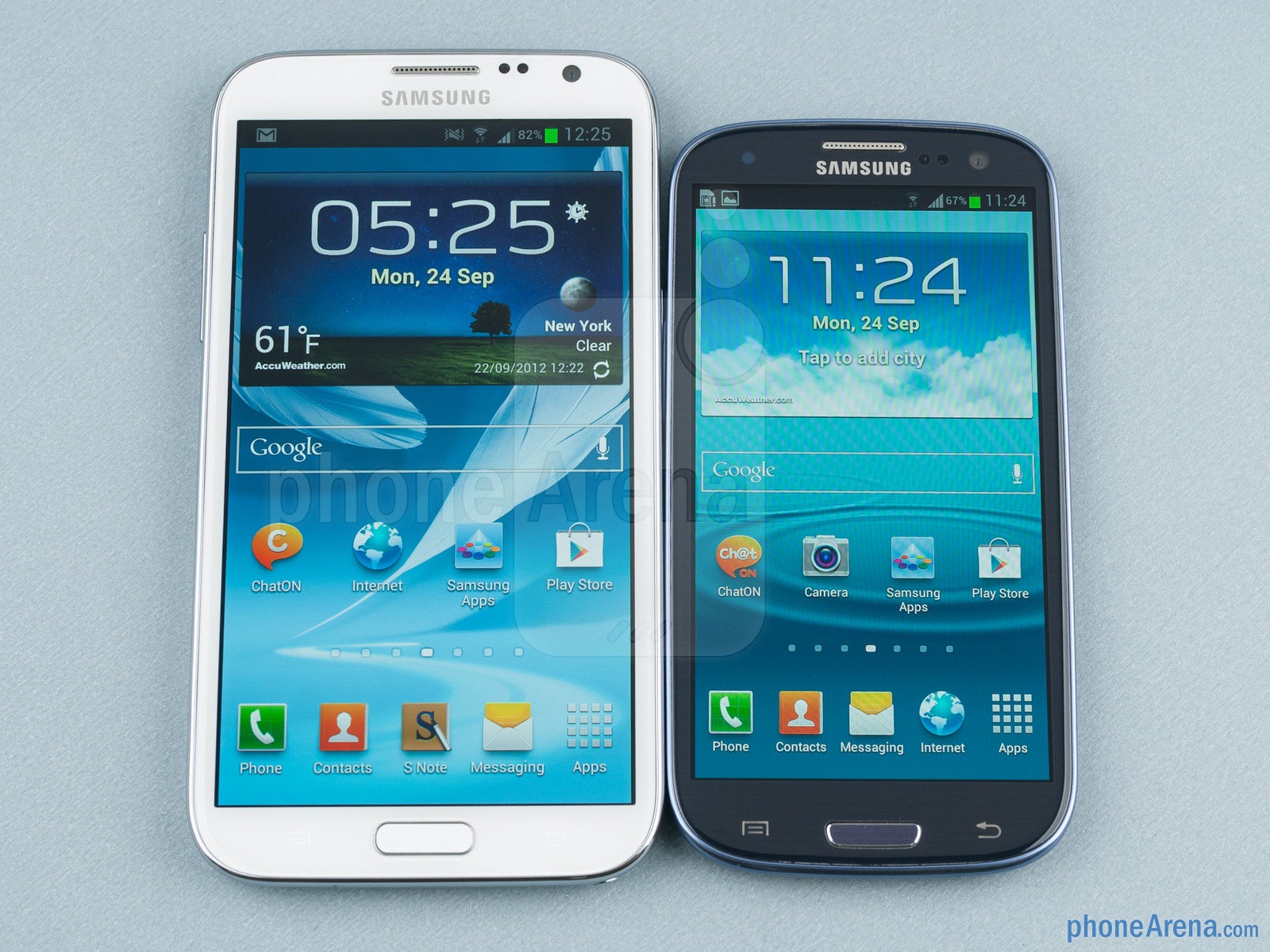 The Note II's screen is much brighter than what could easily be the dimmest AMOLED screen of Samsung on the Galaxy s III, making it much better for use outside under direct sunlight. Moreover, the typical coldness of Super AMOLED colors is almost gone now, and the blueish tint when displaying white is down to a minimum, whereas it is very visible on the Galaxy S III.
In all honesty, the Note II has the best screen Samsung has produced to date, considering AMOLED's other virtues, like very high contrast and wide viewing angles, and the larger size compared to the Galaxy S III makes it that much more appealing for media consumptions and web browsing on the go.