Samsung Galaxy A52 vs Samsung Galaxy S20 FE
1
Since the release of the new mid-range Samsung Galaxy A52 and since getting our hands on it, we here at PhoneАrena noticed that it's cheaper than the Samsung Galaxy S20 FE while also offering a high refresh rate and an improved camera. Not only that, but it keeps its headphone jack while offering water resistance. The A52 is supposed to be the price conscious choice here, but so was the S20 FE when it came out. So we ended up wondering, which one is the best Samsung for the money right now.
With that in mind, we got these two devices with us to compare them and see what makes them so spicy and attractive. So keep reading if you're interested in seeing which phone will emerge victorious.
Design
Starting with the design, we kind of like both. The A52 has a newly redesigned look where the camera bump is actually more like a natural bump. The phone is matte and made of plastic entirely on the back. On the other hand, the S20 FE sports the previous generation of back design of the S-lineup, but we should note that it is also made of plastic. The camera bump has sharper edges and is more like a separate element of the back, but we still think that the overall design is OK. A benefit of the entire plastic build for these 2 devices is that it's more resilient to drops and is cheaper to replace so we're also down for that. There are also some new colors available on the A52 such as the Awesome White, Awesome Black, Awesome Blue and the one we have here, the Awesome Violet. The FE we have here is a bit more dull but sleek with a Cloud Navy color, but you can also get it in some interesting colors such as Cloud White, Cloud Red, Cloud Lavender, Cloud Orange, and Cloud Mint.
Where the FE differs though, is in terms of feel, in the metal sides of the device which give off a nice premium finish to it. So based solely on the design, we'd have a hard time choosing either one, but if you're after some premium elements, the S20 FE is your device.
Display
Fast refresh rate and beautiful AMOLED colors on both
Display-wise is where it's easy to make a decision.
The A52 comes with a breath of fresh air from other mid-rangers, a 90Hz refresh rate 6.5-inch 1080p panel, which is amazing to see at this price, but if what we're going after is the top, then the 120Hz 6.5-inch display on the S20 FE would be a better choice. Both devices have those iconic AMOLED colors we've come to expect, so we have no complaints there. They are also close in terms of quality and sharpness, but the smoothness of the S20 FE is on another level. And also, in terms of brightness, we have a difference, albeit a small one, in favor of the S20 FE with 742 nits versus 715 nits on the A52. So we'd suggest you base your decision here on a budget and refresh rate preference.
If you're more interested about how they perform, you can check the following tables.
Camera
The A52 lacks a zoom camera, but for all else is not far behind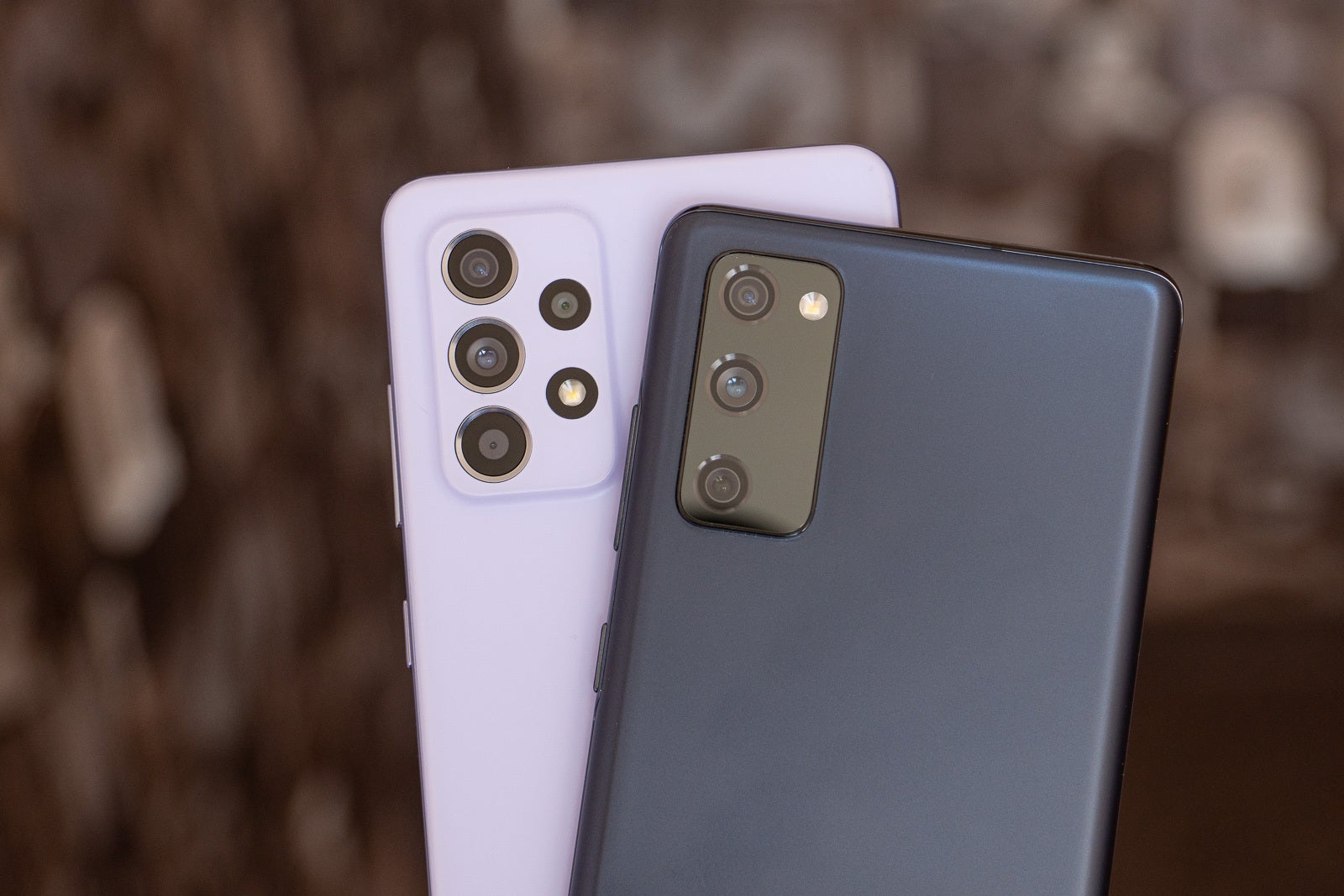 And now moving over to the camera segment - the one we've been waiting for.
The Galaxy A52 sports a 64MP main shooter with, surprisingly, optical image stabilization (OIS), a 12MP ultrawide and 5MP macro camera whereas the S20 FE sports a 12MP main shooter with OIS, a 12MP ultrawide and 8MP telephoto camera. So with the interest to find out which camera system performs better, we went out to have them battle it out.
To start off then, we went out to take a couple of shots.

Galaxy A52 on the left, Galaxy S20 FE on the right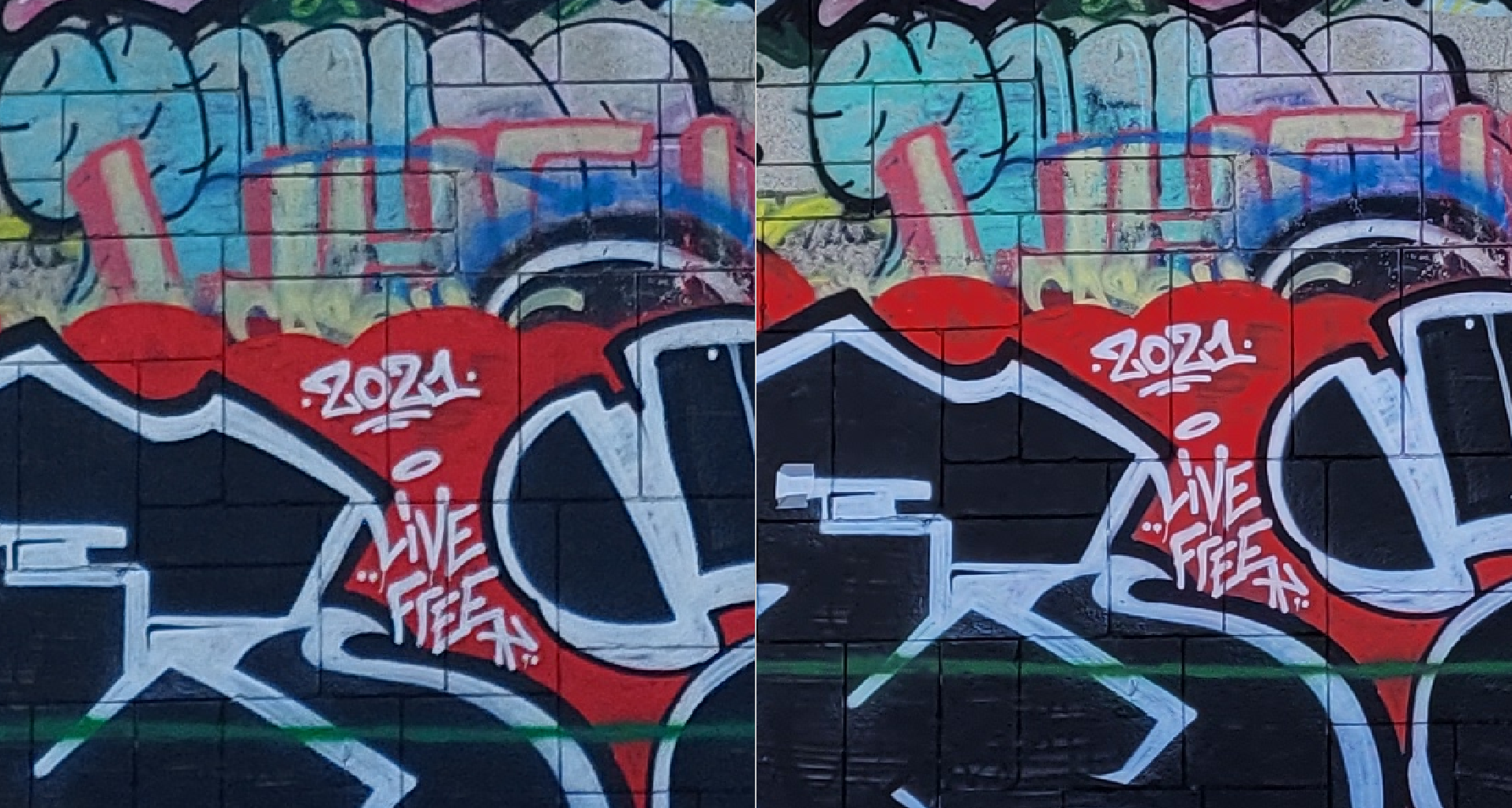 Galaxy A52 on the left, Galaxy S20 FE on the right
The first photo came out pretty identical color-wise and dynamic range-wise, but in terms of sharpness, if you look a bit closer, you'll notice that the S20 FE comes out more clear and sharper. Otherwise, in any other photo, differences were negligible, even if we tried zooming in, we still didn't notice any substantial differences in quality.

We also did not see any major differences with the ultrawide cameras on both devices so that was pretty cool.

Galaxy A52 on the left, Galaxy S20 FE on the right
Maybe Samsung has indeed poured more into its midrange lineup. Exposure, dynamic range, and sharpness were also on par.

Where the phones differ for sure though is in the different 3rd camera for each. The S20 FE, for instance, has an optical zoom lens camera, and sure, while you may also take zoom photos with the A52, they simply wouldn't come out as sharp.

Galaxy A52 on the left, Galaxy S20 FE on the right
And this isn't like something you'd notice harder if you zoom in by a lot, not at all.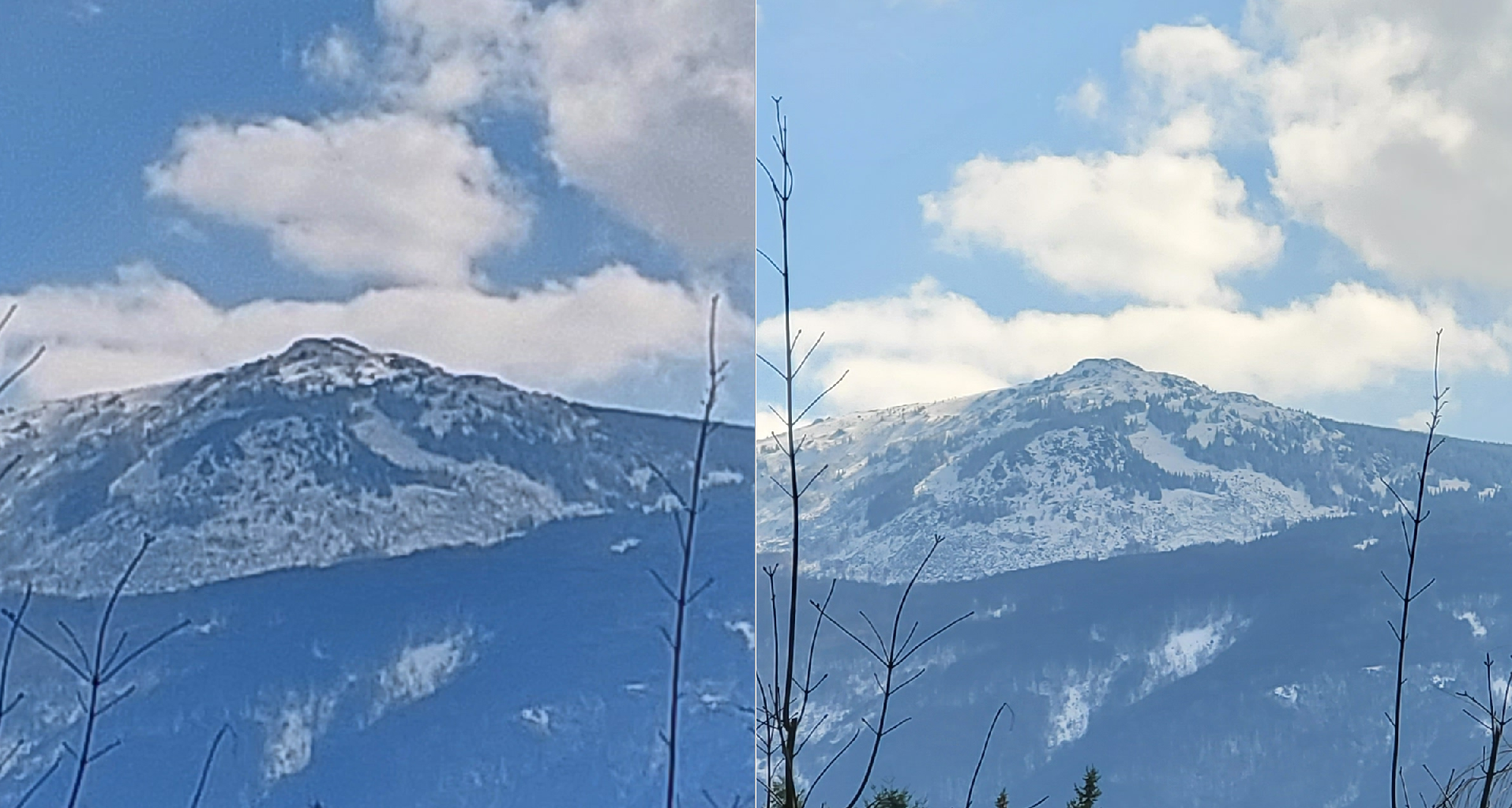 Galaxy A52 on the left, Galaxy S20 FE on the right
Just zooming in a bit shows how much sharper the S20 FE's telephoto camera is.

Then how about the macro camera on the A52, is it any better than not having one on the S20 FE? Well, it's tricky to say. To put it this way, the macro camera on the A52 was comfortable to use while taking a close-up shot since the focus is locked to a closer distance but at the same time, the S20 FE is capable of taking shots from even closer if you have a stable hand and use the optical zoom camera.
Have a look here for instance:

Galaxy A52 on the left, Galaxy S20 FE on the right
So pros and cons is our answer to this question.

How about night photography then? The main camera of the S20 FE was better in terms of noise and colors in the dark, but for some reason, the A52 kept producing slightly wrong colors in this particular scene.

Galaxy A52 on the left, Galaxy S20 FE on the right

So then as a conclusion, Samsung has made some good improvements on the A52. And while it does lag behind the Galaxy S20 FE, it still manages to bring decent quality to the table.


Performance
A52 might be improved from its predecessor, but it still runs on a mid-range processor vs a top-end one on the FE

Performance-wise is where even though the S20 FE is older, it's still much better. As we mentioned earlier, the S20 FE tried to be a phone that offers the best at a lower cost and its SoC backs up that claim. It sports a high-end flagship chip. While on the other hand, the A52 sports a rather slower mid-range processor. If you have a look here, you'll see pretty clearly how the S20 FE blew the A52 out of the water on our benchmark.




So in terms of gaming and more heavy tasks, you'll notice that the FE is overall the better phone, but in terms of light tasks like watching videos, browsing the net, and even some light gaming, the Galaxy A52 is simply a very good choice. We rarely noticed any stutters on it in our day-to-day use but of course, you can still find the occasional hiccup here and there whereas the FE is simply far smoother in that regard. Additionally, both devices use a fingerprint under the display which we noticed to be of relatively equal speed for the FE and A52. We also rarely got a misread finger which is cool. But overall, we're still leaving this as a win to the Galaxy S20 FE.
Battery life
Samsung promises 2-day battery life on the Galaxy A52, better than the S20 FE
The Samsung Galaxy A52 is an impressive upgrade from last year's A51 since it now sports a larger battery at 4500mAh which coincidentally is the same capacity as on the S20 FE. But according to some tests we did, the S20 FE fared worse. That's not to say it had bad battery life, in fact, it lasted us through the day and more, but it was worse when compared to the A52. To put it in other words.
The Galaxy S20 FE lasts on average around 12 hours and 30 minutes when browsing the web at 60Hz, while the A52 did 16 hours before biting the dust. So this is a big win in our books for the cheap champion.
And if you're interested in our full results, you can check them down here:
Features
The cheaper A52 has a headphone jack, but lacks the wireless charging that the S20 FE offers

So then we reach the features section. This is where the A52, believe it or not, brings a strong game. You see, while we know that the S20 FE is slightly more expensive and also better in terms of performance, we would also expect it to fare far better in terms of extra features, but it doesn't.

For some context, the FE offers water resistance with an IP68 rating, expandable storage, and wireless charging while on the other hand, the A52 almost matches it with a water resistance rating of IP67 which is identical, meaning the phone can go as deep as one meter in water for 30 minutes before possibly dying whereas the FE is rated to withstand a depth of a meter and a half for the same amount of time. The A52 also sports expandable storage and a headphone jack. Sure, it doesn't have wireless charging but we'd argue that the lack of a headphone jack on the S20 FE is also a downgrade. So then, we'd say both are down to preference since they cover most of everything you'd ever need.


Price and Availability
MSRP difference of around $200 between these two
Beginning with the Galaxy A52, it starts at 350 euro in Europe but is expected to be around $500, while the S20 FE starts at $699, but is regularly discounted to around $550, so you might have a hard time choosing either one if they're both within your budget.
The phones we currently tested were the regular Galaxy A52 and S20 FE, but we should add that the A52 is available with 5G and is an option to consider for around those same $500. At the same time, the S20 FE can also be bought with 5G support.
The A52 supports only sub-6GHz speeds which is a bummer if you're looking for the connectivity of your lifetime but at least it will be solid. The S20 FE supports sub-6GHz too but is also available from Verizon with mmWave support which is a good bonus. So depending on what you need, Samsung has you covered.