Samsung DoubleTime Review
2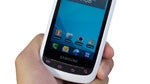 Introduction:
Oh Samsung, they continue to be one of the more aggressive manufacturers out of the bunch, mainly because they poke their nose in almost every handset category out there. Surely, when you boast a massive market share, it's only common to find them even going out of the norm to reel in some people. Well, we have to give them credit for steering outside of the box, now that their clamshell dual-touchscreen device in the
Samsung DoubleTime
is ready for the taking. Of course, it's not trying to win over power users, but rather, it's ducking to entice feature phone users to transition over.
The package contains:
microUSB cable
microSD card adapter
Wall Charger
Quick Start Guide
Health & Safety and Warranty Guide
Design:
Right off the bat, the Samsung DoubleTime easily reminds us of some kind of feature phone because of its clamshell dual-screen form factor, and rightfully so, everything about its construction and design confirms our suspicions. Blatantly, it exudes a design that's akin for a feature phone with its all-white plastic exterior, though, it still feels a bit weighty (5.22 oz) in the hand. Fortunately, the added weight aids in keeping it somewhat durable feeling, as opposed to being completely cheap in overall build.

You can compare the Samsung DoubleTime with many other phones using our
Size Visualization Tool
.
Indeed a distinguishable quality, the Samsung DoubleTime as its name implies, features two
3.2" HVGA (480 x 320) displays
with support for 262k colors. With the internal one, it's locked in landscape orientation, but the quality of the two are rather lacking due to their poor viewing angles and washed out colors. Details on the other hand are decent, especially when you factor in their screen size and resolution – albeit, fine text have a soft tone to them.
Flipping the front portion of the handset to expose its
4-row QWERTY keyboard
, it locks into position at a 135-degree angle to give you that laptop-like feel, and can go further to a full 180-degrees. Sporting uniform squarish buttons, they're flush to the surface and offer minimal distinction, but at least they exhibit a nice clicky feel. More than usable to keep a constant rate of input, its layout is further supplemented by its incorporation of a directional pad and typical Android menu buttons.
Not something we typically see, it boasts
physical Android buttons
as opposed to capacitive ones, which seemingly prevents any accidental presses from happening. Meanwhile, around the sides, we find its microUSB port, microphone, 3.5mm headset jack, power button, and volume control.
Lastly, laying flush to the surface, it sports a 3.2-megapixel auto-focus camera in the
rear
, but lacks any sort of flash whatsoever. Moreover, two notches for the handset's speakerphone are placed nearby. Prying off the rear plastic cover, we gain access to the microSD slot, 1,200 mAh battery, and SIM card slot.
Samsung DoubleTime 360-degrees View: