Samsung Comeback T559 Review
4

Introduction: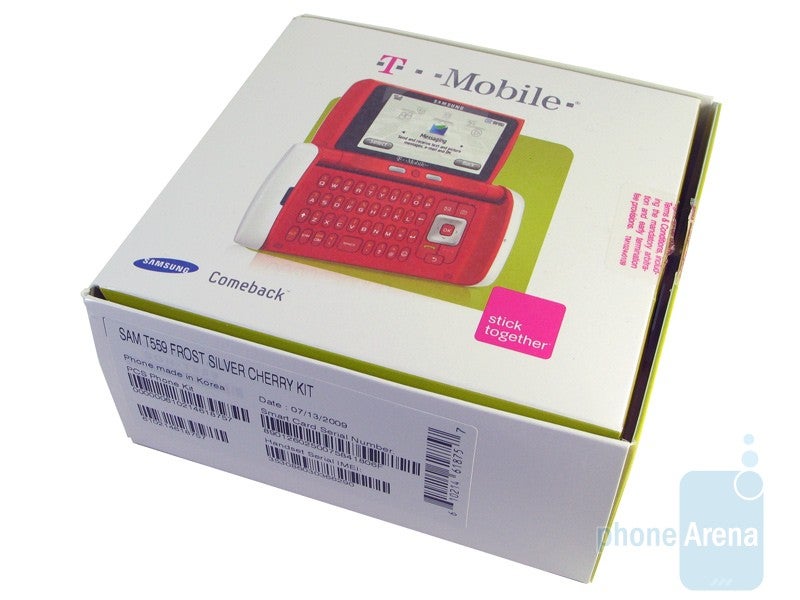 Looks can always be deceiving when you view something from one angle only – sometimes you never know what to expect. It is quite clear now that texting has become a major part of the landscape of mobile communication. Always trying to keep it fresh, Samsung has a decent mix of messaging oriented devices to offer for T-Mobile subscribers. The
Samsung Comeback T559
utilizes an interesting form-factor to make it transform from one device to another. Aiming to be a suitable text messaging phone for teens, we hope that the Comeback may be interesting enough to keep users wider awake and alert.
The package contains:
• Samsung Comeback
• Charger
• Hands-free Headset
• Start Guide
• User Guide
• T-Mobile Services Guide
Design:
From afar, one would think that the Samsung Comeback T559 might be a hefty looking candybar handset. In fact, it
uses a clamshell design to secretly hide away its QWERTY keyboard
. There's no doubt that it doesn't have a modern look to it when compared to some of the other QWERTY devices Samsung has produced. Despite the toyish feeling plastic material used for the casing, it does feel remarkably well built all-around. We're sure that this can withstand most of the normal wear and tear users tend to dish out. For a clamshell device, it's quite bulky and thicker (0.73") than other comparable handsets. Additionally, its large dimensions for its class are accompanied with a weight (4.6 oz) that's fit for its looks. For those who prefer a retro design, this will definitely be in your class.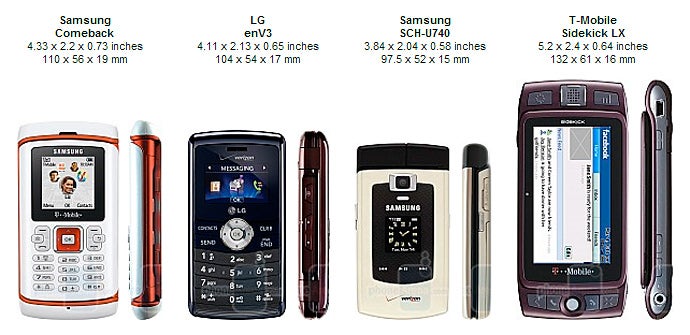 You can compare the Samsung Comeback T559 with many other phones using our
Size Visualization Tool
.
The
1" external PMOLED screen
has that Tron-like look that makes it stand out when the black theme is selected, but it's limited to what it can display (such as photos). On the other hand, the
internal 2.7" LCD
screen is a sight to behold – one of the areas it managed to impress us. It has a resolution of 240x400 pixels and 262k colors. Images are detailed, filled with colors, and bright enough to make it an enjoyable experience anyone can expect. You'll have some issues with visibility when you attempt to use it in direct sunlight. Both screens become dim and require you to shield it so you can see what's on screen.
The
buttons
used for the keypad on the front of the phone are slightly raised, decent-sized, and have a tactile feel to them. The square shaped navigational pad is balanced and we were able to move around the menus without any mispresses. Other than the usual send and end keys, the only other dedicated ones are the camera and back buttons. They have a light red backlighting which doesn't make for a good contrast – making it difficult to see with the white plastic. The volume rocker is appropriately found on the left edge with the proprietary charging port next to it. There's a 2-megapixel camera and speakerphone on the back of the device – no flash or self-portrait mirror to be found. Sliding off the plastic rear cover will reveal the battery, which needs to be removed in order to reach the SIM and microSD card slots.
Opening up the device from its side will give you access to the
four row QWERTY keyboard
. It's size, feel, and style is somewhat reminiscent of the one used in the
Samsung Alias
. The oval shaped buttons are tiny and equally spaced from one another, but still feel cramped as you begin typing. They do not have as good of a tactile feel than the ones found on the keypad – it feels stiff when pressed. Individuals with larger fingers will have a difficult time feeling out each key from one another. There is also a d-pad with some dedicated buttons (camera, messaging, send/end, and back) on the right side.
Samsung Comeback T559 360 Degrees View: Recommended Stories