Samsung Captivate Glide Review
14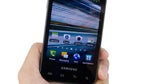 Introduction:
Before rushing to judgment, don't let its model name fool you for one bit, well, that's because the
Samsung Captivate Glide
isn't merely a rehashed device with a physical keyboard. Rather, it's a transitive smartphone that's tastefully modernized, thanks to its hardware, to meet the demands of power and elite users all around. In fact, it boasts a snazzy looking Super AMOLED display, dual-core processor, HSPA+ connectivity, and an always useful landscape style keyboard – all packaged together for a reasonable $149.99 with a 2-year contract.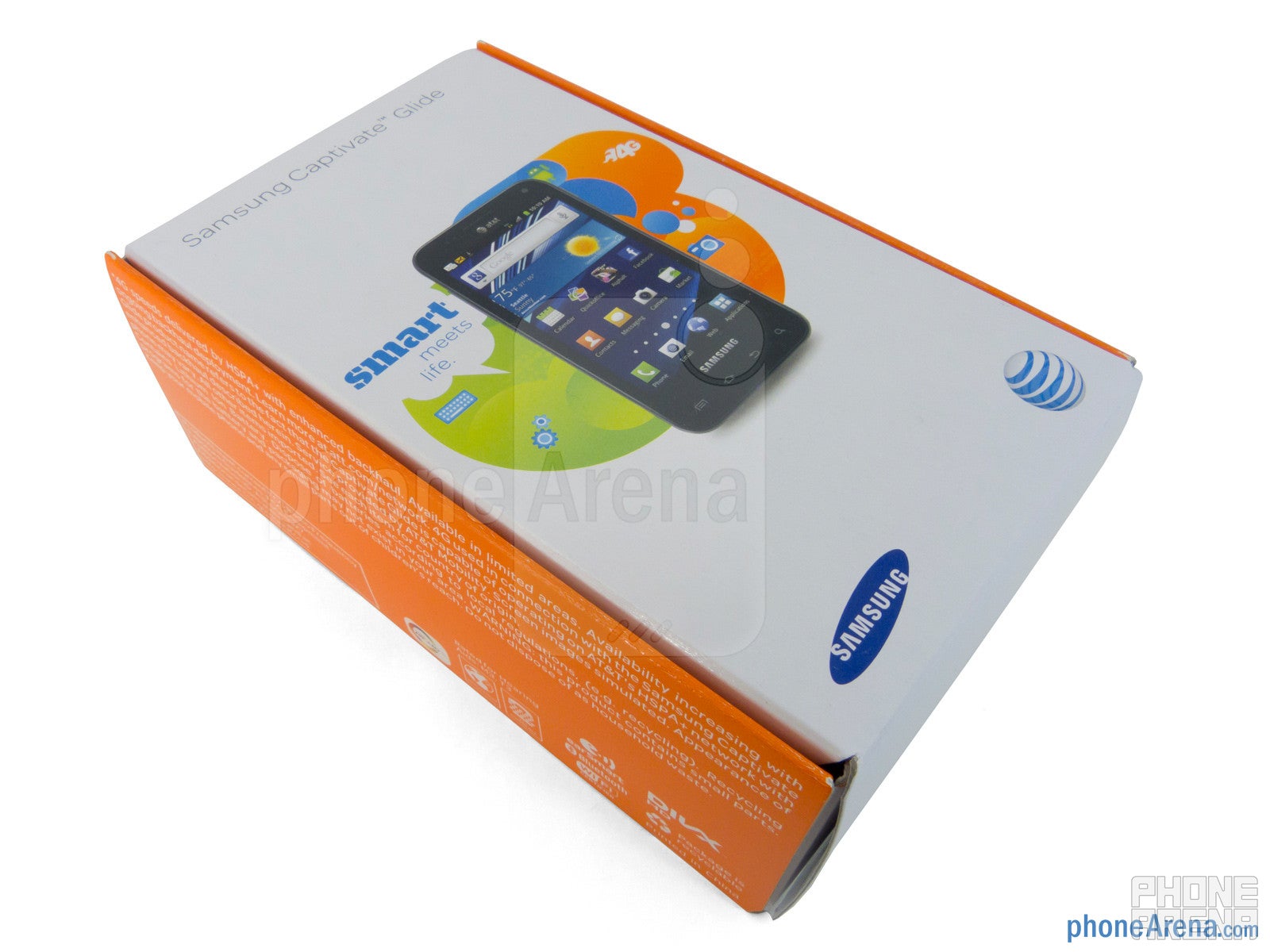 The package contains:
microUSB cable
Wall Charger
Quick Start Guide
Health & Safety and Warranty Guide
Design:
For starters, it doesn't look exactly like a Samsung Captivate with a physical keyboard attached to it, nor does it bear any striking resemblance to Samsung's line of Galaxy S II smartphones, but instead, the Captivate Glide is a totally different looking handset on its own. Constructed out of plastic, it's nice to see that it's rather compact in form (0.5" thick) and lightweight (5.2 oz) in the hand, but it tends to give it an overall flimsy build quality – though, it's not that bad at all.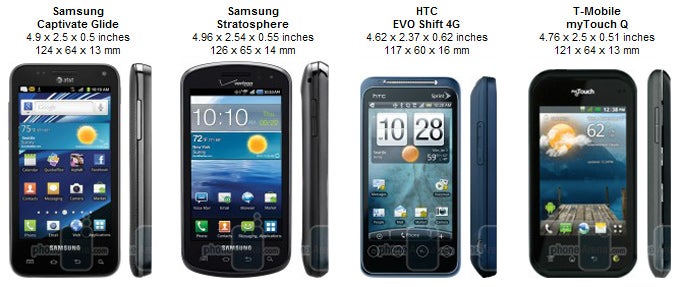 You can compare the Samsung Captivate Glide with many other phones using our
Size Visualization Tool
.
Just like the
Captivate
before it, the handset features a
4" WVGA (480 x 800) Super AMOLED panel
that delivers a lot of eye-candy right from the start thanks to its high-contrast, overly saturated color production, wide-viewing angles, and average details. No, it's not a Super AMOLED Plus panel, but nevertheless, it's able to reel our eyes from afar thanks to its polarizing glow. As much as we're entranced by it, we're still finding ourselves shielding it from the sun to make out what's on screen.
Thankfully, it doesn't require much force to expose its
4-row landscape style keyboard
seeing that its mechanism is very springy in nature. Despite the flat and nearly flush appearance of its keyboard buttons, our thumbs are able to type away with relative ease thanks to their sufficient size and tactile response. After some practice, we get into the groove of typing with minimal mistakes – plus, it's nice that we have access to the usual set of Android buttons and a directional pad with its layout.
Since the set of
Android capacitive buttons
are placed very near to the bottom edge of the phone, we still find ourselves accidentally pressing them on occasion. Meanwhile, the handset's earpiece and front-facing 1.3-megapixel camera are located above the display.
Around its sides
, we find its microphone, volume rocker, dedicated power button, 3.5mm headset jack, and a plastic sliding cover that hides away a microUSB port. With the latter, you can use an optional MHL adapter to gain video-out functionality.
In the rear
, its 8-megapixel auto-focus camera with LED flash and speakerphone notches lay flush towards the top side. Finally, removing the plastic cover provides us access to its SIM card slot, 1,650 mAh battery, and microSD slot.
Recommended Stories