RIM BlackBerry Curve 9380 Review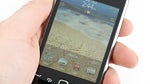 Introduction:
The
BlackBerry Curve 9380
marks somewhat of a milestone for RIM, as it is the company's first device of the supposedly affordable Curve series that comes in a touchscreen-only form. It disposes of the legendary physical keyboard, as found on its
9370
cousin, replacing it with a fairly tiny 3.2" display. In comparison, the
BlackBerry Torch 9860
is touchscreen-only as well, but has a more generous 3.7-incher with better resolution.
The rest of the specs on the Curve 9380, like the 800MHz processor, 512MB of RAM and 5MP fixed-focus camera with LED flash are nothing to get too excited over, but with RIM it's supposedly the software that counts. So did the Canadians manage to usher the entry level Curve series in the touchscreen era, while at the same time preserving the BlackBerry spirit with the Curve 9380? Read on to find out…
In the box:
Wall charger
In-ear headphones
2GB microSD card
MicroUSB cable
Warranty and information leaflets
Design:
Thanks to the modest 3.2" display the BlackBerry Curve 9380 is a very compact and lightweight device that cups well in the palm, while the tapered back and rounded sides add to the comfortable feeling in the hand. Your thumb reaches everywhere on the display, making one-handed operation a piece of cake.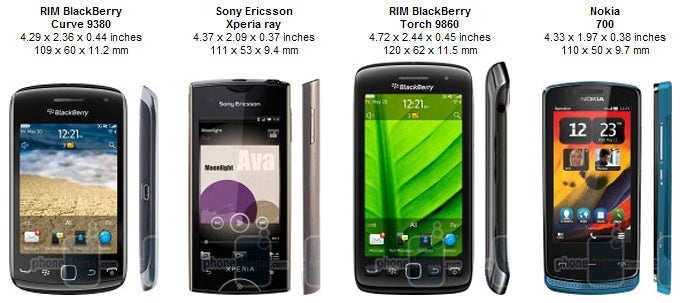 You can compare the RIM BlackBerry Curve 9380 with many other phones using our
Size Visualization Tool
.
The Curve 9830 is all-plastic, but the choice of materials and the build quality are pretty good. We liked the way that the three-toned
back
blends things in, like on the 9370 or the 9860. We go from a large piano black glossy plastic for the battery cover to matte plastic on the rim where the 5MP camera with LED flash and the speaker grill are, to the faux-metal rim surrounding the sides.
As if to soothe your pains here, RIM has added its cool
padlock sign
at the top of the phone, indicating where you have to touch to unlock the screen – pretty neat idea that differs from the pack. Don't get us wrong – it's not a capacitive key, you still have to gently push down until the contacts meet, but it is flush with the top surface, and only indicated by a little padlock sign. Joy.
The only thing on the left is the microUSB port for charging and syncing, and the only other opening around the phone is the standard audio jack up top.
Display:
The LCD screen is very bright, which helps a lot when viewing outdoors, and its colors look vivid. The viewing angles could be better, brightness and color deterioration start to show up after the 45 degree mark, which is typical for this type of LCD technology. A 360x480 pixels resolution makes for 188ppi
pixel
density, which is bearable.
RIM BlackBerry Curve 9380 360-degrees View: