Parrot DriveBlue Car handfree system (version 3.10) review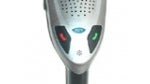 Parrot's DriveBlue is the first car handsfree that I've tested. All other units that I've seen so far required some type of wire installation, speaker modification etc which did not appeal to me. DriveBlue is the first product that I am aware of that does not need anything other than just being pluged into a 12 volt power source. After quick synchronization process you can start taking calls even without touching your phone.
The connection between the phone and the DriveBlue is achieved wirelessly through Bluetooth. Voice recognition allows the driver to place and take calls without touching anything - a lot safer and convenient then holding a phone.
DriveBlue should work with any bluetooth enabled phones supporting either the headset or the handfree bluetooth profiles.
| | |
| --- | --- |
| | DriveBlue package |