Introduction:
The package contains:
Design:
The name says it all in terms of design and form factor. It really does look like a
slate
with its dark slim low profile figure. A lot of plastic was used for the construction of the phone with glossy material for the front while a more subtle one for the back, which almost has a slight soft leather look and feel; making it easy to grip. Who says that using a lot of plastic is a bad thing? It definitely shaves off some of the weight (
3.2 oz
) and thickness (
0.39"
). Corners are rounded off to give that uniform look with a solid metallic blue outer border all around the phone. Glancing at the phone before even picking it up gave us an initial impression of cheap. After inspecting it closely, we realize that the material is appropriate for trying to emulate expensive material while saving build cost. We wouldn't call this the best looking device out there, but it feels relatively well when you hold it in your hand.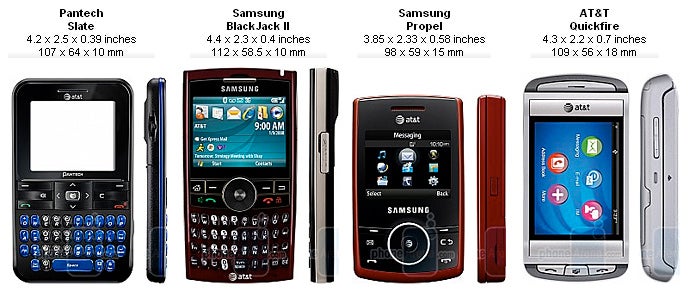 You can compare the Pantech Slate with many other phones using our
Size Visualization Tool
.
We didn't find any faults with the
2.2" screen
that has 220x176 resolution and 262k colors. It was bright enough in pretty much any lighting conditions we put it through. Even in the dreaded direct sunlight scenario, it performed well with everything still visible on the display. With
pixel
density on the low side, you'll notice some graininess on screen.
The four row
QWERTY keyboard
definitely reminds us the
BlackJack II
layout with the same button feel. Although they are slightly larger with less spacing, typing away came with relative ease. Numbers are colored in black while everything else can be found in blue. The only gripe we had when using the QWERTY was the repeated press of the function key to type consecutive numbers. For example when typing "12345", you would typically hold down the function key and proceed to press the numbers. With the Slate, you need to press the function key once before each number instead of holding it down the entire time. It definitely gets to be annoying after time. Other than that one issue, we were typing away at a good pace.
one handed operation
, but the scrolling on web pages was off. Instead of scrolling slowly through all clickable items, it would jump in equal increments and we sometimes find ourselves using the navigational pad to go back up. Launching the camera application can be completed by pressing the dedicated button on the right side. The only thing you'll find on the top side is the charging/USB connection port. It's shocking to find relatively few buttons on a device, but the Pantech Slate does take it back a little.
Finally, the
1.3 megapixel camera
can be found on the back with the speaker phone surrounding it.