Pantech Ease Review
19

Introduction:
Sometimes the only way to get your name out there is to simply saturate the market with numerous handsets that play to the strengths of a wide range of demographics. Pantech is no stranger on AT&T's lineup as we've seen them relentlessly dishing out handset after handset that doesn't look to recede any time soon. It wasn't too long ago they entered the touchscreen game with the
Pantech Pursuit P9020
, but this time around, they intend to introduce the
Pantech Ease P2020
as an introductory handset geared towards the specific needs of the elderly – or those who simply want a phone that has a short learning curve. At the same time, the Ease aims to strengthen Pantech's growing line of touchscreen enabled messaging phones.
The package contains:
• Pantech Ease P2020
• Wall Charger
• microUSB Cable
• User Manual
• Interactive Tutorial CD
Design:
Upon first gazing at the handset, the Pantech Ease follows closely to the Pursuit, although it's a little bit more oval looking in shape and narrower, the design is typical to things we see from Pantech's camp – nothing too awe inspiring. The all plastic constructed handset feels pretty good in the hand, especially with the somewhat rubberized feel of the rear, as its light weight (3.5 oz) does well in making it feel balanced. It's difficult to say which demographic Pantech tried to appease more, the text messaging savvy youths or the laid back simple style of older adults, but it would seem that Pantech attempted to craft a handset that would appeal to both.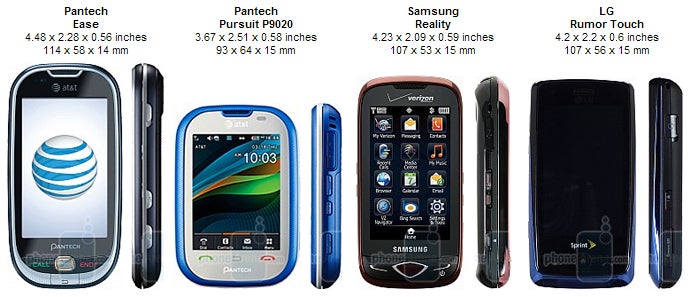 You can compare the Pantech Ease with many other phones using our
Size Visualization Tool
.
The Pantech Ease has an ample sized
3.2" display
which has a resolution of 240 x 400 pixels with support for 262k colors – which is easily larger than what's offered on the Pursuit. Although the display manages to show text and colors decently, we still rather found the resistive touchscreen to be somewhat unresponsive in trying to move in-between home screens. We also found ourselves having to shield it from direct sunlight as it's difficult to view items on-screen – even when setting the brightness level to the maximum setting.
There's a healthy amount of dedicated
buttons
littered throughout the handset – which we feel is more appropriate for those who are in tune with technology. However, we feel it can prove to be too much for those older individuals who prefer a more simplistic handset. Despite this, you've got the send, end, back/clear, volume rocker, voice activation, camera, quick contacts, and lock/unlock buttons at your disposal – all of which are decently sized and offer a good response.
Sliding open the phone is accompanied with the usual snappy mechanism and presents you to the roomy landscape style
QWERTY
. Buttons are almost flush to the surface and oval in shape, however, there is a subtle response when you press down on them. It may not be as good as the QWERTY in use with the Pursuit, but it should prove to be usable too – plus the strong back-lighting makes it very recognizable in almost any lighting condition.
If there is one thing we're excited to see the Pantech Ease introduce, it's easily the microUSB port found on the
left side
which replaces the traditional proprietary one the manufacturer has long been using. Aside from that, everything else is where you expect it to be – like the 2-megapixel camera and speaker phone on the
rear
. Finally, removing the dot patterned rear cover will give you access to the battery, SIM card slot, and microSD card slot.
Pantech Ease P2020 360 Degrees View: Recommended Stories