Nokia Wireless Keyboard SU-8W Review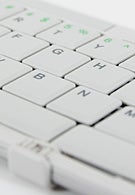 Introduction:
One of the leading manufacturers in the Nokia sector has presented his solution to this peculiar 'difficulty' - Nokia Wireless Keyboard SU-8W. This is a wireless keyboard connected to the device by means of Bluetooth technology.
To emphasize its compact size, the keyboard comes packed in a transparent blister so that you can see it in folded position. In addition you have a user guide, 2 AAA batteries and a
32MB RS-MMC card
with the software loaded on it.
FEATURED VIDEO
--------------------------------------------------------------------------------------------------------------------------------------------------
Design:
Still, to be compact and easy to carry, the keyboard folds in the middle thus reducing its size to just 132 x 87 x 19 mm from 262 x 87 x 13 mm in unfolded position, and with a weight of 192 g carrying will not be a problem.
By pressing the
release button
, SU-8W can now be opened and put in a convenient place for use. The restriction here is that the keyboard must be put on a hard and even surface, otherwise it will fold. A kind of locking device to keep the two parts open regardless of the surface would be a good solution, but Nokia have not provided for it. The buttons are made of the same white plastic as the external parts. The symbols thereon are gray, light green and blue and are not engraved into the buttons but are glued. Let's hope they endure in time and not get worn out after long writing.
The buttons
are 15 x 15 mm which is large enough size to allow faster writing. The keyboard is not lit but this is an acceptable compromise. Only the
indicators
of Bluetooth (blue), Fn (green) and the on/off button – green/red depending on whether you switch the device on or off, are lit.
To make the keyboard folding, the designers have had to
divide the space bar
into two separate buttons. The keyboard is designed to be used by Nokia devices operating by
S60 user interface
. Therefore we notice some differences from the standard PC keyboards. Three selection keys with the same functionality as with the phones, a menu key and messaging key have been added.
retractable cradle
. It is on the deeper dented upper side of the keyboard and to put the phone on it you just need to pull it out. You can also take it
out of the keyboard
so that the device is at a convenient distance from you. You can even set the phone at
5 various tilt positions
to choose the most appropriate and convenient one for you. The lower part of the phone is placed on a metal clamp partially rubber-lined against sliding. This fastening mode guarantees that the phone will not fall down if you push the keyboard unintentionally.