Nokia N900 Preview
7

This is a global GSM device, it can be used with
T-Mobile
's 1700MHz 3G band, and with
AT&T
without 3G.

Introduction:
It all started with the Nokia N770, forefather of the manufacturer´s lineup of internet tablets, a little over 4 years ago. The N800 and N810 followed suit and the latest installment to the series, the
Nokia N900
got announced recently. Compared to its older siblings, it brings major improvements to the table, the most significant one being the GSM module that will allow people to make calls over cellular networks. Moreover, the handset is equipped with a
full QWERTY keyboard
, runs the latest version of the
Linux-based operating system called Maemo
and sports most impressive hardware, characteristic of high-end devices. What you´ve got under the hood is 600MHz ARM Cortex-A8 processor (iPhone 3GS, Pal Pre), OpenGL ES 2.0 support, 32GB built-in memory, microSD card slot, 3G, Wi-Fi, Bluetooth, FM transmitter, A-GPS and Xvid playback capabilities. Not bad at all, is it? About to preview a prototype, we would rather withhold our comments and simply show you what the latest Nokia internet tablet delivers.
Design:
The device
looks really
austere and sports a brand new overall design
alongside of the previous tablets of the manufacturer. The Nokia N900 is also lighter and more compact than the latter. Holding it in your hand, it feels bulky and solid. What tips you off this is not a cell phone, but an internet tablet is the lack of buttons on the front side and what you have there is a
3.5-inch display
(the N810 sports a larger, 4-13-ich one) with native resolution of 800x480 pixels. It utilizes resistive technology and the prototype sports such a great touch sensitivity that we actually don´t even have the feeling we physically press against the display. The earpiece, video call camera, light sensitivity and proximity sensors and LED indicator are all above the screen.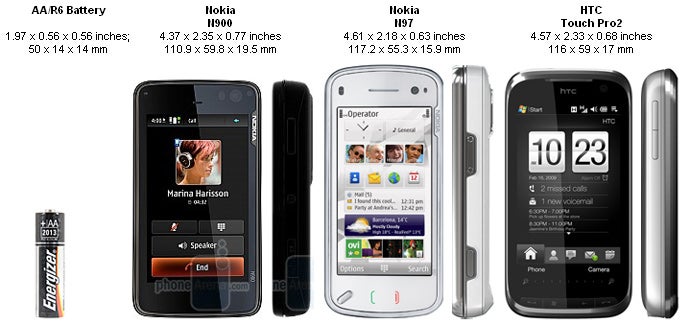 You can compare the Nokia N900 with many other phones using our
Size Visualization Tool.
As we mentioned already, the N900 is equipped with
full QWERTY keyboard
. Its relatively large keys are arranged in 3 rows (used to be 4 on the N810), although we think there is not enough room between them, so we are not convinced the keyboard will prove to be really handy to type away on.
On either side
of the Nokia N900 you have volume rocker, power on/off button (also used to switch between profiles), camera shutter, infrared port, stereo loudspeakers, screen lock/unlock slider, stylus and microUSB port. The 5-megapixel camera with Carl Zeiss Tessar optics and the double LED flash areon
the back
, bothcovered with a small, sliding flap. The stand to prop up the devicelocated next to the camera module (just like on the
N86 8MP
) makes for an interesting extra feature, although it'sof much smaller size than the jamb the N800 and N810 are equipped with. Now, that´s enough with the icing, let's take a closer look at the stuffing.
Nokia N900 360 Degrees View: