Nokia MD-5W Review

Introduction:
The appearance of the Bluetooth technology, not only eased the file exchange, but it seriously stimulated the development of mobile phone accessories as well. Nowadays we can choose from many different types of devices: Headsets, car kits, speakers and others, ready to satisfy the consumer needs.
Today we'll take a detailed look at Nokia Bluetooth Speakers MD-5W. This solution from Nokia is mainly intended for listening to music from a phone or other compatible device, and thanks to the built-in mic it could be used for making calls. The music can be transmitted as follows: wirelessly, through a Bluetooth or through a cable, thanks to the 3.5 mm stereo jack.
In the box you will find:
Nokia Bluetooth Speakers MD-5W
4 x AA Batteries
Nokia Travel Charger AC-4
Nokia Audio Line-In Cable CA-63U
User guide
Design:
At 9.17 oz (260 g), the speakers are easy to carry when traveling and do not take much space with their 213x58x54 mm (8.39x2.28x2.12 inch) dimensions. The design is simple and functional and the silver- black color combination makes them look stylish and pleasant.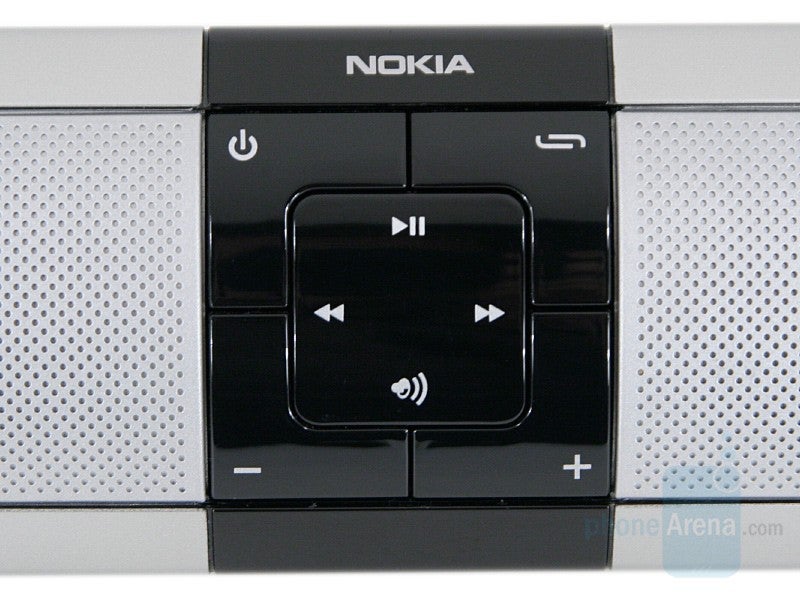 Control Keys
The
control keys
are located in the center of the front panel with the speakers on both sides and the mic on the right.
The buttons you have here are: on/off, answer/end, volume keys, and in the middle, the 4 positioning d-pad with the following functions: rewind, fast forward, play/pause and stereo widening key. All of the controls are large and easy to press and the symbols depicted on them will help you understand their functions. The only thing we are not happy with is, that when operating the buttons you will have to press them with your thumb and hold the speakers with your hand, so they don't roll back.
On the back, covered by rubber caps, you will find the power connector and the 3.5 mm audio input jack, as well as the battery lid. There are two rubber legs on the bottom of the speakers, and in the back there is a line made out of the same material, which also helps for the stability of the device and acts as an anti-slipping support.