Nokia E73 Mode User Reviews
Back
Please note that each user review reflects the opinion of its respectful author and not of PhoneArena.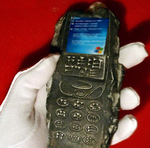 Eh..
cdgoin has owned it for less than month before publishing this review
Its OK.. I had it for a week and sent back. If you only want a phone to text and call then this is a fine phone. Don't expect much else from it.

Small screen and Symbian make for a fairly mundane phone.

The camera is a highlight. It produces very good pictures.. better than most cell phones.
Build quality
Reception
Call quality
Internet
Multimedia
Camera
UI speed
Everyday usage
Text input
Display
Battery
1 out of 3 people found this review helpful.
Report

nonobvious
very happy!
i'm on t-mobile's "buy your own cell phone" plan in the US. my nokia E-63 (which wasn't compatible with T-mobile's USA 3G network btw) was stolen last weekend, so i was forced to upgrade.  I'm VERY happy with the E73. The faster processor is great (everything runs very snappy), the email is way better, and i can finally enjoy 3G (which is extremely fast on this phone - HSDPA 10.2 Mbit/s!). also, i'm finally using my phone as an mp3 player. the sound quality on the E-63 was totally crap, but the E73 isn't too shabby!

if you get this phone, get Free-iSMS (it's essential!). the only thing i wish it had was a larger screen with a better resolution, but at $300 + tax, you can't expect everything.

other things to note:
I don't like using touch screens, so I was looking for a qwerty
I chose it over a blackberry because of price, my familiarity with the Symbian OS...and because if you look at the specs between the comparable models, Nokia does basically everything.
4 out of 5 people found this review helpful.
Report

yosef
great phone way better than the blackberry 9700 or any blackberry i know i used to be a blackberry user the e73 is better built the web browser is better its battery life is better everything is better best smartphone of its type on the market. it feels so solid in your hand great camera and everything. perfect
12 out of 16 people found this review helpful.
Report