Nokia 3720 classic Review
1

This is a global GSM/EDGE phone. It can be used with AT&T and T-Mobile USA, but only in areas with 1900MHz coverage.

Introduction and Design:
This is an important announcement, all laborers, brick layers, shuttering workers, mountain climbers, sports buffs or just people who aren´t much into fragile things –
there is a brand new rugged cell phone available on the market
, called the
Nokia 3720 classic
that according to the manufacturer is water, dust and shock resistant (we´ll see about that!). Cell phones like this are scarcer that chicken teeth these days, so the Nokia 3720 classic market launch makes for a decent occasion for celebration in itself. The phone has one major advantage over most rugged devices…
It looks nice. The first thing we thought on opening the box was "what a cute, little celly". We aren´t talking about real beauty of any sorts or all the rage design, not at all, yet the Nokia 3720 classic has a really pleasing overall look and its size makes the handset comfy to hold in your hand. By the way, the phone comes with wall charger, headphones with 2.5mm jack, 1GB microSD card and user guide.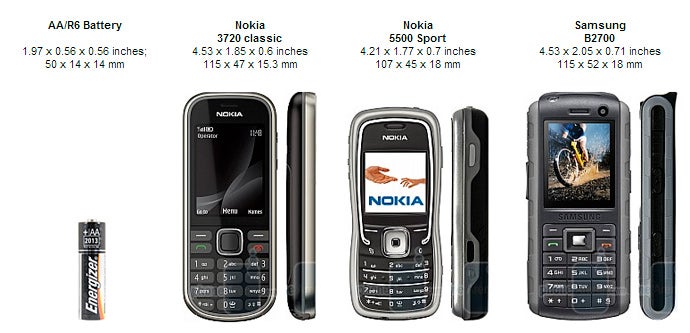 You can compare the Nokia 3720 classic with many other phones using our Size Visualization Tool.
It sports a 2.2 inch
display
with QVGA resolution and 16mln color support that remains relatively usable in direct sunlight. This is good news, since the handset is aimed for people who spend a lot of time being out in the open. We do like the way it´s protected against getting scratched – even if you place the device face down, the protruding edge that frames its front side will prevent the screen from touching the surface, if the latter is flat, of course. The
buttons
on the front are large enough and handy to use, but the volume rocker on the right side is simply awful. On the bright side, you can give your fingers a workout that would make even a Shaolin monk green with envy. This is how hard to press it is.
The difference between the 3720 classic and standard phones becomes obvious when you take a look at the
battery
and the way it´s locked in place by a special screw. It clings to the phone body really tightly so as to prevent water and dust from seeping through. The
microUSB port
and
2.5mm jack
are also protected, but the charger port is exposed all the time, which makes us believe that you might want to pass up on testing the water resistance feature of the device.
Nokia 3720 classic 360 Degrees View: