Motorola XPRT Review
8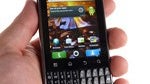 Introduction:
While the
Motorola XPRT
isn't exactly a new device (it debuted on Verizon as the
DROID Pro
back in November of last year,) it should be a welcome addition to Sprint business users. The XPRT is an Android 2.2 world phone with a portrait keyboard that aims squarely for BlackBerry users. Motorola touts a host of enterprise-level security features for the XPRT, and other features include a 5 megapixel camera, 1GHz processor and 1GB of built-in memory. Included with the Motorola XPRT is a 2GB microSD card, microUSB data cable and an AC adapter.
Design:
For the most part the Motorola XPRT retains the same design as the DROID Pro, but there are a few subtle differences. For starters, and actually not so subtle, the XPRT has a different color scheme. It's still dark and business-like, but the chrome trim has moved to the front bezel and the hard plastic back is now soft touch. Staying on the back, the hump found atop the DROID Pro has been shaved off so the surface is now level. The key positioning is the same
around
the XPRT: volume rocker and microUSB port on the left, mic on the bottom, multifunction key on the right and power button and 3.5mm headphone jack along the top.
You can compare the Motorola XPRT with many other phones using our
Size Visualization Tool
.
The BlackBerry-like
keyboard
is ever so subtly different as well. On the DROID Pro the bottom row of keys was bracketed with a full ALT and voice command key, but those two have been shaved down for whatever on the XPRT. There is also a slight bezel between the keyboard and the display on the DROID Pro which has been eliminated on the XPRT. An area of concern we brought discussed with the Pro was that the keys didn't extend quite to the edge of the phone and they do indeed extend out further on the XPRT. Probably because of that, the keyboard feels a tad better than the one on the DROID Pro.
The soft touch
battery door
gives the Motorola XPRT a slightly more reassuring feel in the hand, but other than that the feel is pretty much identical to the DROID Pro, which is a good thing. The XPRT is a solidly built phone for a demanding user base, and while it is no i1 in terms of durability we expect it'll take a few bumps without issue.
Motorola XPRT 360-degrees View: