Motorola MPx220 review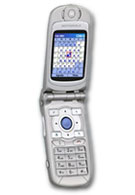 Have been playing around with the New Motorola MpX220 Smartphone for the last couple weeks. Gotta tell you, this is one sweet & powerful little phone, really, its probably the fastest little handset around. Basically, this unit is the poster boy for MicroSoft's New Smartphone 2003 SE Operating System with vast improvements in user interface, speed and features. In order to show off the OS, Motorola has equiped the MpX220 with a "Bleeding Edge" Texas Instruments OMAP 1611 Dual Core Processor. This processor combines a ARM926 and a TI Digital Signal Processor with a set of dedicated hardware accelerators for video, Java and security. The ARM core and the Digital core share external memory via a traffic controller. This processor is capable of being clocked up to 204mhz and the potential for its processing power is greater than a 400mhz Xscale processor according to the experts. Additionally, it is capable of supporting "G" standard 802.WiFi should a Mini-SD WiFi card be made. This processor is really something and the fact that a device of this size is using one really is exciting to me. Additionally, the MpX220 has 33.5mb of onboard SDRAM and 64mb of ROM.
So, the MpX220 is the fastest little phone in the land....but is it any good to use? Does the Second Edition of Smartphone 2003 do a better job than the original? Would a person coming from a Sony/Ericsson K700i or a Motorola V600 find this phone easy and user friendly???? Read on for my impressions, observations and insights into the performance and potential of this device.