Motorola Command One Review
0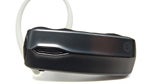 Introduction and Design:
Comparing the Command One to the FINITI, it's quite evident that the two share a few common design styles. However, it's known from a quick feel of the hand that the Command One is the inferior model with its all plastic gunmetal colored construction. Granted that it's less intrusive looking, thanks to its contrasting dark colors and rubbery soft touch coating on its sides, it doesn't strike out as something original in design.
Unlike the intimidating earpiece found on the FINITI, the Command One relaxes a little bit with its traditional looking one which feels less snug to the ear than what we like, but utilizing the ear hook will make any worries of it falling off. This time around, the ear gel allows for a comfortable fit which doesn't become irritating or annoying during lone periods of usage.
Again,
the volume rocker
and
mute button
are clinging onto the Command One's rubbery sides to provide you complete control of every aspect. Although they're much appreciated, they're not as pronounced as on the FINITI, but still offer a substantial response when pressed. Turning it on/off is done by moving the switch to the correct position, while the call button is tucked away in the back next to the
microUSB port
. However, it's placed at an awkward location which makes for many fumbles during actual usage.