Motorola CLIQ 2 Review
9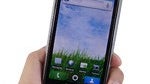 Introduction:
Not too long ago, Android smartphones were a rare breed as the open platform attempted to gain traction with the aid of hardware manufacturers. Crazy to believe, but Motorola's endeavor with Android come to fruition back in the fall of 2009 as the
Motorola CLIQ
kicked off things sporting a new customized experience that greatly focused on social networking. Granted that the CLIQ wasn't necessarily its flagship Android device, it was still nonetheless a successful handset for the company – thus warranting an eventual successor. Such was seen with the advent of the
Motorola CLIQ XT
, which actually came in a clean candybar form, instead of the side-sliding one of the original CLIQ. And now, continuing with the landscape sliding keyboard form factor, a more direct successor in the
Motorola CLIQ 2
has arrived, boasting some updated hardware that should hopefully come off as a respectable mid-range offering on T-Mobile's lineup.
The package contains:
Motorola CLIQ 2
microUSB cable
Wall Charger
2GB microSD card
Stereo Headphones
Basics Guide
Design:
Steering itself away from its predecessor, we're pleased to find that the Motorola CLIQ 2 boasts a remarkable upgrade in construction over the toy-ish plasticy CLIQ. Its chrome bezel accents very well with its gunmetal colored soft touch back cover as it exudes a higher premium feel which is supplemented further with its solid construction. However, we find it relatively similar in size and it tends to feel rather bulky (0.57" thick) – especially when there's a fair amount of weight (6.17 oz) with it. No, it might not have that killer industrial design of Motorola's DROID smartphones, but the CLIQ 2 offers a tasteful one that's fitting for its placement.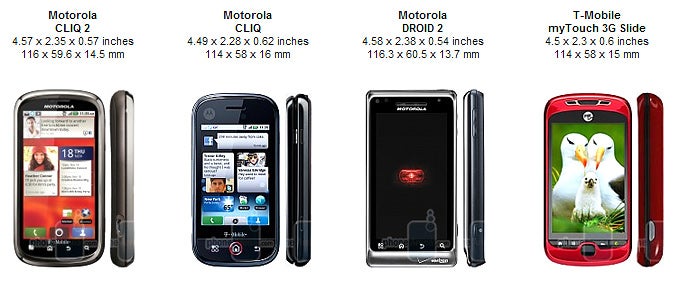 You can compare the Motorola CLIQ 2 with many other phones using our
Size Visualization Tool
.
Happily, your eyes will be more than content at viewing its spacious
3.7" capacitive display
since it utilizes a high-resolution of 480 x 854 pixels – which is exactly the same that you find with the DROID 2. Naturally, the increase in both screen size and resolution is a welcoming addition for this successor since it offers some sharp visuals and details. Furthermore, its color production is on the neutral side, but we find its overall luminance to be lacking, which becomes extremely noticeable when viewing it in direct sunlight. Even though we didn't have issues viewing it head-on, tilting it slightly off center causes it to look washed out. Finally, we're satisfied with the responsive nature of the touchscreen as it registered every touch accurately.
Employing the usual set of capacitive buttons beneath its display, we found ourselves accidentally pressing them since they're placed close to the bottom edge of the handset – which becomes more of an issue when handling the phone in landscape.
The Motorola CLIQ 2 packs on customary items like a 3.5mm headset jack and microUSB port with an LED notifier, but we find the inclusion of a vibrate switch
on the right edge
of the phone to come in handy. Although we're content with the distinguishable feel of the 2-level shutter key, we're not too thrilled with the weak response offered by the Motorola CLIQ 2's thin volume rocker and dedicated power button.
Thankfully, we're pleased with the natural and responsive feel of the handset's mechanism in exposing its landscape style
physical keyboard
. Once it snaps into position, we're greeted to a 4-row keyboard that has a distinguishable honeycomb layout – which is to say different from everything out there. Buttons are placed next to one another, but with its pronounced plastic feel, our fingers are more than receptive of their location. Now even though buttons felt stiff to the touch initially, after using it for a solid day, its response better adjusted to our taste. And although we're happy to find a 4-way directional pad on it, we feel that it leaves out too much empty space on the left and right sides.
On the rear, we find its 5-megapixel auto-focus camera with flash and two notches towards the bottom for its speakerphone grill. It doesn't take much force to yank off the rear cover, but once it's off, we're presented access to its 1,420 mAh batter, SIM card slot, and microSD card slot.
Motorola CLIQ 2 360-degree View: Recommended Stories