Lenovo Yoga Tablet 10 Review
4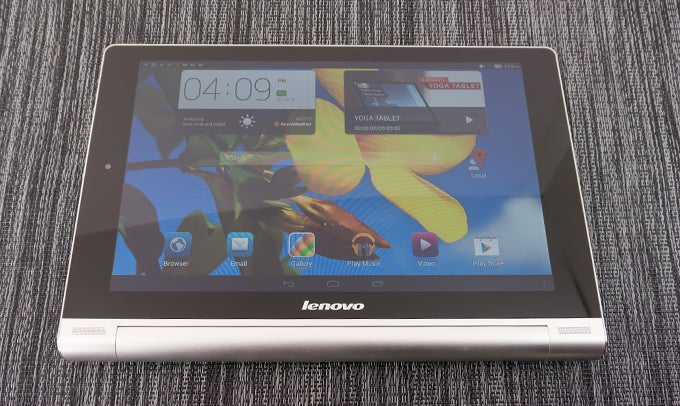 Introduction
You can say that Lenovo loves poking its nose everywhere, as the Chinese company is well known for manufacturing a broad range of tablets. Although they've made several Android based tablets to date, none of them have been able to find that path to success in making them serious contenders in the space. However, they intend for things to change with the
Lenovo Yoga Tablet 10
– a peculiar looking thing that's priced competitively at $300. Being cheap is good, right? Well, that's as long as its performance can keep up!
The package contains:
microUSB cable
Wall Charger
User Manual
Warranty Card
Design
It's wonderful when a company is meticulous and thoughtful when it comes to design, something that stands out immensely with the Lenovo Yoga Tablet 10. Unlike the usual slates, they've taken a different approach, as the tablet mimics the look of a rolled up magazine. In fact, the rolled up portion is comprised of its cylindrical handle, which also holds its uniquely shaped battery. With this particular implementation, the rest of the body is able to retain an extremely skinny figure – 0.3-inches thin to be exact.
Now there's no concern about the tablet being brittle, mainly because its chassis is comprised out of a textured polycarbonate rear casing that's held together by a sturdy aluminum alloy frame. The mixture works well in giving the tablet a very premium look and finish. As for the in-the-hand feel, we don't have too many complaints – albeit, it's always heavy towards the side of its cylindrical handle. Despite that, we appreciate that the handle itself provides us with a natural grip.
Seeing that it has such a thin profile around its display, the only things we find around its trim are the volume control, microphone, and microUSB port. However, Lenovo is able to incorporate its power button and 3.5mm headset jack into the ends of the cylindrical handle.
Just like its other Yoga branded tablets and convertibles, this one has the unique ability of being propped in a variety of ways – thanks to its solid kickstand hinge. In stand mode, it positions the tablet so that it provides us with a proper hands-free video watching experience. Meanwhile, tilt mode allows us to lay the tablet flat on its back, with the kickstand slightly elevating it, so that it's in an ideal position when typing with its on-screen keyboard. Now, we appreciate that there are rubber stoppers that keep the tablet in place when it's in stand mode, but they're missing with tilt mode – resulting in it moving around while typing on slippery surfaces. Thankfully, there's a microSD slot hidden beneath the kickstand.
Armed with a 5-megapixel auto-focus rear camera, it's built into one side of the cylindrical hinge, which can sometimes cause us to accidentally cover it with our fingers – as we hold the tablet naturally. On the front, there's a 1.6-megapixel camera .
Display
When you're priced this low, there is going to be a compromise somewhere, and in this case, it's found with the display. Specifically, it's packing along a 10.1-inch 1280 x 800 IPS LCD display, which produces a lowly pixel density tally of 149 ppi. Sure, it might not exhibit the sharp visuals of some other high-end panels, but nevertheless, it's ample enough to enable us to see fine text in the web browser from a normal viewing distance. Employing IPS LCD technology, the display exhibits neutral color tones, average viewing angles, and a modest brightness output – though, it still requires some shielding when the sun is out and about.
Recommended Stories