Lenovo Smart Tab P10 Review
3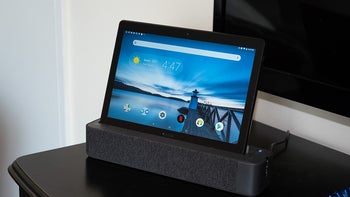 Some people may have reservations about picking an Android tablet over anything else, especially given how fewer and fewer companies are releasing new models. When you have competing iPads, Windows 10 slates, and even Chromebooks, it really makes you wonder what can be done to make Android tablets interesting and worthy of consideration again.
Well, the
Lenovo Smart Tab P10
intends on giving consumers something to talk about. It is an Android tablet that also doubles as a versatile Alexa-powered smart display – complete with its very own speaker dock! This is certainly a fresh take for a very ordinary Android tablet, so it'll be interesting to see if this implementation helps to spur some much-needed life back into this segment.
In the box:
Lenovo Smart Tab P10
Smart dock
USB Type-C cable
Owner's manual
Design
Most folks wouldn't expect something premium out of a tablet slapped with a starting price of $300. But you know what? The Lenovo Smart Tab P10 pulls it off with all the trimmings of other, more costly tablets around the $500 range. Adopting the metal-meets-glass design that's been tirelessly used by today's smartphones, the P10 undeniably has a premium look that gives other rival tablets in the $500 price range a good run for their money. The only downside to the glass surface is that it makes the tablet extremely slippery while also becoming a fingerprint magnet. Despite that, we're pleased to find that Lenovo has managed to incorporate a fingerprint sensor beneath the display, as well as a standard 3.5mm headphone jack.
What really makes the P10 notable is that it's packaged along with a speaker dock, turning it into an Amazon Alexa-powered smart display. There are pogo-pin connectors along the bottom edge of the tablet, which allows the tablet to charge while docked, and when you pick it up, it's never out of charge. However, it's worth noting that data connectivity between the P10 and the speaker dock is established through Bluetooth.
Display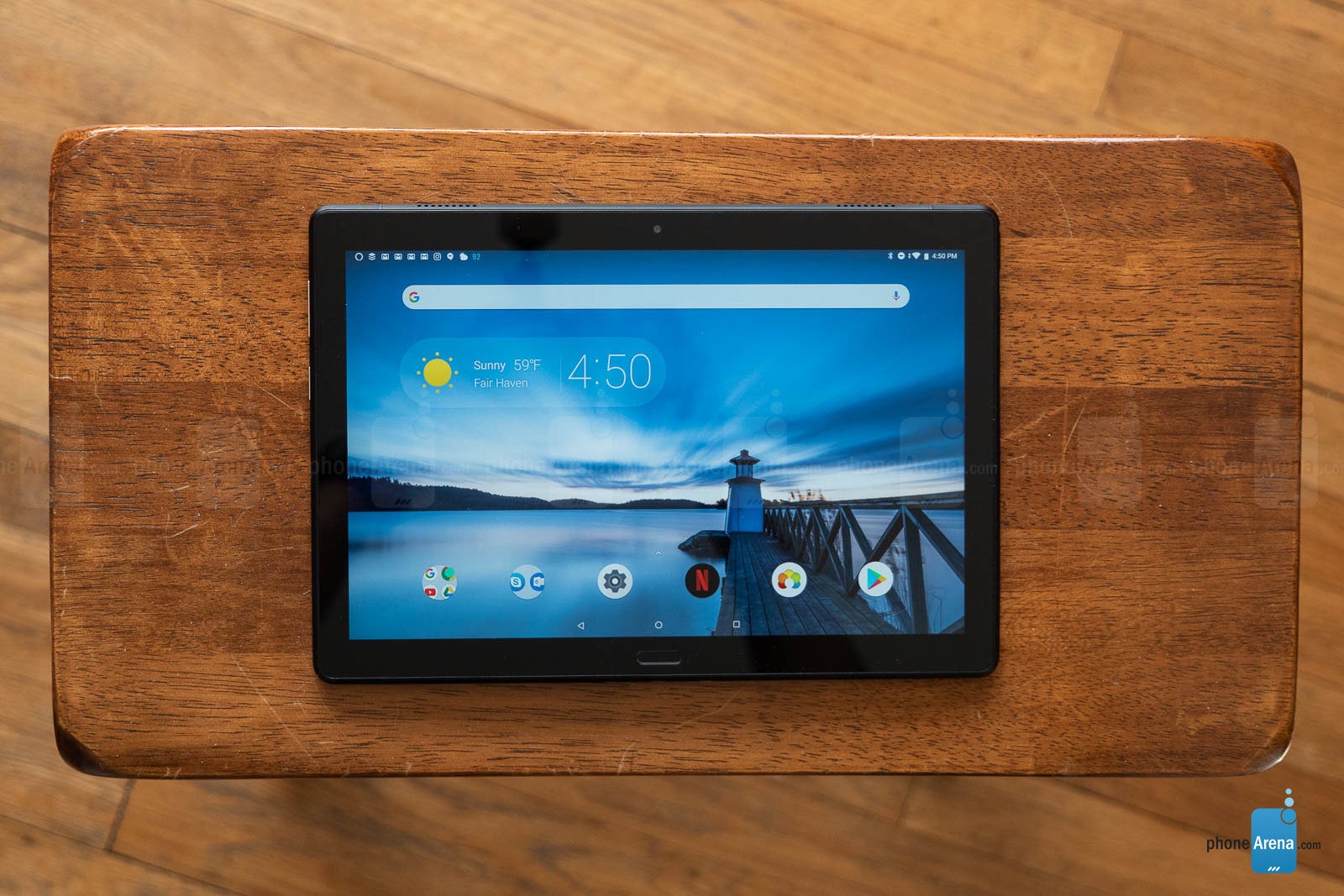 There's nothing extraordinary about the tablet's 10.1-inch 1920 x 1200 IPS LCD display. It suffices for the most part, offering decent-looking details with punchy colors. Viewing angles are okay, but the screen itself is noticeably cold – skewing towards the extreme end with its color temperature of nearly 8500K. Despite that, it still can get the job done when it comes to everyday things, such as watching videos, scrolling through web sites, and sending emails. It's essentially your average-looking display.
When the P10 is docked, it automatically goes into show mode, giving us nearly the full scope of features accessible by Amazon's Fire tablets and the Echo Show. In this mode, we can see news headlines, check our reminders, perform actions on home automation, or stream video via Amazon Prime. Thankfully, you can still turn off the display entirely while the tablet is docked, so that it doesn't become a distraction.
Interface and Functionality
Since we're dealing with an Android tablet here, the fundamental features are mostly identical to those of other recent Android slates, with the exception of Amazon Alexa integration. With this, the P10 manages to stand out from the pack, offering nearly the entire scope of features you'd find in a dedicated smart display like the Amazon Echo Show. However, the one thing that the P10 can't do (just yet) is to access other Alexa devices for things like Skyping.
In our testing, the P10's various microphones did a good job of listening to our voice commands. Even when there's some ambient noise around, the tablet is still able to discern our voice and perform actions. But while we really appreciate the boost in audio with the dock, it's lacking the bass to really make it a complete entertainment centerpiece in the home.
Adding to the experience, Lenovo throws in one useful feature, which may seem small or insignificant for some, but it enhances the experience to a certain degree. We're talking about Productivity Mode, which merely arranges the typical Android buttons into a Windows-esque taskbar. While we still have access to the usual back, home, and apps switch icons, all the recent apps that have been used are repositioned as icons in the taskbar. Multitasking has never been easier or more effective, since switching between apps is done by just tapping on the corresponding icon in the taskbar – and that's it For an Android tablet, the Lenovo Smart Tab P10 certainly has a bag full of tricks.
Processor and Performance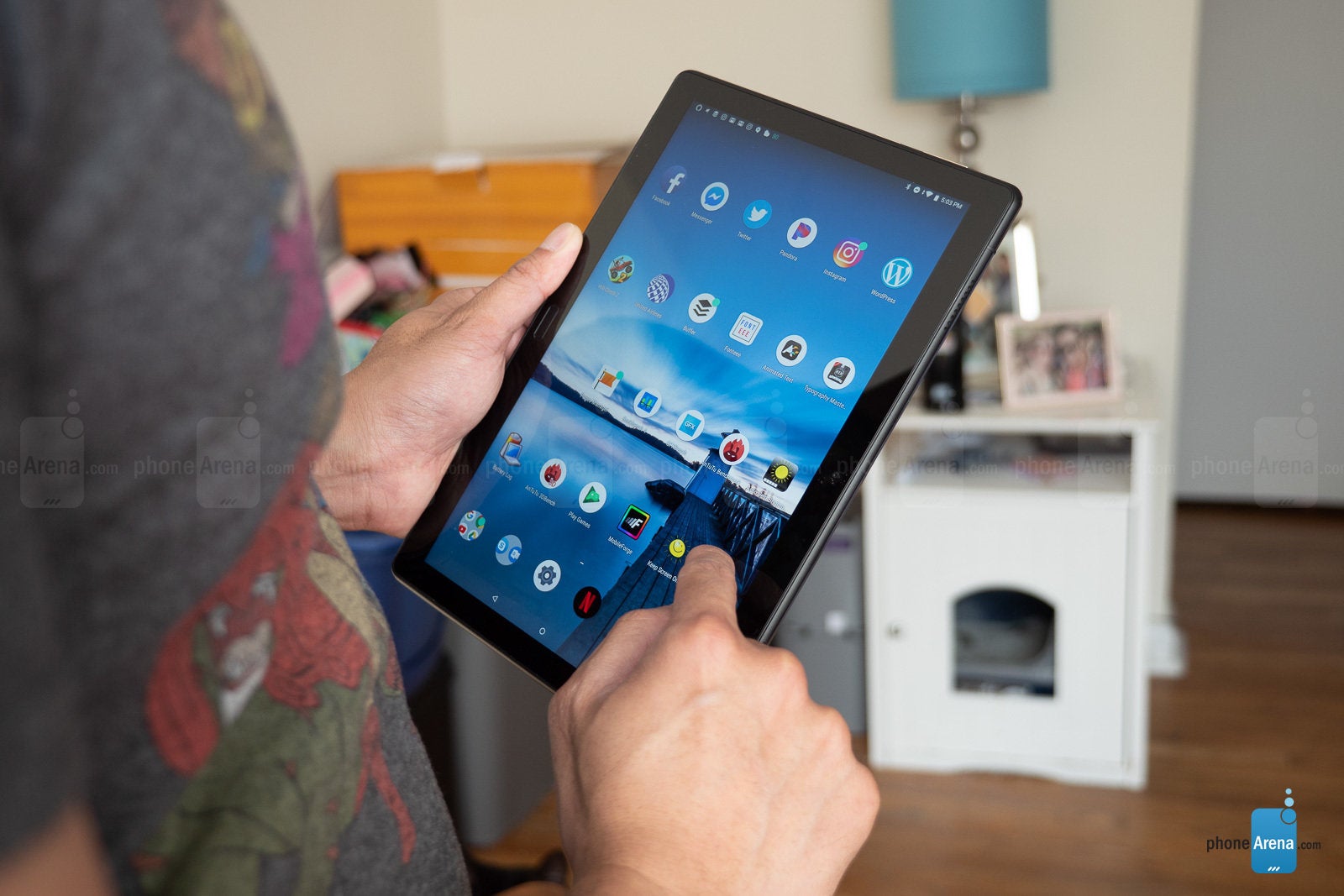 If there's one area where the P10 underperforms, it's in how it lacks the finesse and responsiveness of other tablets. On the surface, it seems to handle all the trivial tasks with no fluff at all, but even some minor things seem to test the tablet. It's powered by Qualcomm's Snapdragon 450 coupled with 3GB of RAM, resulting in some very poor results with various synthetic benchmark tests. The lack of power is most evident with gaming, as the P10 delivers choppy graphics and sluggish frame rates.
Over on the storage side, the $300 base model of the P10 is accompanied by a meager 32GB internal capacity, which can be supplemented by a microSD card. If that's simply not enough for you, then paying out an additional $50 will net you double the storage capacity of 64GB with the $350 model.
Camera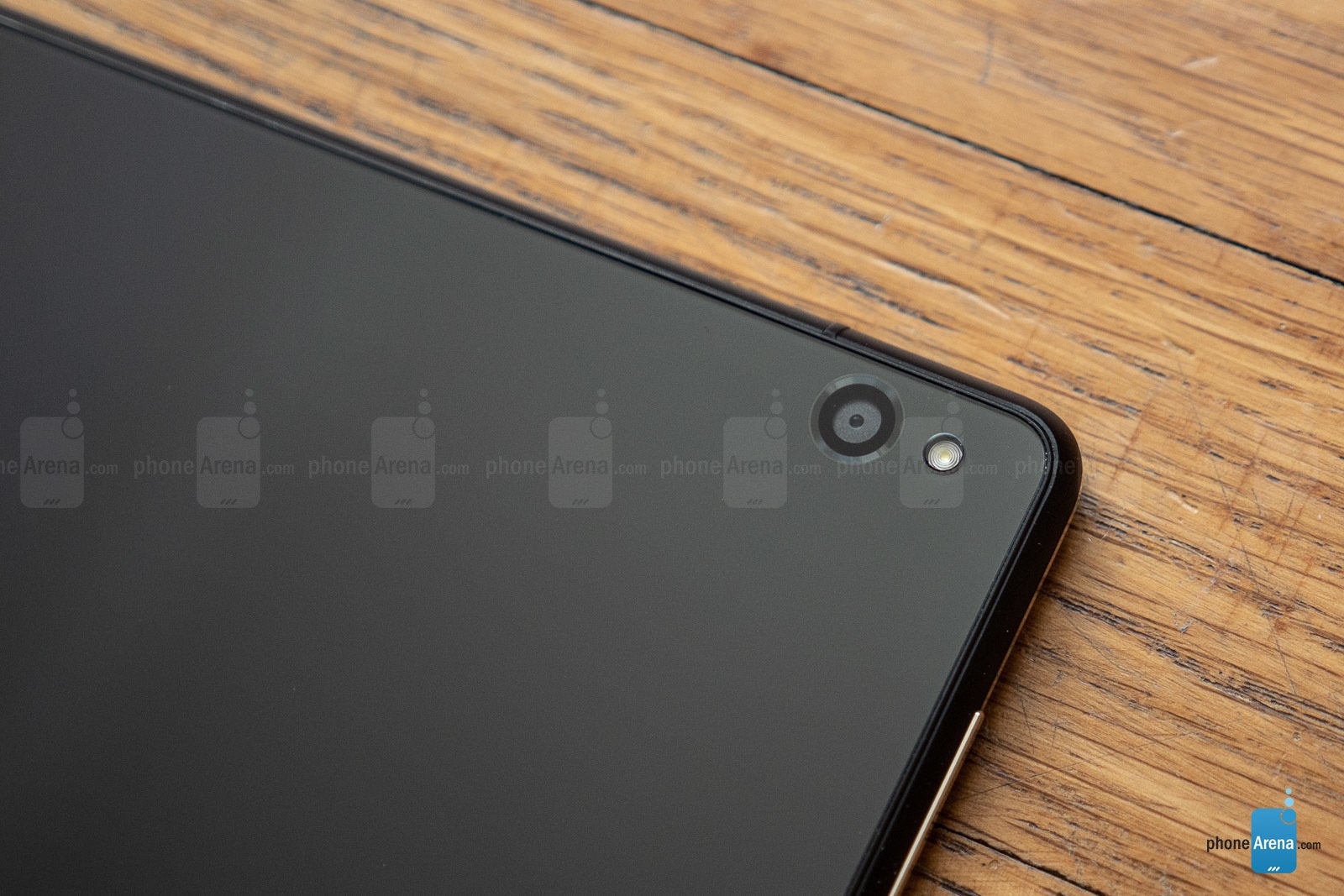 Flush against the upper right corner of the tablet's rear side sits the 8MP camera with LED flash nearby, while a 5MP camera is situated above the display when it's in landscape orientation. The camera app is very basic, offering no advanced options beyond an HDR mode and several filters. There's not even a mode for panoramas, nor is there a settings menu to adjust any of the camera parameters.
Image Quality
In general, we wouldn't recommend using a tablet for taking photos unless it is the only thing within reach when an opportunity arises. This applies here as well. With the Lenovo Smart Tab P10, we recommend shooting with HDR on the whole time because it produces the best results. Without it, the highlights are overblown, evident in how the sky in some of the outdoor shots is completely white – while the shadows are severely underexposed. HDR enhances the photos quite a bit, giving the entire scene a more pleasing look. Regardless of whether or not you choose to use HDR, images still lack fine details.
And at all cost, you'll want to refrain from taking photos under low light. There's just nothing pretty to look at when you have shots that are super soft and underexposed. There's also the problem of frequent blurring whenever we attempt to take shots with HDR because of the long exposure.
Surprisingly, though, the front-facing camera does decently when the conditions are ideal. To a certain degree, selfies come out pleasant looking with enough details in the shot, which are further aided by the sharpening effects.
Video
Similarly, there's nothing to brag about with the P10's video-recording performance. Topping out at 1080p at 30 FPS, it still delivers subpar results even when the lighting conditions are ideal. Details are on the light side, which doesn't help either when it struggles with dynamic range. When there's less light to work with, not only is there a pervasive level of noise in the scene, but the frame rate capture drops significantly as well!
Battery Life
Armed with a 7000 mAh battery, the Lenovo Smart Tab P10 achieves outstanding results in the battery department. In fact, it easily beats many of the higher-end offerings in the tablet space in our custom battery benchmark test, like the new iPad Air (2019) and Samsung Galaxy Tab S4. Reaching nearly 12.5 hours of continuous screen-on time, the P10 has the endurance to last longer than most other tablets.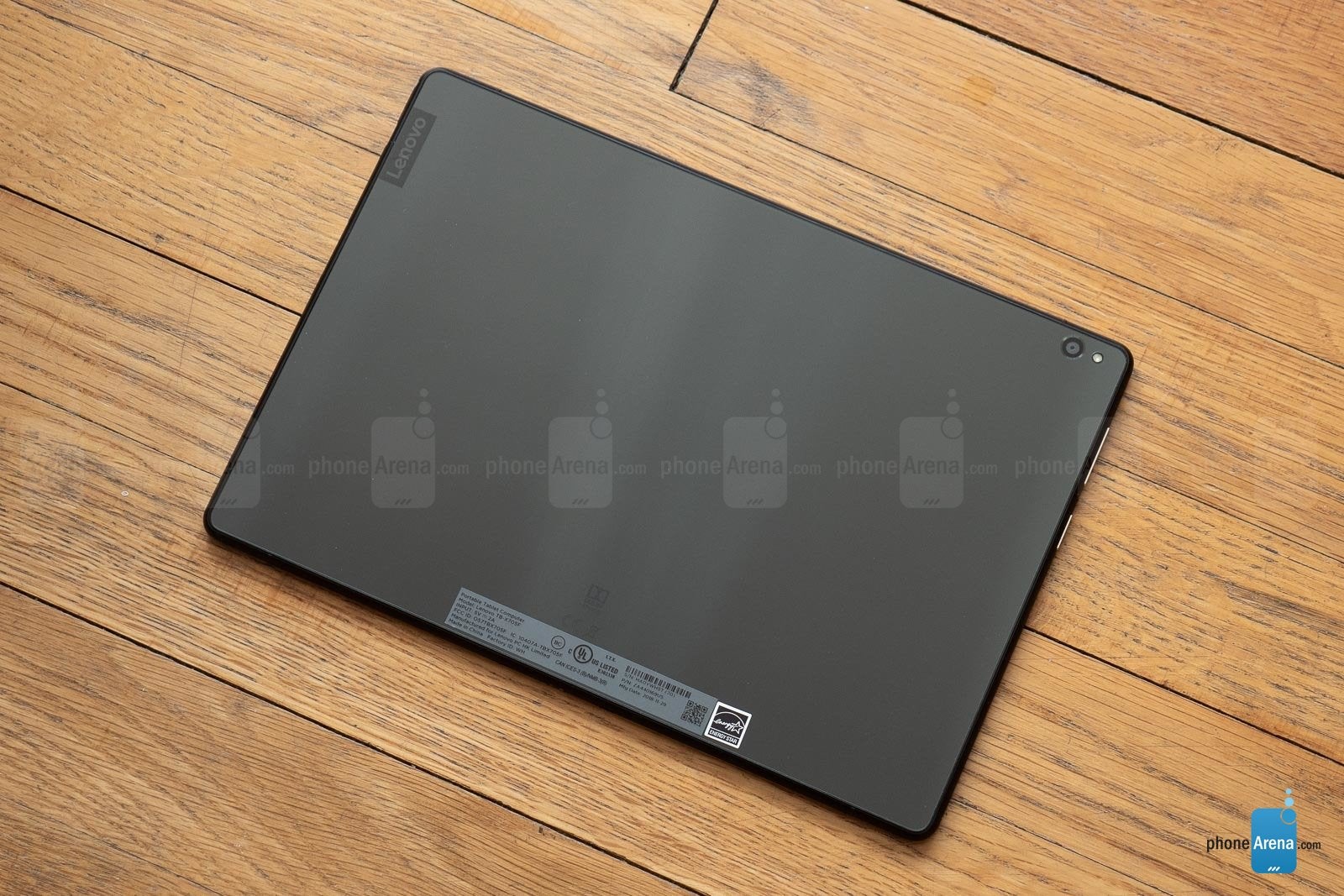 Over on the recharging side, though, it still requires a lengthy amount of time to get back to 100% capacity. Specifically, it requires 297 minutes, which is definitely on the slower side in comparison to its rivals.
Conclusion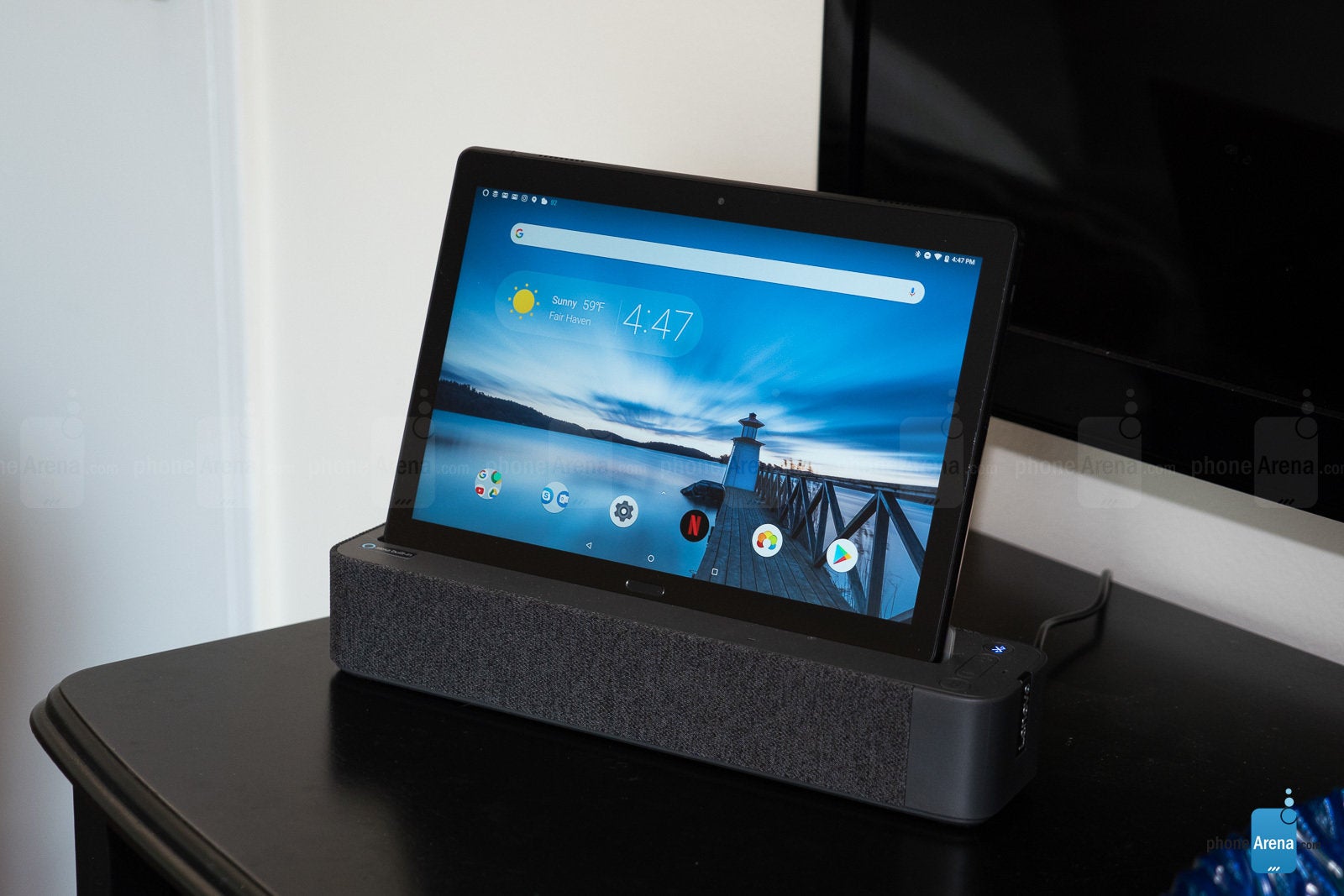 The
Lenovo Smart Tab P10
is one of those quirks in the tablet space. It really positions itself on a higher pedestal by offering Amazon Alexa integration – something you won't find too often in this segment. Doubling as a versatile smart display and speaker, it's quite the compelling package when you figure that this Android tablet starts at $300. Sure, it won't win in the speed department with its processor, nor does it take great photos with its cameras, but it's the perfect thing for the home since it can quickly be used on-the-go to get stuff done – and subsequently be placed back on the dock to provide us with all the wonders of Alexa.