LG Rumor2 Review
6

Introduction:
The Rumor was a huge sales success for LG and Sprint, bringing QWERTY to the low end. It was not without issues however; LG's charging port was notoriously bad, the keyboard and display had a tendency to go bad and the device continues to have a power cycling issue. Nearly a year and a half later LG has brought the Rumor's successor to market, the creatively named Rumor 2. There isn't much new with the device, most notably it has brought a fourth row of keys to the slide-out keyboard. Other features remain the same: 1.3 megapixel camera, microSD expansion and 1x data.
Included in the box you will find:
Li-Ion battery
Patterned and solid battery covers
AC Adapter


Design:
The Rumor 2 is actually bigger than the original, but the more rounded design leads to a deceivingly small feel. It is very comfortable to hold and is a definite step up from the
Rumor
. Like the Rumor, the Rumor 2 will come in a variety of different colors (as will the Banter, Altell's version.)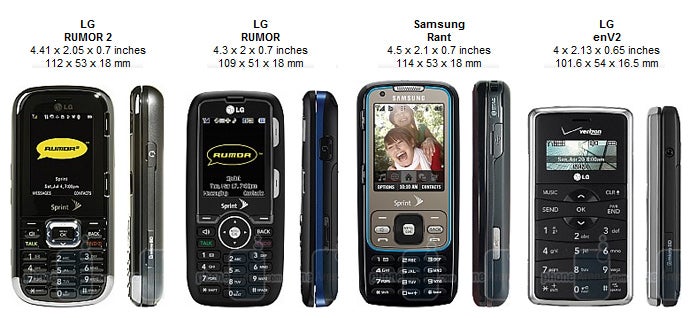 You can compare the LG Rumor 2 with many other phones using our
Size Visualization Tool.
The basic layout of the phone is the same: the
2" display
sits atop a traditional set of navigation keys and
numeric keypad
. Besides the soft and send and end keys there is a dedicated Speaker and Back button on the front, along with soft keys along the right side of the display for when the orientation switches to landscape. The display has been upgraded to QVGA, a welcome addition. It looks very crisp and is easy to read in all lighting conditions.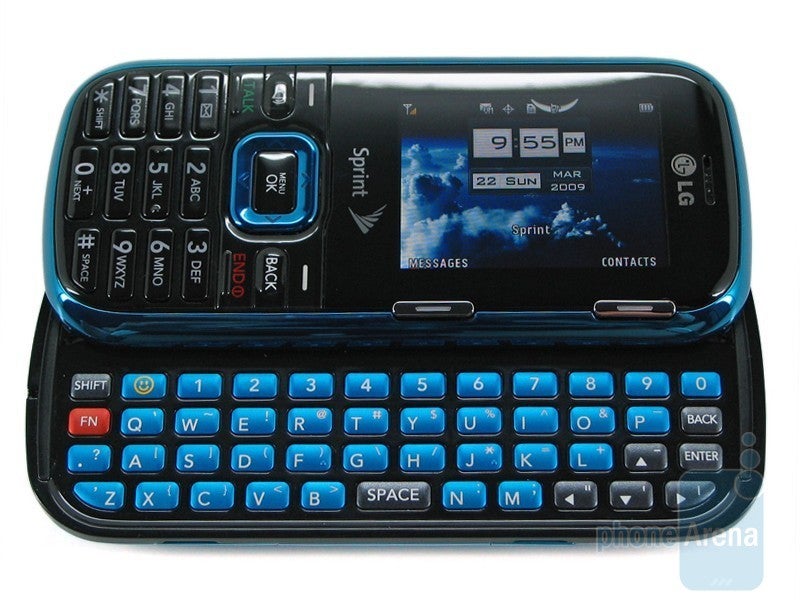 The slide opens to the left and the user is treated to a four row
QWERTY keyboard
. Unlike the
Samsung Rant
, the Rumor 2 dedicates the extra row to numbers. While we enjoy a dedicated keypad, having the space bar as part of the bottom row of letters just doesn't feel right to us. LG is by no means the only one to utilize this layout, but we prefer the one used by Samsung.
The
left side
of the phone houses the volume rocker and camera key,
on the right
you will find the 2.5mm headset jack and microSD slot. The
bottom
has the microUSB charging port. One gripe we have is that the included AC adapter is not a USB cord like we saw on the Lotus, Dare and Versa. The
back
of the phone is plain save the 1.3 megapixel camera that is offset to the right. Like the Rant, the Rumor 2 ships with one solid color battery and another patterned one.
The redesign gives the Rumor 2 a more modern look and the feel is good. The bold colors reaffirm its teenage target market, it no doubt will be a common sight in high school hallways across the country.