LG Prada 3.0 Review
30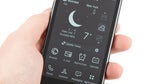 Introduction: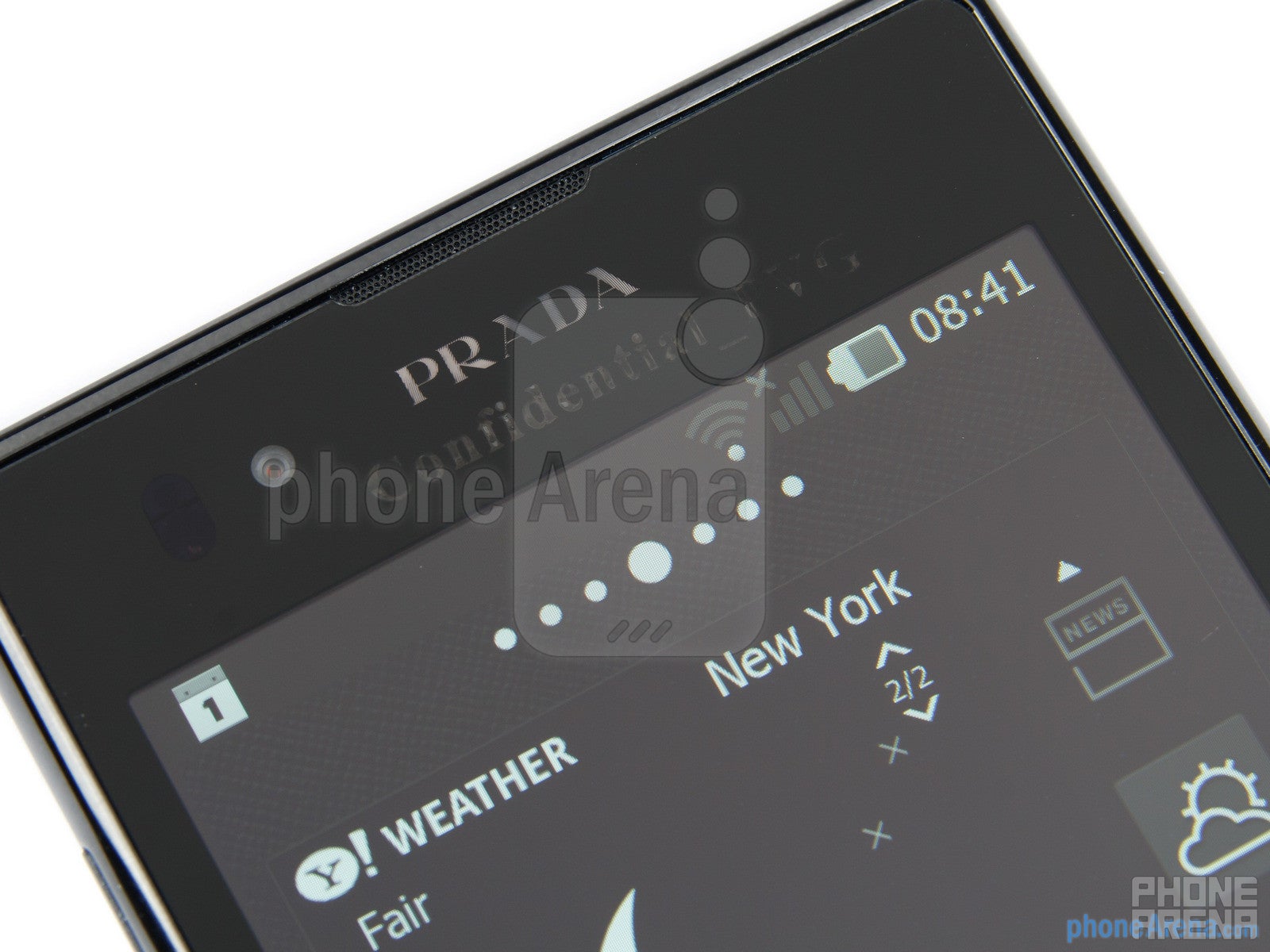 The year is 1913. Italian enterprenours Mario and Martino Prada start a new leathergoods shop, called Fratelli Prada (meaning Prada Brothers), in Milan. Initially, their operations centered around selling of various leather goods, as well as imported English steamer trunks and handbags. Little did the Prada brothers know that their undertaking was going to become what's one of the leading fashion houses of today, with a total revenue of €2.15 billion for 2010, and 2,841 employees around the world as of 2011. Today, Prada's business model focuses on selling luxury goods, such as various leather accessories, shues, hats and luggage.
Being the adventurous type, Prada would sometimes venture out of its traditional fields to deliver something fresh and different to its loyal customers. 2007 was the perfect time for a foray in the booming cell phone market. However, since the company could't tell a transistor from a chip, it needed to partner with a veteran phone maker, in order to produce its new offering – the Prada phone. Eventually, it would end up having LG on board for the project. In early 2007, the duo unveiled the original
LG Prada
phone, which quickly gained popularity, due to it being one of the very first handsets equipped with a capacitive touchscreen. For its time, the handsed was very cool, so we rated it a well-deserved 9! Its sequel came in late 2008, and sadly, even though it appeared almost two years later, the
Prada II
brought very few new features, most notably – a side-sliding QWERTY keyboard. Being spoiled by the iPhone and many other touch devices that were beginning to flood the market, we found the Prada II to be somewhat lacking in comparison to the competition, eventually giving it a modest 6.
It is now 99 years after Mario Prada flipped the door sign of his new store to "Open for business", went back to his counter and sat down, impatiently waiting for the first clients to come in. The year is 2012, and these are times of great economic stagnation and hardship. With everyone constantly tightening up their belts, one would wonder if there's still place on Earth, where the words "luxury goods" would be welcomed with a smile on the face and a wallet that's eager to be opened. Luckily, the latest product coming from the collaboration between LG and Prada, the LG Prada 3.0 phone, doesn't fall into that specific category of overpriced products, but is rather keeping things simple and accessible for all of us.
Having almost nothing in common with its predecessors, and tailored to the needs of contemporary smartphone users, we're taking our chance to see if the new
LG Prada 3.0
sports that characteristic Prada style that will have the numerous fans of the brand flock to it hastily!
Design:
Actually, the LG Prada 3.0 isn't much of a luxury device. It is a high-end Android smartphone any way you look at it, but it doesn't feature any fancy materials to make it feel classy. As a whole, the Prada 3.0 is one very
Galaxy S II
-esque phone in terms of design, being very slim and having a cheapo plastic casing. If you read the official press-release, you'd be left with the impression that the Prada 3.0 is going to sport a Saffiano leather material (that's the characteristic leather texture used by Prada), but in reality, it's just plastic with the said
Saffiano pattern
. The result, in terms of appearance and feel is so-so, but make no mistake, it's much closer to being cheap, than classy. To tell you the truth, we're a bit frustrated to find such kind of approach in a product which has the branding of a major fashion label all over it. Speaking of brandings, it's worth mentioning that the only easily visible logo on the body of the device is that of Prada. There's an LG logo on the back, but you'll have to look closely in order to see it.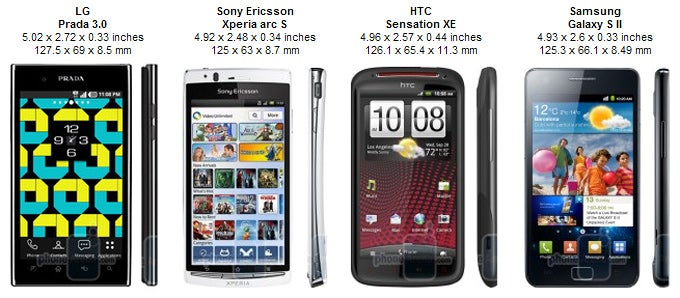 You can compare the LG Prada 3.0 with many other phones using our
Size Visualization Tool
.
In terms of looks, the Prada 3.0 does qualify in the category of the better-looking Android handsets. It comes with a visually-pleasing perfectly rectangular shape, which we do appreciate. The rectangular shape does create the impression of a very large phone, but it's actually possible to operate it with one hand only. Judging by its minimalist, predominantly black and white looks, the Prada 3.0 seems like a solid candidate to join the company's product line for businesspersons.
The
top side
of the handset is where you'll find the 3.5mm jack, microUSB port, hidden under a very well-made sliding cover, as well as the power/lock key, which isn't situated in a way that would make it comfortable to press when working with one hand only. There's another button on the top, sitting right above the front facing cam. What it does is to launch the camera app, with the front-facing cam active. Press it again and it takes a picture of... you, most likely. It kind of makes us wonder if this phone is targeted to serious businesspersons, or rather – teens.
LG and Prada have decided to stick with
touch-sensitive navigation keys below the screen
, which we're fine with. We actually didn't happen to press any of them by accident, however, the bad thing is those keys turn completely invisible when used under bright sunlight, which makes them hard to use.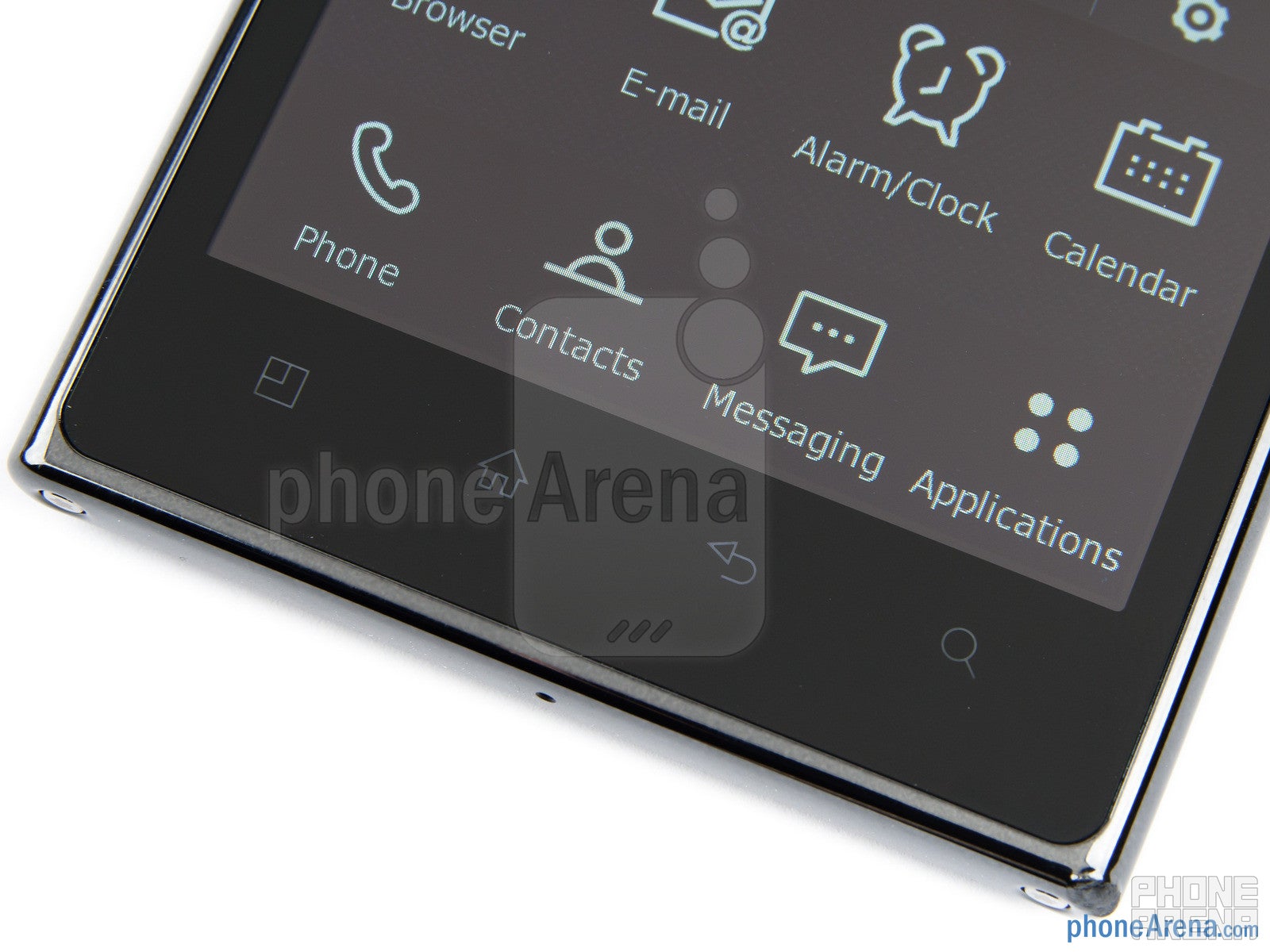 Keys below the screen
All in all, if we overlook the cheap plastic on the back (and we won't), the design of the LG Prada 3.0 pretty nice, though it could have been better. Anyways, it's still one of the better-looking Android phones, so we hope to see more steps being taken in this direction by manufacturers working with the OS. Style is the name of the game for the Prada 3.0, and style it delivers, be it a somewhat unpolished one.
Display: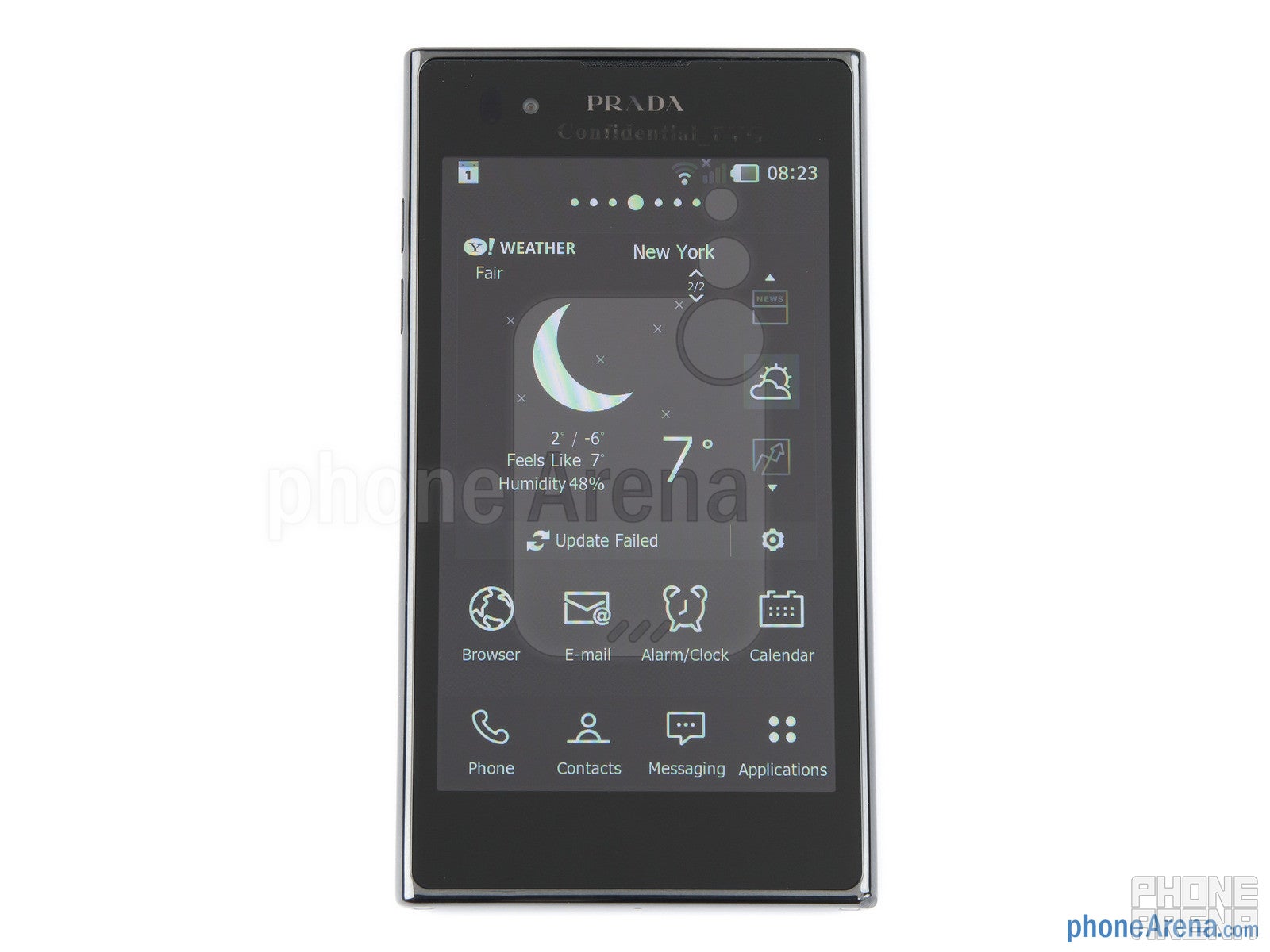 Even though specs aren't the main focus of the LG Prada 3.0, it is one very well-equipped phone. Not lacking compared to the competition in the form of other premium Android smartphones like the Samsung Galaxy S II, Motorola DROID RAZR and Sony Ericsson Xperia arc S, the Prada 3.0 comes with a large
4.3" screen
, which is of the IPS type. All in all, colors are on the natural side, while viewing angles are pretty tolerable. The Prada 3.0 doesn't make a statement with its WVGA (480x800) resolution, especially in the HD age we're living in. Its pixel density of ~217 ppi is still adequate though, so you won't have trouble reading the display on most occasions. Plus this takes some load off the processor, resulting in some buttery smooth movements, so there's a bright side to it after all. Speaking of bright sides, LG has used the so-called NOVA PLUS screen tech, delivering the impressive 830 nits of luminance. Indeed, the handset's display is very visible when looked under bright sunlight. We'd say that it's about equal to an iPhone 4S.
We would have preferred it much more if the LG Prada 3.0 had an AMOLED display. This way, its entire front would have been completely black, making for an even more stylish and simpler appearance. Who knows, maybe we'll see that in Prada 4.0.
LG Prada 3.0 360-degrees View:
Recommended Stories