LG New Chocolate BL40 Preview
9

This is a global GSM phone. It can be used with AT&T and T-Mobile USA, but without 3G.
Introduction and Design:
The first
Chocolate
became a fashion icon and byword for stylish, elegant and exquisite device almost immediately after its official release. It inaugurated the manufacturer´s Black Label lineup that has recently got two new members. The first is the
LG New Chocolate BL20
that will probably be the direct successor to the first Chocolate. The second is the offbeat
LG New Chocolate BL40
– the celebrity we are introducing to you today. What´s unique about the phone is its 4-inch touch sensitive display with multitouch, 21:9 wide-screen ratio and 16 million color support. Moreover, the handset boasts a host of nice features like Wi-Fi, 3G, full HTML browser and 5-megapixel camera, although the device is not a smartphone really, because it runs the S-Class 3D interface of the manufacturer. Now, enough with our beating about the bush, let´s get to brass tacks.
Alongside of most other phones, the BL40 comes in a
different form factor
. The phone is long and narrow, partly due to its non-standard aspect ratio of the display. Being a member of the Black Label series, it sports an incredibly stylish overall look. Black seems to have taken over almost entirely, but the red upper and lower parts of the body lend some color to the austere, graceful design. Perhaps the New Chocolate BL40 will prove to be the next PRADA, despite the fact it´s not branded by the fashion label. This preview is based on a prototype, but still, we simply must tell you about the amazingly beautiful image quality its
4-inch TFT display
with native resolution of 358x800 pixels and 16 million colors deliver. Colors are really saturated and the only displays we have seen that provide such a superb image quality are AMOLED ones. Way to go, LG!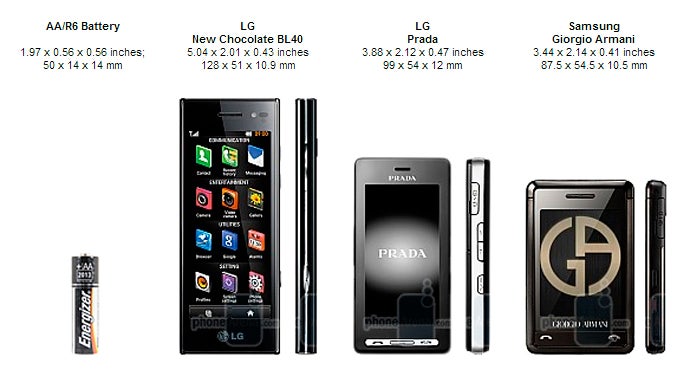 You can compare the LG New Chocolate BL40 with many other phones using our Size Vizualization Tool.
There is
no single button on the front side
of the device, not even touch sensitive keys, but just the awesome screen, earpiece, video call camera and proximity sensor above it.
On either side
you have microUSB port, button to fast start the audio player, 3.5mm jack, screen lock button, volume rocker and camera shutter.
The 5-megapixel camera
equipped with Schneider-KREUZNACH optics, flash and additional microphone taking care of the audio tracks to your videos is on the back, while as expected, the SIM and microSD card slots are under the hood.
LG New Chocolate BL40 360 Degrees View: Recommended Stories