LG Glimmer Review
13

This is a CDMA phone offered with Alltel.
Introduction:
Following the current trend for touch-sensitive phones, the LG Glimmer is the first non-smartphone for Alltel Wireless to incorporate a large 2.8" touch display and sliding numeric keypad to attract consumers that might be swayed into buying a similar device elsewhere, such as the LG Voyager, and Vu, or even the iPhone. It has an upscale appearance thanks to its monochromatic charcoal gray exterior and brushed metal battery cover.
The Retail Package includes:
LG Glimmer phone
800mAh battery
Wall charger
3.5mm adapter
Stylus
Leather pouch
Screen protector
User manual
A data cable is not included, but any microUSB cable can be used with the device.
Design:
The Glimmer is constructed mostly out of charcoal gray plastic around the display, sides, and keypad, with the exception of the metal battery cover. Because of this, it has a very solid feel, more so than the Venus, but comes at the cost of weighing 0.7oz more. This extra weight can easily be felt while the phone is in your hand or pants pocket, but is still less noticeable than the Voyager. Located on the
right side
are the microUSB port, 2.5mm headset jack, as well as the camera button and volume rocker, with the hold button being on the
left side
. All external buttons operate well, provide a good "click" response, and are easy to feel with your finger. The 2MP camera and flash are located
on the back
, next to the hidden memory card slot. It only accepts up to 4GB microSD cards, and is inconveniently positioned under the battery cover, but does allow for hot-swapping without having to turn the device off.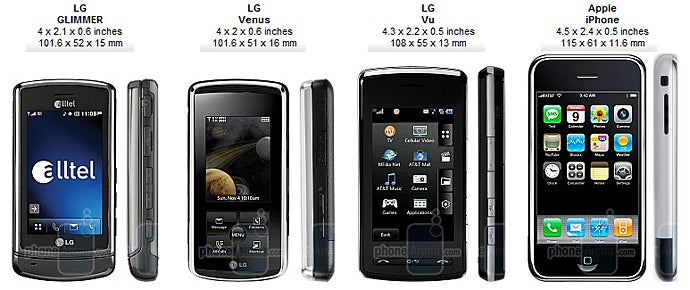 On the front is the 2.8" diagonal 240x400 pixel touch-sensitive
TFT display
with 262K color support. As with other LG phones that incorporate a touchscreen, the one on the Glimmer is pressure sensitive, meaning that you can use your finger, the included stylus, or even a pen cap as the input method. It operates well and has a useful calibration setting to increase accuracy, but does not allow you to adjust the sensitivity level directly. The display is bright, with good contrast and sharpness, so that images and text will look their best under normal lighting conditions. However, while used in direct sunlight, the display is dark and unable to be viewed, which is also true for most phones today. This is unfortunate, as the display is the main means of operating the device and should be viewable regardless of the surrounding lighting conditions.
Sliding the phone open and closed is easy, as the mechanism is spring-loaded and provides fluid movement. Once opened, the Glimmer reveals the internal
16-key dialpad
, which can be used for entering phone numbers or typing messages. It is easy to use, as it offers good tactile feel, with raised separators between the keys and a bright white backlight.
Recommended Stories