HTC Vivid vs Samsung Galaxy S II Skyrocket
26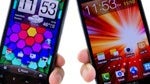 Introduction:
Now that AT&T's 4G LTE network is finally sprouting up in small pockets around the country, it's naturally fitting for them to finally bring forth smartphones packing support for its next-generation data network. Rather than laying out the red carpet for their arrival, both the
HTC Vivid
and
Samsung Galaxy S II Skyrocket
came out of nowhere in a relatively low key manner to offer AT&T customers the ability to surf the waves of 4G LTE goodness – and the timing couldn't have been sooner! Knowing that these two high-end smartphones offer 4G LTE connectivity, it begs the question as to which one is the preferred choice between the two.
Design:
Quickly looking at the two, there's nothing particularly amazing about their designs, mainly because they boast distinguishable design characteristic that we've seen already in use by previous devices – like the HTC EVO 4G and Samsung Galaxy S II. If we really have to pick between the two, we'd have to give it to the HTC Vivid thanks to its classy industrial design and considerably more solid feel. Well, it's not say that the Skyrocket is entirely tasteless, especially when it's the thinner and more lightweight between the two.
On paper, some are led to believe that the HTC Vivid's 4.5"
qHD (540 x 960) S-LCD display
is going the better one due to its higher resolution/pixel density, but in actuality, it doesn't quite capture our attention because of its low brightness output. At the same time though, the Skyrocket's 4.5" WVGA (480 x 800) resolution is undoubtedly behind the times at this point – though, it's able to appeal considerably more thanks to being a Super AMOLED Plus display. In all honestly, our eyes are mesmerized by its polarizing color production, high contrast, and wide viewing angles to maintain its clarity in almost any condition.
Since the
capacitive buttons
on the Skyrocket are placed closer to the bottom edge, we're more prone to accidentally pressing them – whereas, it's not a problem on the Vivid.
Sporting a more pronounced look and springy response,
we easily prefer
the volume rocker and dedicated power button on the Skyrocket. Honestly, they're much easier to activate over the flat and indistinct feel with the Vivid's physical buttons.
Above their displays, they both feature
front-facing cameras
for video chat and shooting self-portraits, but the Skyrocket packs the one with the higher resolution at 2-megapixels, while the Vivid packs a 1.3-megapixel one.
Luckily, the
microUSB ports
on both smartphones also offer video-out functionality with the aid of an optional MHL adapter – plus, they also provide the usefulness of a mirrored experience.