HTC Touch Viva Review
1

Introduction:
Last year, HTC announced a small device, known by the name of
Touch
. It'd eventually become the godfather of a whole family of mobile phones, including
Touch Diamond
,
Touch Pro
and
Touch HD
. Recently, the family has welcomed a new member, the budget-oriented Touch Viva, which we'll closely examine in this review. Similar to the rest of the members it's been designed for easier use with fingers, and for that purpose it's been equipped with the latest version of the TouchFLO interface. Here we're not talking about TouchFLO3D, but rather TouchFLO2D. No, there's no mistake. Although it looks a lot like the interface found on the big brother Diamond, the 3D animations are missing here and it's not quite as polished as TF3D. This is most likely due to the modest 200MHz processor, but more on this later.
In the box you'll find:
HTC Touch Viva
Charger
USB cable
User manual
Software CD
Screen protector
Design:
The Touch Viva's specifications are very similar to the original Touch, but there are some differences in design aspect. To begin with, the little device has in fact grown up in every direction; this is somehow strange, since its bigger size doesn't lead to anything new. The screen is
2.8"
, running in
QVGA resolution
, but it doesn't find its place exactly on the same plane the front side is, which makes it different from the other devices of the series. It's a bit concave, which spoils the overall appearance a bit, but the main reason to mention it, is that in Windows Mobile most of the screen buttons are situated over the angles and edges, to which you can't reach very easily using your fingers only. The display boasts bright and saturated colors, but this is only until it falls prey to the noxious direct sunlight. When this happens, the image becomes pale and hard to read.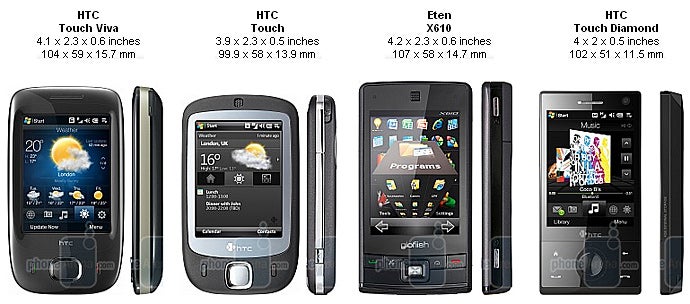 You can compare the HTC Touch Viva with many other phones using our
Size Visualization Tool
.
Like most touchscreen phones, the Touch Viva is also not very generous when it comes to physical buttons.
On the front
you'll find only the send and end keys and the luminous 5-way D-pad. They are comfortable to use, but the main instrument for navigation throughout the menus remains the touch screen. Other physical buttons include the volume rocker
on the left
side and the power button
on the top
. The
bottom
houses only the miniUSB port, which is also used to plug in the headphones. We are aware that HTC are capable of putting 3.5mm jacks on their devices and the proof of this is the Touch HD. It'd have been nice to have one here so that we'd have been able to test the sound through headphones, since there aren't any included in the box.
Okay, we became familiar with what, where and how, but is it comfortable? The answer is "Yes". The rounded shapes of the body, in combination with the compact size, make it quite convenient to hold. It fits well in one's pocket as well, and you won't get the chance of being asked "Is that a phone in your pocket or are you just happy to see me?"
Recommended Stories