HTC Touch Pro Verizon CDMA Review
27

This is our review of the Verizon's HTC Touch Pro CDMA,
if you want to read the review of the Sprint version, please click here.

Introduction:
Verizon has released their variant of HTC's
Touch Pro
, a device we first saw with a GSM radio over the summer and which came to
Sprint
and Alltel a short time ago. Verizon's Pro may share the same name as Sprint and Alltel's model, but they have done more than simply slap their name on it and change the color of the battery door. Interestingly enough, while it finally carries the HTC name on the box the device remains branded only with the Verizon logo. This variant is slightly larger than the others, but more importantly Verizon has decreased the RAM.
Design:
The original GSM and other CDMA Pros all have slightly rounded corners,with a metal frame. Verizon's Pro closer resembles the GSM
Diamond
'shard lines and sharp corners (as does AT&T's Pro, the Fuze.) Thebody has a piano black finish, and the metal frame found on the otherversions is gone. The battery door is very plain; it is constructed ofthe same piano black plastic and is unlike anything we've seen from theTouch series before. Both the GSM and other CDMA Pros are coated insoft touch paint, which give them a better in-hand feel. The lack of ametal frame and hard plastic leads to a slick, cheaper feel whencompared to other variants. While not good, this is less of an issueon the bigger Pro, and would be more apparent if they did it to theDiamond. Please Verizon, don't do it to the Diamond! Overall the feelisn't quite right, just like we said about the Sprint version thoughfor different reasons.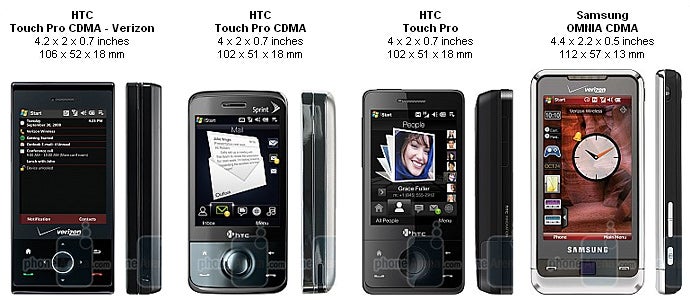 You can compare HTC Touch Pro CDMA with many other phones using our
Size Visualization Tool
.
The
keyboard
is also different. It occupies the same physical space and still offers five rows, but it is short two columns when compared to the other Pros. This leads to bigger keys, a noticeable change, but also fewer keys. Each layout has its merits; those with fatter fingers will appreciate it but those who can handle the smaller buttons will miss the extra functionality. The navigational keys below the screen remain the same in function, but the send and end keys have been painted green and red which does not mesh well aesthetically. The d-pad sits relatively flush, as opposed to the Sprint's which has some relief around it making the touch scrolling more comfortable and natural.
Invalid image meta