HTC One X vs Apple iPhone 4S
99+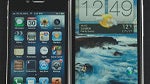 Introduction:
You might be wondering why we always compare the hot new handsets with the latest iPhone. Well, the explanation is actually pretty simple. Since the iPhone is so popular, and pretty much everyone knows what it offers, it makes for a great reference device! That's the logic behind the article that you're reading right now as well! The
HTC One X
has been one of the most-anticipated handsets for the first half of this year, and for a reason – this is the first phone powered by a quad-core processor, and not only that. The One X seems like a dream come true for every geek with passion for smartphones. However, it's not only specs these days, so you can't judge a device by its specs sheet. It is time for the One X to go through the ultimate test. It's time for it to face the iPhone 4S!
Design:
The One X and iPhone 4S are complete opposites when it comes to how they look and feel. The biggest differentiating factor here is their size. On one hand, we have the giant One X, and on the other – the very compact (for today's standards) iPhone 4S. For many people out there, the One X might be too bulky to be comfortably held. This feeling is reinforced further by the One X's sharp side edges and excessive width.
In terms of construction and materials, both phones are very impressive. Both the One X and iPhone 4S feel extremely solid and well-made. In order to achieve such a thin and relatively lightweight body, HTC has decided to use polycarbonate, which is a high-quality kind of plastic. It is very pleasant to the touch, similarly to the iPhone 4S's all-glass and stainless steel construction. Which one you'd like more depends on your taste. We, personally, prefer the glass of the iPhone 4S to the polycarbonate of the One X.
Display:
We're again seeing completely different approaches when it comes to the displays of the One X and iPhone 4S. The One X has a 4.7" Super-LCD 2 HD screen, while the iPhone 4S sports a more traditional IPS-LCD screen with a resolution of 640x960. Even though the iPhone 4S has lower pixel count, it actually has the upper hand in the pixel density department (330 ppi vs 312 ppi). However, both displays are incredibly sharp, so you'll have some very hard time finding any jaggedness on them. In this category we'd give our preference to the screen of the One X, not only because it's physically bigger, but mostly because it features some more saturated and vivid colors. It's an awesome screen to watch video or play games on!
HTC One X 360-degrees View:
Apple iPhone 4S 360-degrees View:
Recommended Stories