HTC Amaze 4G vs Samsung Galaxy S II
20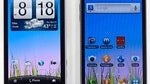 Introduction:
It seems that every week a new Android superphone is released, and last week it was the
HTC Amaze 4G
and
Samsung Galaxy S II
launching for T-Mobile. These two flagship devices pack the latest processors, 4G data speed, 8 megapixel cameras and large displays. One is thin and light as a feather, the other unapologetically big and bold. With lots of onboard memory and a helping of Gingerbread these devices are pretty similar on paper. So, which device is right for you? Come along with us as we explore these two beastly phones.
Design:
Thin, large, light, sleek. Samsung has crammed so much technology into the waif-like
Galaxy S II
that one can't help but be amazed (no pun intended.) The phone is super thin at just 9.4mm yet sports a large 4.5" WVGA Super AMOLED display. The 8 megapixel camera is on the back and a minimalist set of buttons and ports ring the latest Galaxy flagship. The black monotony is only barely broken up with some dark chrome trim. For being such a large phone the Galaxy S II feels almost natural in your hands, with the soft touch battery door offering just enough grip and texture. It slides effortlessly into a front pocket, where it remains undetected until you feel it vibrate.
HTC Amaze 4G
is quite the opposite. The Amaze is just as tall as the Galaxy S II and just a few mm narrower, but it is also more than 2mm thicker and weighs over an ounce and a quarter more. A sharp, beveled display and bright, faux aluminum accenting make the Amaze 4G stand out. HTC two upped Samsung by including not only a dedicated camera button, but also a dedicated camcorder button on the Amaze 4G. The rounded edges make the Amaze easy to hold, but wrap your fingers around too tight and the pronounced beveling of the display will cut into them. For as rough as its edges are, the 4.3" qHD Super LCD panel sure is easy on the eyes.
The 4.3" Amaze display has a higher PPI thanks to its qHD resolution, but Samsung's larger 4.5" has the Super AMOLED Plus technology. Neither display will disappoint, but when you place them side by side it's hard we found ourselves consistently drawn to the Super AMOLED panel. It is brighter and colors are more vivid (some would say to a fault,) but what really gets us is the deepness of the black. The lower resolution is unfortunate, and despite the 16 million color depth we still saw some banding which was not apparent on the Amaze 4G. This is nothing new for AMOLED panels, but whites are very blue which gives the Amaze's Super LCD more natural reproduction most of the time. The Amaze has its own shortcomings though, such as being able to see pixels now and again.
With no disrespect to HTC, the Galaxy S II is a more attractive phone both to hold and use. There will no doubt be some of you out there who prefer the extra heft and solid built, but for the majority of you the Galaxy is the design to go with.