Google Pixel Buds Review
3
We may earn a commission if you make a purchase from the links on this page.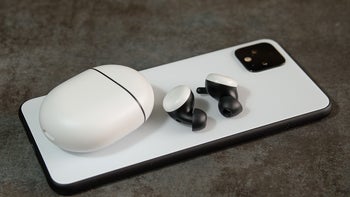 Google's first-gen Pixel Buds had a lot of strengths, but the wired neckband design was too dated and too niche to really catch on. Now, three years later, the Android maker is back with its first set of true-wireless earbuds, new software tricks and wireless charging case in tow.
Though a few drawbacks prevent them from being the be-all, end-all best choice, Google's latest effort is an overall excellent pair of premium earbuds. Thanks to their great sound, comfortable design, and seamless connectivity, the new Pixel Buds are a strong contender in a crowded market.
Design & Comfort
The Pixel Buds are of the in-ear rubber tip variety, with three sizes included for optimal comfort and fit. The circular design has a clean, understated look and doesn't stick out too much when you wear them. They also feature the distinctive stabilizer fin protruding out of the top. When you wear the earbuds, the fin fits snugly into the external ear (the fossa triangularis, if you want to get fancy), which allows the whole device to fit securely but comfortably — I've never had them fall out during use, even with running or jamming to music.
Google's earbuds also have a special 'spatial vent' to alleviate pressure and prevent total blockage from ambient noise. This design gives the Buds a translucent feel, if that makes sense, which is especially appreciated when keeping them inserted for hours on end. The new Pixel Buds are also lightweight at just over five grams each, and the overall comfortable design makes them a joy to wear.
The Pixel Buds come packed in their own charging case, which charges with the USB-C port on the bottom or wirelessly. The case also has a matte, soft-touch feel that's quite similar to the finish on the Pixel 4's back. It's got a surprising heft to it and feels sturdy and well made in the hand.
The earbuds slot into their indents with no trouble, and the magnetic hinge is also super well designed, snapping open and shut with a satisfying snap. Everything about the case, from its gentle curves to the hidden status LED, feels premium. It's the nicest wireless earbud case I've seen yet.
Connectivity & Software
Being a Google product, the Pixel Buds pair especially easily with Pixel phones and Android devices with Fast Pair. When the case is flipped open for the first time, the nearest Android 6.0+ phone connects almost instantly and simultaneously links the device to your Google account with a single tap. Bluetooth audio is up and running in ten seconds flat, and Assistant is ready in another half a minute, which is great.
With other devices, the pairing process is basically identical to any other Bluetooth device, and I didn't have any issues setting them up on a Chromebook and a Windows PC. Once connected, the Buds can also transition seamlessly from using both earbuds to just one simply by returning either piece to the case—ditto for connecting and disconnecting entirely.
Connection stability is also rock solid. Google boasts a maximum connection distance of three rooms indoors or a football field outdoors, and I found the claim to hold up. I only managed to get hiccups in the audio by putting four walls between the earbuds and my phone. In regular use, the connection remained completely stable.
The earbuds themselves are free of any buttons, relying solely on the touchpad for controls. The system uses forward and backwards swipes as well as single, double, and triple taps for media and call controls, as well as Google Assistant, which can be summoned anytime by touching and holding either earbud, as well as the standard 'Hey Google' hotword. I'm happy to say that the gesture controls are surprisingly reliable and intuitive.
One awesome feature can be activated by holding your finger on the touchpad for a few seconds, which prompts Google Assistant to tell you the time and read any new notifications. This feature feels so intuitive and useful in a variety of situations where fumbling with your phone isn't ideal. The earbuds can also transliterate most languages without issue, which is great news for bilingual folks.
Speaking of languages, the Pixel Buds also retain the real-time translation that made headlines back when the first-gen Pixel Buds were released. The earbuds work in tandem with your phone to provide two-way interpreting in any of 27 supported languages. The feature is actually available with Google Translate on most recent phones, but the Buds provide a far more seamless experience by saying the translated text into your ear, as opposed to the clumsy back-and-forth in the Translate app.
Sound Quality
Like every other manufacturer, Google promises best-in-class audio with these earbuds. It's hard to make a definitive judgement, but the Pixel Buds definitely don't slack when it comes to sound quality.
The overall sound is bright and clean, with lots of detail and a decently wide soundstage. The sound profile seems to place slight emphasis on vocals and bass frequencies, but Pixel Buds still offer versatile audio with rich mids and treble, and surprisingly good clarity up to 90-95% volume. They're not nearly as good as a great pair of over-ears, but they could hold their own against almost any true wireless option on the market.
Call and mic quality are also solid. Incoming audio is crystal clear, and outgoing audio, while not as crisp, doesn't sound too muffled or distorted. Though it doesn't hold a candle to putting your ear on the phone, the Pixel Buds are a fine choice for phone calls.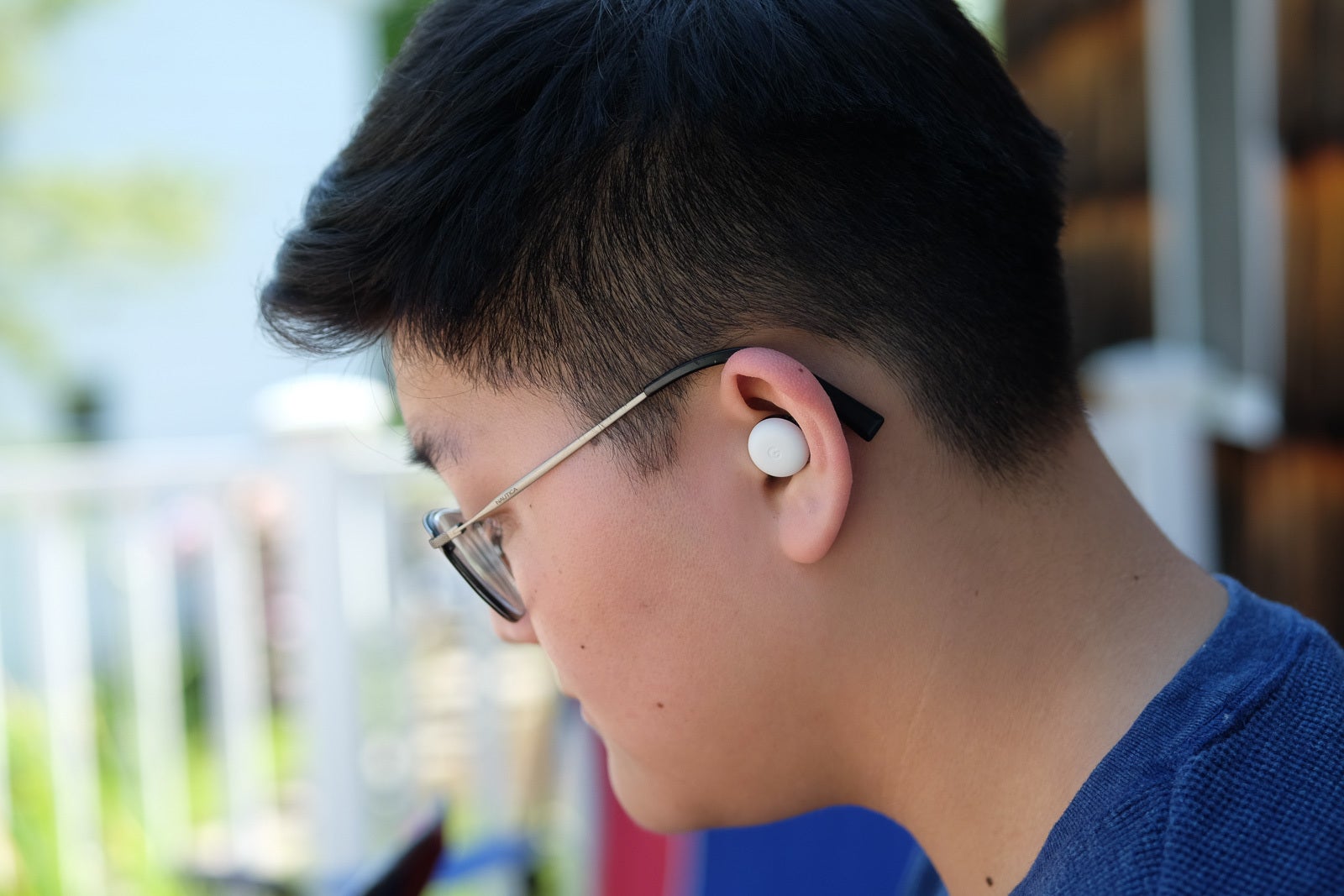 Adaptive Sound is another headlining feature, which dials the volume up and down to account for ambient noise (or lack thereof), similar conceptually to adaptive brightness for displays. The effect is rather subtle, but moving from a quiet environment to a loud one, or turning on a vacuum or laundry machine will slide the volume up. Not as groundbreaking as one might hope, but it's nice to have.
These features can be controlled via the Pixel Buds app, which is pretty and pretty bare bones, without much customization or setting options available. The lack of EQ settings is especially a head-scratcher, but one great feature is the ability to make your earbuds ring if you can't find them.
Possibly the most disappointing omission here is ambient mode. The AirPods and Galaxy Buds offer various levels of ambient awareness, but the Pixels Buds leave you stuck with just one level of ambient balance, neither completely isolated nor completely transparent. That one level is admittedly fine in most cases, but the additional flexibility is certainly missed.
Battery Life & Charging
Google promises up to 5 hours of listening time and 24 hours with the charging case, but I actually got slightly better performance. With just music playback at 75% volume and no Google Assistant usage, battery drain was around fifteen percent per hour on average, or around six hours of listening time. With normal mixed usage and frequent Google Assistant invocations, I got 4-5 hours per charge. Talk time seems to be in line with what Google states, too.
The charging case tops up the earbuds fairly quickly in addition to charging quickly itself. With a few hours of usage per day, the Pixel Buds should have no problem lasting a week on a full charge.