Fluance Fi50 Review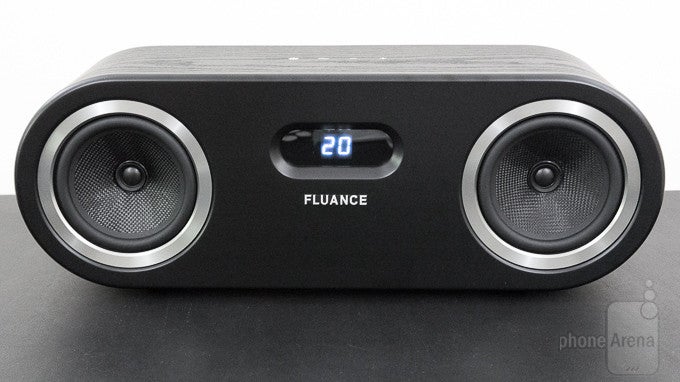 Introduction
High-end, in-home wireless Bluetooth speaker systems aren't cheap, that's for sure! Normally, these units can easily range between $500 and $1,000 depending on the brand you're getting, as well as the kind of features that accompany it. Well, for those looking to pick up a sweet offering without shelling out a fortune, the Fluance Fi50 aims to shake things up with its combination of delivering high-quality audio on a budget.
Packaging contains:
Wall charger
Charging cable
3.5mm stereo cable
Quick start guide
Rubber feet attachment
Metal floorspikes attachment
Design
While there are certainly other comparable speakers with designs that exude styles from modernistic to industrial, the Fluance Fi50 opts for a slightly more conventional approach with its design. Knowing that it's offered at considerably less the cost than other premium end speakers, we're not too critical about it sticking to a design that's generic. To its credit, though, the wood-like finish of the Fluance Fi50 can definitely blend perfectly into all sorts of home entertainment system setups – it's universally adaptable honestly.
Three color options are available, natural walnut, black ash, and lucky bamboo, which all have a sticker price of $199.99. Our particular unit, the black ash option, is just as adaptable to your living room furniture, as well as the natural walnut. However, for those fancying an edgier appeal, the lucky bamboo can achieve that with its significant contrast.
And boy let us tell you, it's gigantic in size over other similar premium end speakers! In fact, it makes past speakers that we've reviewed, like the Wren V5PF and Cambridge Audio Mix Air 100, look quaint in comparison to this one. You might have trouble having it clear the height of a cabinet or something in your entertainment center.
At the very least, its casing exudes a tough construction thanks in part to the MDF Wood Cabinetry, which also helps to suppress resonance. Internally, it features dual 5-inch woven glass fiber composite drivers, dual premium coaxial tweeters, a 40W integrated power amplifier, touch sensitive controls, a full-sized 2.1A USB port for rapid charging of other devices, 3.5mm auxiliary port, and an illuminated LED display. While the USB and 3.5mm auxiliary ports are nice additions, they're commonly found incorporated nowadays into speakers of this caliber. In comparison, though, it lacks some of the other amenities we find with the competition – like NFC for quick paring or Wi-Fi direct connectivity.
Speaking of its touch controls, there are only four on the top surface of the speaker that adjusts the dim level of the LED display, cycling between volume/bass/treble, volume down, and volume up. Similarly, the illuminated LED display is pretty straightforward in what it does – so it mainly functions to display the volume level.