Eten Glofiish X500 Review
1

With developing of technologies and mobile phones as part of them, people get used to having more and more features in their phones and combining multiple devices into single one has become a standard. Windows Mobile-powered phones have been available for many years now, and as those pocket computers are the most advanced phones on the market, they have been manufactured mainly by hi-tech producers in Asia. Taiwan has become the world leader in this category, and HTC is the most popular manufacturer, with their devices sold under various brand and carrier names. But the rivals become stronger and stronger, and brands like Eten have started their own lines of phones getting a piece of the market share.


You know the ETEN thanks to its previous models, numbered M600, G500 and M600+. They're all Pocket PC Phones running on Windows Mobile operating system and featuring WiFi or GPS functionality. At the end of October 2006, the manufacturer announced a new name for its PPC line up - "glofiish" and the first phone to carry it is the new E-TEN X500. The letter "X" in the model name clearly shows that it is part of a completely new series - combining both of their strongest points of the previous "G" and "M" series– the X500 is Eten's first device to feature Wi-Fi and GPS, and it is packed into 0.6"(15.5mm) slim body which makes it world's thinnest PPC phone with GPS and WiFi up to date.
| | | | | |
| --- | --- | --- | --- | --- |
| Model | Dimension (Inches) | Dimension (MM) | Weight (OZ) | Weight (Gramms) |
| Eten X500 | 4.4" x 2.3" x 0.6" | 113 x 59.5 x 15.5 | 5.2 | 146 |
| Eten M600+ | 4.4" x 2.4" x 0.9" | 111.5 x 60.5 x 22 | 5.8 | 165 |
| Eten G500+ | 4.7" x 2.4" x 0.9" | 119 x 62 x 23 | 6.7 | 191 |
| HTC Wizard | 4.3" x 2.3" x 0.9" | 108 x 58 x 24 | 5.6 | 160 |
| HTC Artemis | 4.3" x 2.3" x 0.7" | 108 x 58 x 17 | 4.6 | 130 |
| HP 6920 | 4.7" x 2.8" x 0.7" | 118 x 71 x 18 | 6.3 | 180 |
Otherwise the phone is similar to other models from the brand and features 2-megapixel camera with LED flash, 400MHz Samsung processor, and EDGE-data, still lacking update to 3G frequencies, which can be considered as one of the its main drawbacks. It moves to microSD slot for smaller size, which reduces the amount of maximum memory available, but a nice addition is that finally Eten has used a standard miniUSB slot for connecting to a computer and charging.


Box contents:
Eten X500 phone
Wall charger
miniUSB cable
Leather case
Stereo headset
CD with software
We are disappointed by the leather case coming with the phone, or to say it more accurately – we hate it. There are several reasons for that. The carrying case does not have a belt clip and you have to always either hold it in your hand or have an empty pocket to put it in. Since we are talking about a Pocket PC with a weight of 150g, it not the most convenient thing to have in a pocket all the time.


When a call comes in, there are two options – either take the phone out of the case and hold the case while talking, or talk with the phone still in the case – both not the best option. In addition to that, the case has an opening for the 2.5mm jack, but lacks one for the camera.
On top of that, we accidentally dropped the phone – it slid out of a jacket's pocket and plunged on the ground. We though no damage would be inflicted (had our T-Mobile MDA's dropped on numerous occasions) but the next time we had to use the X500 we noticed its bottom surface is dented. Any decent case would have protected the phone in such situation, but the X500 didn't.

When we returned back to our MDA with belt-holster we realized how brilliant idea it is – it's more comfortable, saves space, and is way more secure!

Strangely, the phone doesn't come with a USB Cradle for PC Synchronization, as previous models did – M600 and M600+. The G500 didn't have one, but it came with Car holder because of its GPS navigation functionality; X500 glofiish has both WiFi and GPS, but none of the "high-end" accessories are present. Keep in mind this is not something standard, but a downgrade when compared to manufacturer's past models.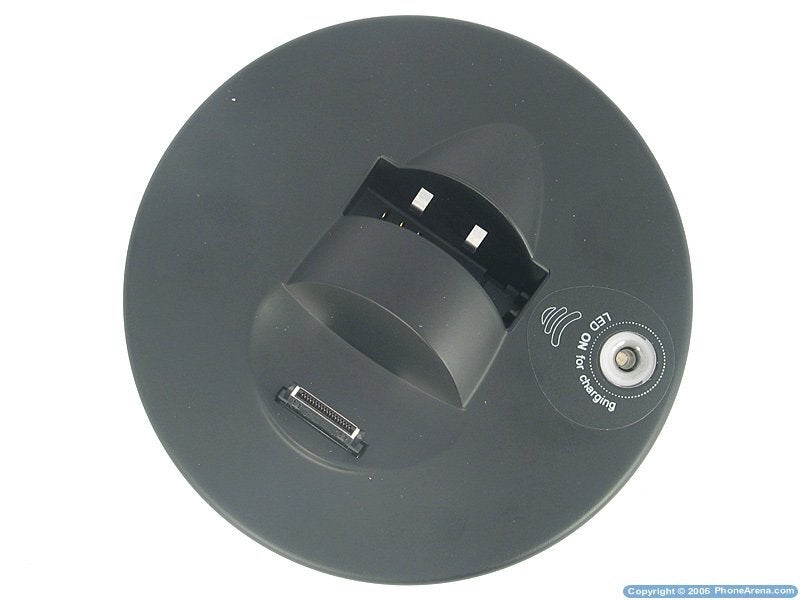 The cradle shipping with M600+ and M600 models
Recommended Stories