Energizer Inductive Charger Review
3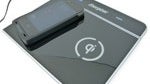 Introduction:
When it comes to charging our devices, nothing has really changed in that aspect since the cell phone started to gain prominence amongst people. Generally, all you have to do is simply use the accompanying wall charger packaged along with your handset, and voila, instant charging! However, the
Energizer Inductive Charger
is one of those new devices that are trying to change the way we do things since it takes the pain of having to manage all those cables and pesky different chargers for our devices. And honestly, who doesn't want the charging process to be more streamlined than it already is? Inside the packaging, we find the inductive charging base, wall charger, instructions, and purchased separately are the Qi compatible cases.
Design:
Although it's not the first time we're seeing this, especially when the
Palm Pre
and its
Touchstone
gave some prominence to the idea, the Energizer Inductive Charger is based on
Qi Technology
and aims to be the next-generation charging solution for many devices. Naturally, it's attempting to become the universal charging technology of the future, and rightfully so, it literally takes out the hassle in managing all those various cables and wall chargers. Moreover, you have that cool factor attached to it since you basically slap your Qi compatible device (with a special cover/case on) right on the base to get it to start charging.
More than capable of accommodating the largest of smartphones out there, the charging pad offers
two stations
for you to charge your devices. Additionally, the two
LEDs above each station
will illuminate in a neon blue color to indicate that it's actively charging the device. And even though the charging pad slopes down at an angle, devices remain intact at their position without sliding or moving around at all. On the back, we find its proprietary charging port and a useful standard USB port, which still allows you to charge other devices normally as well.
We managed to check out the
Energizer Qi compatible case for the iPhone 4
, which does add just a bit of size to the device – but nothing to make it feel overly bulky. It does add a little bit of protection too, since it's constructed out of this rubbery tough plastic material that keeps it clean looking. Furthermore, there are cutouts for the camera, speaker, and microphone, while the top and some of the sides are left exposed to allow quick access to some of its buttons and easy removal from the case. However, there is no way to sync the handset with your computer since there is no connection port of some sort integrated into the case. Meaning, you'll need to remove it from the case in order to connect it with a computer.
With other devices though, like the
BlackBerry Curve 8900
, it relies on a simple back cover attachment that's less obtrusive looking than the iPhone 4 case. Strangely enough, Energizer only produces Qi compatible sleeves/cases for the
iPhone 4
,
3GS
, and BlackBerry Curve 8900, which retail on the average at $30. Despite only catering to those particular three models, you can still use the charging pad with other Qi compatible cases made by other manufacturers.
While we don't see having a permanently installed back cover as too big of an issue (it wouldn't take away too much from the appeal of the handset), it's obvious that not too many people would agree on constantly having a bulky case on. For those users remains the inconvenience of having to put their handset in the case each time they are to place it on the charging pad.