BlackBerry Z10 vs Samsung Galaxy S III
44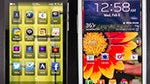 Introduction:
History buffs be aware! Some of us might forget it, but 2008 surely turned out to be a banner year in the history of smartphones. At the time, BlackBerry smartphones were hotly sought out by people for both their consumer and enterprise features, but when Android officially launched on a device in the fall of 2008, it signaled a changing of the guard of some sorts. Fast forward to the present, the
Samsung Galaxy S III
has seemingly become the prized darling for the mature platform – while the
BlackBerry Z10
is intent on starting yet another revolution of its own. Will BlackBerry's flagship have what it takes to sway people from the mighty features set found with the Samsung Galaxy S III?
Design:
Knowing the size disparity between their displays, we're somewhat surprised to see that the Galaxy S III is just a teeny bit larger in footprint than the Z10. Interestingly enough, the Samsung Galaxy S III is both skinnier and lighter too. Holding them in our hands, we're still digging the design of Sammy's baby more than the Z10 – primarily due to its rounded corners, which delivers a more natural feel in the hand. Indeed, their build qualities are similar to one another, since they sport all-plastic bodies that are clean looking, but it's ultimately the Galaxy S III getting the nods with its more comforting and approachable design.
Taking a tour
around their bodies
, it's quite evident that they share many commonalities – like their 3.5mm head jacks, standard microphones, noise-cancellation mics, microUSB ports for charging/data connectivity, earpieces, light & proximity sensors, and LED notification lights. However, we prefer the Galaxy s III's set of physical buttons, the power and volume control, since they're more distinguishable to the touch – whereas, it's flatter in feel with the Z10. Still, we appreciate that the Z10 offers easy video-out functionality with its separate microHDMI port, which is better than purchasing an additional MHL adapter for the Galaxy S III.
On the front, the Z10 is packing along the slightly higher 2-mgeapixel front-facing camera – while the Galaxy S III has a 1.9-megapixel one. Flipping them over, they're outfitted with 8-megapixel auto-focus
cameras
with LED flashes, which can shoot videos in 1080p. Sharing yet another commonality, we love that they feature removable rear covers to gain access to their batteries and microSD card slots.
Display:
Everybody appears to be going BIG with their displays, but that's not quite the mentality we see yet out of BlackBerry's camp. Then again, it's a matter of personal preference. With the
BlackBerry Z10's 4.2-inch 768 x 1280 LCD display
, it's no doubt sharp looking with its pixel density of 356 ppi, but seriously folks, it's not all that evident to the naked eye versus the larger
4.8-inch 720 x 1280 Super AMOLED panel of the Galaxy S III
– and that's despite its PenTile matrix arrangement! In terms of colors, they're more on the neutral side with the Z10, but you can't quite forget about the wow factor established by the vibrant and saturated tones produced by the Galaxy S III's display. Outdoors, there's no question that the Z10 is more viewable.
BlackBerry Z10 360-degrees View:
Samsung Galaxy S III 360-Degrees View
Recommended Stories