Asus Eee Pad Slider Review
5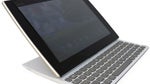 Introduction:
Breaking our deeply rooted habits, tablets have seemingly transformed the way we do personal computing, and rightfully so, we've been treated to a broad range of models – though, there's still very little innovation between them when it comes to form factor. In its bid to make a name for itself in this highly competitive market, Asus was able to capture our attention with the
Eee Pad Transformer
from last year not only for its inexpensive cost, but for its innovative keyboard dock as well.
Fortunately for us, the time has come to check out another interesting design by the company – the
Asus Eee Pad Slider SL101
. With this tablet, the manufacturer has forgone the keyboard dock and has simply incorporated a physical keyboard to reduce the amount of items you need to lug around. However, when it comes down to it, will it be a practical thing without making too many compromises?
The package contains:
microUSB cable
Wall Charger
Start Guide
Product and Safety Information
Design:
Staring at it head on, the Eee Pad Slider has a slight resemblance to the original Transformer, but upon closer inspection, they're actually very different from one another. Overall, the Asus Eee Pad Slider is essentially thicker (0.68"/17.2mm thick), heavier (33.86 oz/960 grams), and by golly a whole lot larger in every way imaginable, compared to both the Transformer and the Prime. Not afraid to hide its girth, our hands tire very easily after holding the hefty tablet for a little bit of time, but then again, that's the compromise made to pack a keyboard. It's soundly solid feeling thanks to its sturdy plastic body that's accentuated by its contrasting soft touch surfaces. Instead of boasting an in your face look, it plays it safe by sticking to a conventional design that doesn't take away from its secret surprise.

Very much acting like a netbook, we find an abundance of
ports and buttons around its sides
, positioned in places that we would normally find then on a laptop. These include its power button, volume rocker, manual reset button, microSD card slot, proprietary charging/data port, miniHDMI port, 3.5mm headset jack, and full-sized USB port. Finally, its lonesome 5-megapixel auto-focus camera sits squarely in the rear, but it's lacking a flash.
Honestly, it's so great to find a manufacturer taking the bull by its horn when it comes to variety amongst tablets. Asus is doing it again! Unlike the mechanics used by most QWERTY based smartphones, accessing its keyboard is accomplished by pulling the top edge of the tablet. Once the mechanism starts going, it locks firmly into a fixed position thanks to the stainless steel part holding it up, which is actually one of the gripes we find since it's only comfortable to use in a seated position with the tablet placed on a level table – as opposed to placing it on our lap.
Nevertheless, its
chicklet style buttons
are raised enough to offer distinction between them, though, the response is a tad bit soft. At first, we struggled to use it, but after some practice, our accuracy progressively became better. Eventually, we find it practical to use, but people with larger fingers will find it rather challenging.
Display:
The Slider features the same display found on the original Transformer, which is none other than a 10.1" WXGA (1280 x 800) IPS display. Just like before, we're content with its quality thanks to its pleasant looking details, wide viewing angles, high-contrast appearance, and realistic color production. Testing it out further in outdoor conditions, we're still able to visibly make out items on screen with almost no issues at all – and it simply goes to show why we're very pleased once again by it.