Apple iPhone 5s vs Samsung Galaxy S4
99+
Introduction
In recent times, Samsung has been quite the aggressive company in its quest to bring the beloved iPhone to its knees, which is evident by the insane amount of commercial spots showing off how its
Galaxy S4
is already the next big thing. For most of the year, it has proven to be a force of immeasurable power, as it has reigned supreme in the Android landscape – while also giving Apple's pride and joy some much-needed competition. Now that the
iPhone 5s
is finally here, it's not looking to mess around with the competition, seeing that it intends on bringing back the spotlight to Apple's warm glow. Heading into that crucial holiday season, these two titans are hell bent on fighting against one another to claim victory.
Design
This is an interesting comparison, since the iPhone 5s retains its predecessor's design to the teeth – so there's nothing particularly new about it. Regardless of that, the iPhone 5s continues to be the more premium looking smartphone between the two, which is aided by its brushed aluminum casing. Compared to the Galaxy S4's glossy plastic casing, the iPhone 5s also exudes the more sturdy build quality with its construction. And finally, when it comes to the in-the-hand feel, the smaller figure of the iPhone 5s enables it to feel more natural in the hand – whereas the Galaxy S4 is just one wide smartphone to hold. All the signs might point to the iPhone 5s as being the better looking device between the two, but the Galaxy S4 still has a pleasant design of its own too, though, personal preference becomes the deciding factor in which of the two is the more favorable one.
Although they share many common ports and buttons, each handset packs along its own unique set of goodies. Below the display of the iPhone 5s, its home button incorporates a nifty biometric fingerprint sensor dubbed Touch ID, which enables us to unlock the phone and confirm app purchases. With the Galaxy S4, it packs along a very useful IR blaster that turns the phone into a universal remote – a great thing to have when you can't find the clicker. Lastly, the Galaxy S4 has an LED notification light and removable back cover that enables us to access its internal battery and microSD card slot.
Display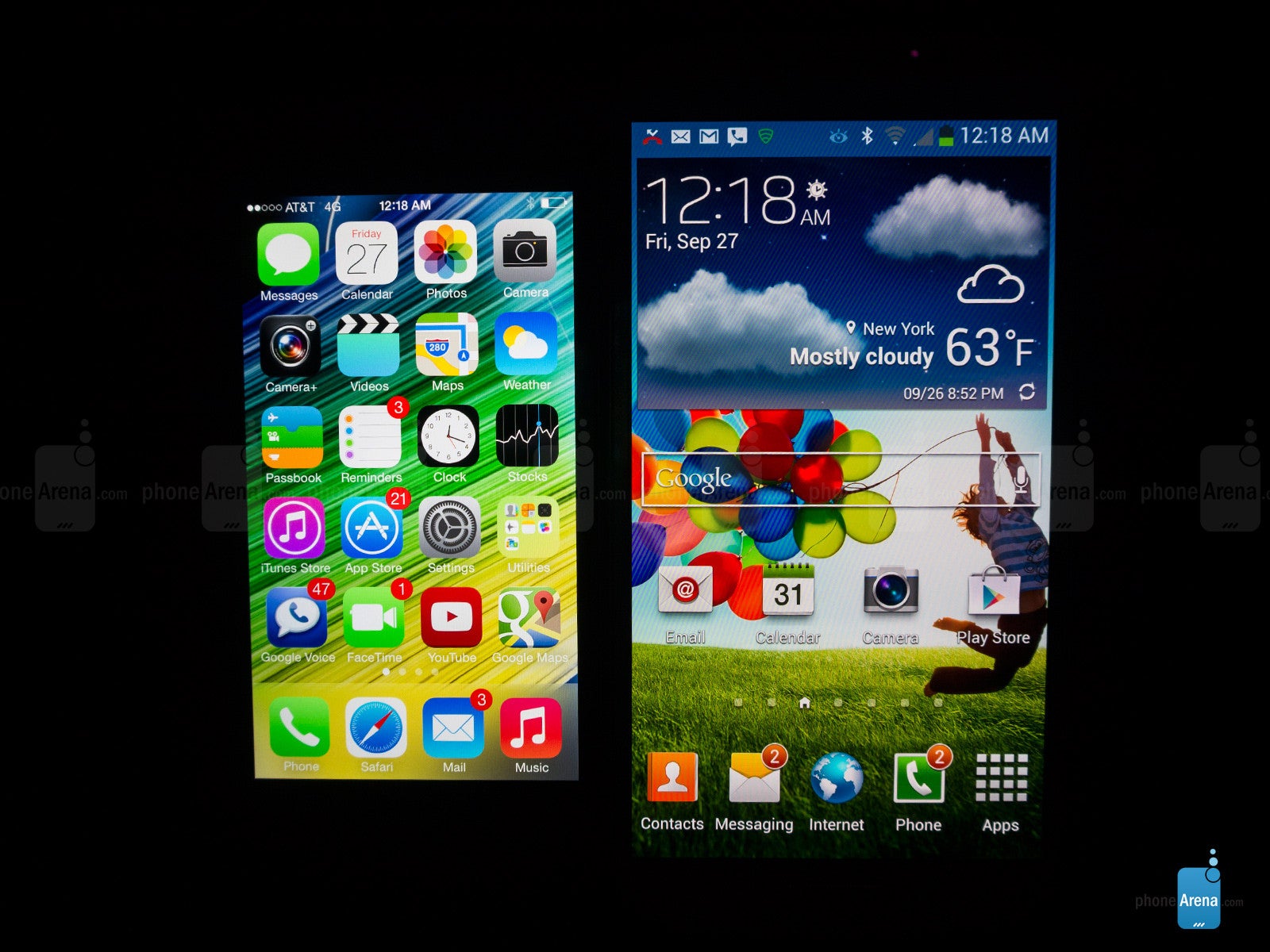 Needless to say, there's a huge disparity between the displays on these two flagships – one is simply average in size, while the other is ridiculously ginormous. Retaining its predecessor's display, the iPhone 5s' 4-inch 640 x 1136 Retina Display doesn't really have the same drawing factor when compared to the 5-inch 1080 x 1920 Super AMOLED display of the Galaxy S4. Despite the obvious detail superiority of the Galaxy S4's display, it's only noticeable as we peek our eyes very closely on the two – so it's almost indistinguishable from a normal distance away to realize which is more detailed.
Aside from that, they both have their own standout characteristics. With the iPhone 5s' Retina Display, it produces very accurate colors and has the better outdoor visibility. Conversely, the Galaxy S4 has that showroom wow factor with its rich and over-saturated color reproduction, which easily catches our attention. Oh yeah, there's also the cool tracking technology that enables the Galaxy S4's display to recognize our finger as it's hovering over the display!
Display measurements and quality
Apple iPhone 5s 360-Degrees View
Samsung Galaxy S4 360-Degrees View