Apple iPhone 4S vs Motorola DROID BIONIC vs Samsung Galaxy S II T-Mobile
99+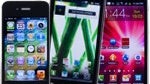 Introduction:
Summer is obviously behind us, but surprisingly enough, this fall season is already bustling with heavy activity as it lays claim to the release of some of the year's most anticipated smartphones. All launched relatively close to one another, the
Motorola DROID BIONIC
,
Samsung Galaxy S II for T-Mobile
, and Apple iPhone 4S are all vying for supremacy in being proclaimed as the best of the best. We've all waited long enough this year to finally see these quality smartphones, so which one will ultimately outgun the rest in finding itself home in your hands?
Design:
Even though it's sporting a rehashed design, the Apple iPhone 4S is clearly the more premium looking and feeling handset out of the bunch thanks to its glass like surfaces that are held on together by its stainless steel brushed band. On top of that, it's a fine piece of art that simply is capable of attracting our attention from afar. In comparison, the Motorola DROID BIONIC and Samsung Galaxy S II are decent in their own right with their plastic construction, but we're not as mesmerized by them. However, it's undeniably obvious that the two Android smartphones would fare better than the iPhone 4S in the offset chance that they're dropped from a lengthy height.
Placing all three smartphones next to one another in the dark, there's no question about it, but the 4.52" WVGA Super AMOLED Plus display of the Samsung Galaxy S II is easily the one to capture our attention the most. Granted its resolution is the lowest out of the bunch, we're able to overlook it due to the fact that it produces the most vibrant and distinctive colors. Of course, it shines brightly in the dark, but in reality, the Retina Display of the iPhone 4S produces the most accurate looking colors – while dishing up the highest resolution as well. Lastly, the 4.3" qHD display of the Motorola DROID BIONIC is nice, but it's not as sharp looking.
Accidental presses rarely occur with the Apple iPhone 4S since it boasts a single home button that's extremely tactile, whereas, the capacitive Android
buttons
found with the competition are more prone to them. Also, the clearly defined dedicated
power button
of the iPhone 4S is by far the most distinguishable and responsive out of the three devices.
It might not be a big thing for some people, but we have to give some kudos to the Motorola DROID BIONIC for offering a
microHDMI out port
to easily present users with a mirrored experience. With the iPhone 4S and Samsung Galaxy S II, we're required to purchased additional adapters that unlock the feature for us – so yeah, it's nice to see the DROID BIONIC having the feature available with it right from the start.